Make our Z'Tejas Chile Verde Recipe at home. With our Secret Restaurant Recipe your Chile Verde will taste just like Z'Tejas.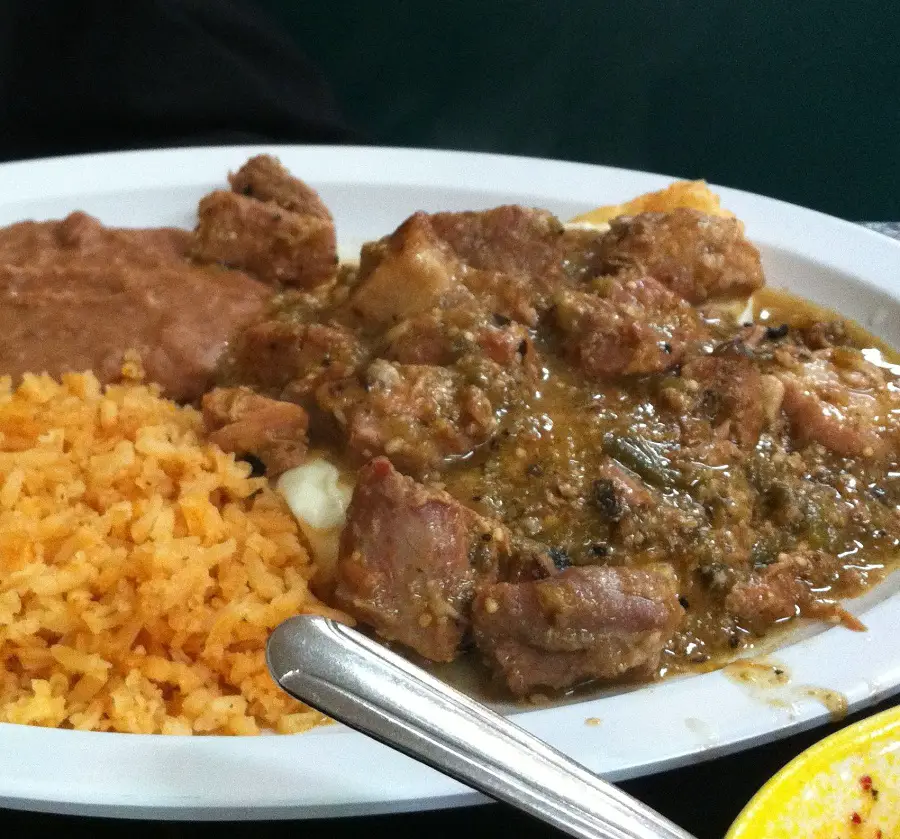 Photo by Dave
Get More Secret Copycat Restaurant Recipes
Sign-up for our FREE Restaurant Recipes Emails. We send out Additional Email-Only Copycat Restaurant Recipes each week. Sign up NOW to get EVERY RECIPE.

---
And Please Follow Us on Your Favorite Social Sites
You'll Stay in Touch, Get More Recipes from All of Our Sites and Help Us Spread the Word about Secret Copycat Restaurant Recipes to All Your Friends.
Thank You.
Try these Recipes with Your Z'Tejas Chile Verde
Click on any Name below for the Recipe
Z'Tejas Chile Verde Recipe
Make our Z'Tejas Chile Verde Recipe at home. With our Secret Restaurant Recipe your Chile Verde will taste just like Z'Tejas.
Ingredients
1 1/2

pounds

Tomatillos

5

cloves

Garlic

1

large Poblano Pepper

2

Serrano Peppers

1

small can Green Chiles

3/4

cup

fresh Cilantro

4

pounds

Pork Butt or Shoulder

Olive Oil

as needed

2

Yellow Onions

peeled and chopped finely

3

cloves

Garlic

peeled and minced

Sprinkle Mexican Oregano or "regular" Oregano

Kosher Salt and freshly ground Black Pepper

to taste

2

Bay Leaves

2 1/2

cups

Chicken Stock

as needed

Monterey Jack Cheese

to top

Flour Tortillas

as needed
Instructions
Peel off papery husks from tomatillos. Rinse them well. (There will be a sticky film on them and you want to get most of that off.)

Cut the tomatillos in 1/2.

Line a baking sheet with aluminum foil. Place tomatillos, cut side down, on sheet.

Smashed, but don't peel, 5 cloves garlic. Add to cooking sheet.

Place baking sheet in oven. Turn oven to broil. Cook for 5 to 7 minutes, until the tomatillos are lightly blackened.

Remove from oven. Take tomatillos and garlic off cooking sheet and set aside to cool.

Add serranos and poblanos to cooking sheet. Place back in oven and broil, turning them every 3 - 4 minutes, until they're blackened all over.

Once roasted, drop them immediately, still hot, in a paper lunch sack or in a bowl covered with plastic wrap (This lets them "steam" so you can remove the skins).

Once roasted tomatillos and garlic have cooled, remove the peels from the garlic and place tomatillos and garlic into a blender.

Once serranos and poblanos have cooled, peel off skins. Cut them open to take out the seeds and stems. Drop the remaining flesh into the same blender.

Add your 3/4 cup of fresh cilantro to the blender.

Blend the mixture together (You may need to add a few tablespoon of water to get it all going). Once blended well, set aside.

Cut the pork into 1-inch pieces, trimming off some of the fat, if you desire.

Season pork cubes generously with salt and pepper.

Place a large Dutch oven or large pot on the stove top and heat to medium high.

Add 1/2 teaspoon olive oil.

Once the oil is hot, add a few cubes of pork to the pot - be sure not to crowd the pot. Stirring, brown the cubes on all sides, about 5 - 6 minutes.

As the cubes get browned, use a slotted spoon to remove to a large bowl.

Repeat with a few more cubes at a time until all pork is browned.

Once all pork is browned, pour off some grease from the Dutch oven or pot, leaving about 1 tablespoon.

Return to stove top and heat pork grease.

Add chopped onions. Cook for 1 - 2 minutes to soften onions just slightly.

Add minced garlic. Cook for 5 minutes, or until onions and garlic are soft and fragrant.

Add browned pork and green blender mixture into the pot.

Sprinkle in a bit of oregano.

Add bay leaves.

Add 1/2 teaspoon each salt and pepper.

Add chicken broth, so the liquid covers the meat - should be about 2 1/2 cups of broth, but adjust as needed. Stir to mix.

Turn heat to high and bring to a boil. Then turn heat down to low. Simmer, uncovered, for 2 - 3 hours.

Check the pork. It should fall apart easily when it is ready. Remove from heat.

Remove your bay leaves.

Taste. Add more salt and pepper, to taste, if needed.

Serve hot, topped with Monterey Jack cheese and warm flour tortillas.
Be Sure to Try These Delicious Soup Recipes from Your Favorite Restaurants and Our Readers and Friends
Click on any Name below for the Recipe
---
Photo of "Chile Verde" is by Dave and is used by permission under the Attribution-ShareAlike 2.0 Generic (CC BY-SA 2.0) Creative Commons License. Read the Full License Here – https://creativecommons.org/licenses/by-sa/2.0/legalcode. Thank you, Dave. Great Picture. Photos may be "representative" of the recipe and not the actual finished dish. All photo licenses listed were correct at the time of the posting of the page. Recipe is our adaption of several recipes formally widely-circulated on the internet – courtesy of the Wayback Machine. Additional Information Courtesy of Wikipedia and is used by permission.
---
Please use the Facebook, Twitter, Pinterest and Email Buttons below to SHARE this Recipe with your Friends!
It only takes a minute and they will love you for it!
Thank You!