Make this Straight-From-the-Restaurant Planet Hollywood White Chocolate Bread Pudding Recipe at home for your family and you will think you are back at Planet Hollywood.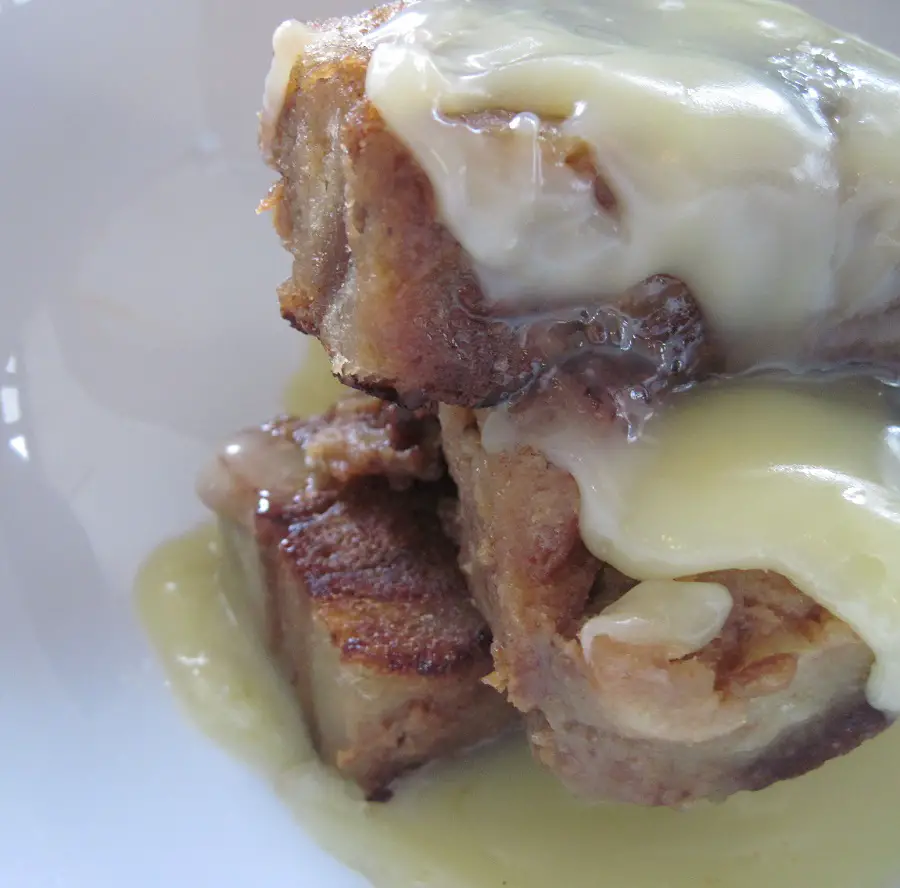 Photo by Katharine Shilcutt
Planet Hollywood
Planet Hollywood is the theme restaurant chain inspired by the popular portrayal of Hollywood, launched in New York on October 22, 1991, with the backing of Hollywood stars Sylvester Stallone, Bruce Willis, Demi Moore and in the past, Arnold Schwarzenegger who has since sold his part.
It was a brainchild of Robert Earl, former president of Hard Rock Cafe. Planet Hollywoods were modeled after the Hard Rock formula, so closely in fact that a lawsuit ensued and awarded the Hard Rock millions in damages. Earl recruited many former Hard Rock veterans to open new PH stores. Movie star "owners" received stock options at rock bottom price in exchange for their endorsement, thus they could be billed as legal owners.
Planet Hollywood White Chocolate Bread Pudding
A Planet Hollywood Copycat Recipe
Planet Hollywood White Chocolate Bread Pudding Recipe
Make this Straight-From-the-Restaurant Planet Hollywood White Chocolate Bread Pudding Recipe at home for your family and you will think you are back at Planet Hollywood.
Ingredients
32

ounces

French Bread (about 4 cups), dried overnight in a covered container

9

Egg Yolks

1 3/4

cups

+ 2 tablespoons granulated Sugar

divided

1

cup

Milk

2 3/4

cups

Heavy Cream

3/4

teaspoon

Vanilla Extract

2 1/4

cups

White Chocolate Pieces

1/4

cup

Butter, to butter pan
Whiskey Sauce
2 1/4

cups

Butter

4 1/2

cups

Granulated Sugar

5

Eggs

1/2

cup

Bourbon (Planet Hollywood uses Jim Beam Bourbon - But any good Kentucky Bourbon will taste good.)
Instructions
Preheat oven to 350°F.

Cut French bread into 1-inch cubes.

In a medium mixing bowl, beat yolks and 1 1/4 cups sugar.

In a pan, heat milk, remaining sugar, heavy cream and vanilla extract over medium heat, whisking constantly. As mixture begins to boil, turn down heat.

Add 1/2 cup of milk mixture to egg mixture in bowl and whisk well (This brings temperature of yolks up so that they won't curdle.)

Add egg mixture to rest of pan mixture. Stir 5 - 7 minutes.

Stir in white chocolate until smooth.

Pour mixture over bread. Let set 4 hours, to make sure liquid soaks into bread.

Place bread in buttered 10 x 12 x 2-inch baking pan. Cover with layer of plastic food service film (Important - See Note Below).

Then top with foil.

Place baking pan inside larger pan. Pour in water into larger pan to come up halfway around sides of bread-filled pan.

Place in oven and bake 45 minutes.

Remove from oven and cool on the counter.
Planet Hollywood Whiskey Sauce
In a medium mixing bowl, beat eggs.

Melt butter in heavy-bottomed pan.

Add sugar. Heat to simmering. Do not allow to boil.

Add bourbon, stirring. Continue cooking 2 - 3 minutes until bubbles begin forming around edges of pan.

Add 1/2 cup bourbon mixture to beaten eggs and whisk well to bring the eggs up to temperature.

Add all of beaten egg mixture to bourbon mixture, whipping constantly.

When incorporated, strain.
To Serve
Place a slice of bread pudding on a plate. Spoon Whiskey Sauce over top and allow to soak in well before serving.

Add a scoop of ice cream and whipped cream on top, if desired.
Foil goes over the clear film to create a very moist baking environment. You can purchase food service grade film at restaurant supply stores and some warehouse clubs and supermarkets. If you can't find the clear covering, you can skip the first cover.
Planet Hollywood Whiskey Sauce is also delicious spooned over ice cream or cheesecake.
Get More Secret Copycat Restaurant Recipes
Sign-up for our FREE Restaurant Recipes Emails. We send out Additional Email-Only Copycat Restaurant Recipes each week. Sign up NOW to get EVERY RECIPE.

---
And Please Follow Us on Your Favorite Social Sites
You'll Stay in Touch, Get More Recipes from All of Our Sites and Help Us Spread the Word about Secret Copycat Restaurant Recipes to All Your Friends.
Thank You.
---
Photo of Cayenne-Hinted White Chocolate Bread Pudding is by Katharine Shilcutt and is used by permission under the Creative Commons Attribution-NonCommercial-NoDerivs 2.0 Generic (CC BY-NC-ND 2.0) License. Thank you, Katharine. Great Picture. Photos may be "representative" of the recipe and not the actual finished dish. All photo licenses listed were correct at the time of the posting of the page. Recipe, originally from Planet Hollywood, was shared in the Orlando Sentinel Newspaper (Page since removed) and, in video form on CFN13 TV in 2002. It was retrieved from the WayBack Machine. Additional Information Courtesy of Wikipedia and is used by permission.
---
Please use the Facebook, Twitter, Pinterest and Email Buttons below to SHARE this Recipe with your Friends!
It only takes a minute and they will love you for it!
Thank You!