Make our Qdoba Mexican Gumbo Soup Recipe at home tonight for your family and your Mexican Gumbo Soup will taste just like Qdoba's.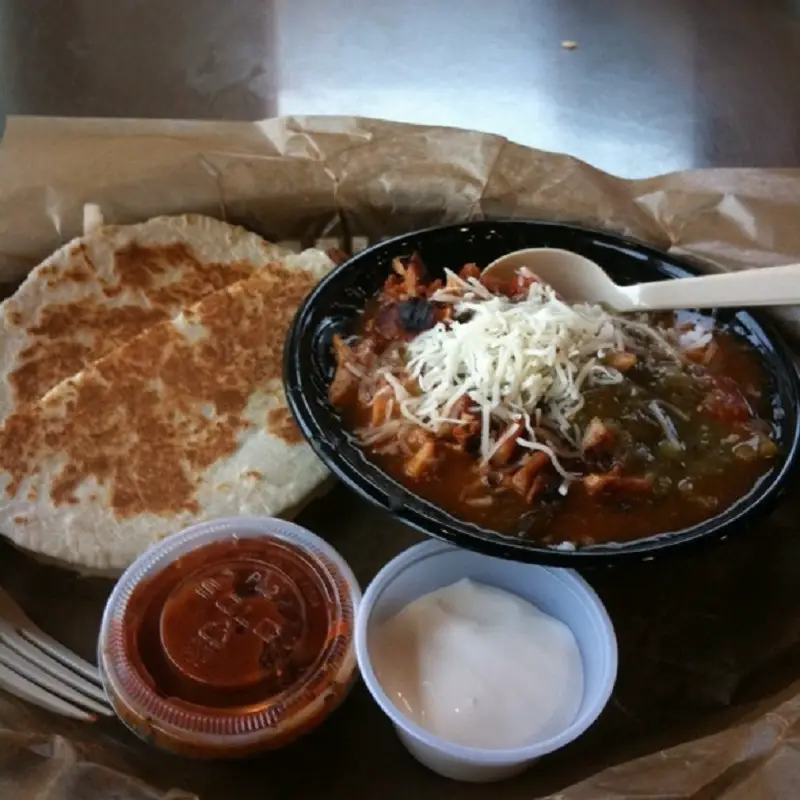 Photo by Chris from Foodspotting
Qdoba Mexican Gumbo Soup
A Qdoba Copycat Recipe
Qdoba Mexican Gumbo Soup Recipe
Make our Qdoba Mexican Gumbo Soup Recipe at home tonight for your family and your Mexican Gumbo Soup will taste just like Qdoba's.
Ingredients
2

tablespoons

Olive Oil

1

cup

diced Red Bell Pepper

1

cup

diced Green Bell Pepper

1

cup

chopped White Onion

2

cloves

Garlic

minced or pressed

3

tablespoons

ground Cumin

One 28-ounce can crushed Tomatoes

3

small cans of chopped Green Chile Peppers

drained

Four 14-ounce cans Vegetable Broth

1/2

cup

freshly squeezed Lime Juice

3

cups

cooked White Rice

3

cups

cooked Black Beans

One 16-ounce container Pico de Gallo

Optional - But Good!

Cilantro

to garnish

Cheese

to serve

Sour Cream

to serve

Avocado

to serve
Instructions
Heat oil in a large pot over medium heat.

Stir in peppers and onions, garlic and cumin.

Cook 5 minutes until vegetables are tender.

Mix in tomatoes and chile peppers.

Pour in broth and season with salt and pepper.

Bring to a boil, reduce heat to low; simmer for 30 minutes.

Add in lime juice and blend with an immersion blender.

In 6 bowls (or into the soup if desired), add 1/2 cup each rice and black beans.

Ladle soup over rice and beans; top with pico de gallo and your choice of garnish.
Get Notified of All New Secret Copycat Restaurant Recipes
Sign-up for our FREE Secret Copycat Restaurant Recipes Emails and Never Miss a New Recipe.
NOW With 2 Ways to Get Emails on YOUR Schedule – Daily or One Email per Week.
---
And Please Follow Us on Your Favorite Social Sites
You'll Stay in Touch, Get More Recipes from All of Our Sites and Help Us Spread the Word about Secret Copycat Restaurant Recipes to All Your Friends.
Thank You.
Soup Night: Recipes for Creating Community Around a Pot of Soup
For those of us who love cookbooks with heart and substance, Soup Night will occupy a well-deserved spot on your shelf. And don't be surprised if it inspires you to start your own Soup Night, large or small. And even if you're like me — I have no neighbors within shouting distance, literally — you'll reach for this book's soup recipes time and again, especially as the snow begins to fly. — SoupAddict.com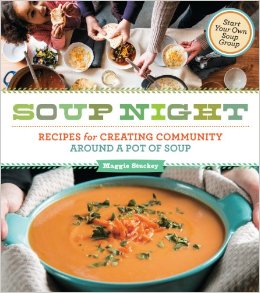 Soup nights are popping up all around the United States as a stress-free way to bring neighbors together.
The host provides two or three pots of soup, and the guests bring their own dishes and silverware, and perhaps a salad or some bread. Neighbors get to know each other by name, people of all ages connect and socialize, and the neighborhood becomes friendlier and safer.
In Soup Night, Maggie Stuckey offers a practical guide to starting your own soup night group, along with 99 delicious soup recipes and 40 recipes for accompaniments.
---
Photo courtesy of Chris from FoodSpotting – https://www.foodspotting.com/106910-chris (Page no longer active). Thank you, Chris. Great Picture. Photos may be "representative" of the recipe and not the actual finished dish. All photo licenses listed were correct at the time of the posting of the page. Additional Information Courtesy of Wikipedia and is used by permission.
---
Please use the Facebook, Twitter, Pinterest and Email Buttons below to SHARE this Recipe with your Friends!
It only takes a minute and they will love you for it!
Thank You!