Crispitos are gone from Taco Bell's menus. But if you make our Taco Bell Crispitos Recipe at home, your Crispitos will taste just like those you remember from Taco Bell.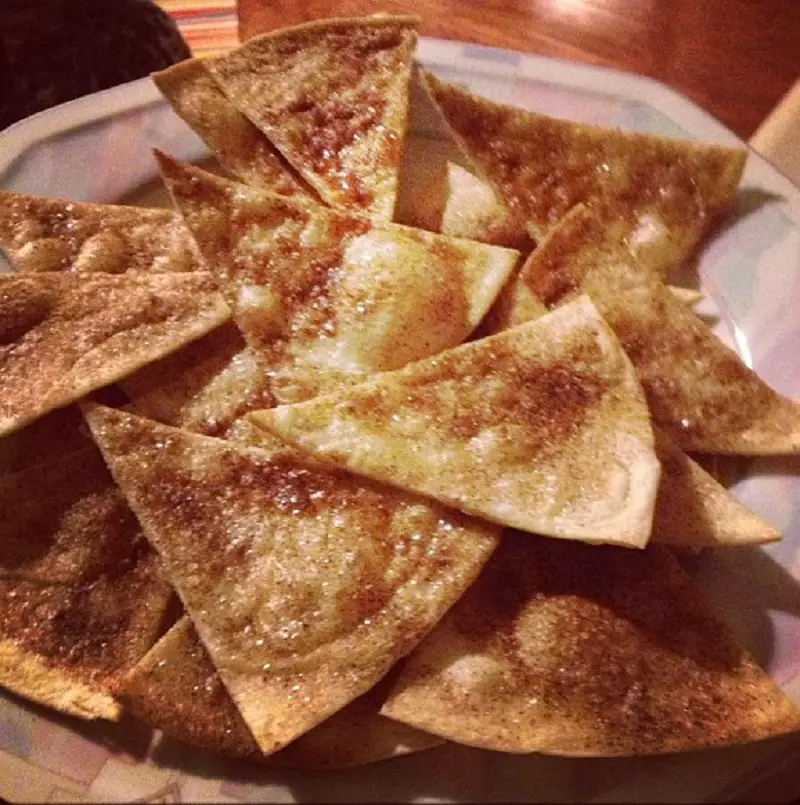 Photo by Just Jefa
Taco Bell Crispitos
A Taco Bell Copycat Recipe
Get More Secret Copycat Restaurant Recipes
Sign-up for our FREE Restaurant Recipes Emails. We send out Additional Email-Only Copycat Restaurant Recipes each week. Sign up NOW to get EVERY RECIPE.

---
And Please Follow Us on Your Favorite Social Sites
You'll Stay in Touch, Get More Recipes from All of Our Sites and Help Us Spread the Word about Secret Copycat Restaurant Recipes to All Your Friends.
Thank You.
Taco Bell Crispitos
Cinnamon Twists and other sweets have taken the place of Crispitos on the Taco Bell menu – but you can make them at home with our recipe.
Taco Bell's Crispitos are their version of a traditional and common sweet street food from Mexico called Buñuelos. Along many streets and in urban food markets, you will see small carts and stands where the workers are making and frying their own dough in many different shapes and sizes – from small and round, like doughnut holes, to large and flat, like tortillas. After a dusting of cinnamon-sugar the Buñuelos are enjoyed warm often with a small dip such as honey.
Taco Bell, as it is so good at doing, adapted this already simple recipe, to use product it already had – flour tortillas – and renamed them Crispitos.
With our recipe you can relive the joy of Crispitos by easily make them at home.
Try these Recipes with Your Taco Bell Crispitos
Click on any Name below for the Recipe
…More Delicious Recipes Coming Soon
Other Delicious Recipes from Your Favorite Mexican Restaurants and Our Readers and Friends
Click on any Name below for the Recipe
…More Delicious Recipes Coming Soon
Taco Bell Crispitos Recipe
Cinnamon Twists and other sweets have taken the place of Crispitos on the Taco Bell menu - but you can make them at home with our recipe.
Ingredients
1/4

cup

ground Cinnamon

1

cup

granulated Sugar

10 - 12

Flour Tortillas

Oil

for frying

Honey

for dipping
Instructions
In a small bowl, combine cinnamon and sugar. Mix very well.

Cut tortillas into quarter wedges. Set aside.

Prepare a wire rack with a pan underneath (to catch the cinnamon sugar that doesn't hit a Crispito). Or cover a plate with paper towels.

Place a large skillet on the stovetop over medium heat.

Add about 2 tablespoons oil and swill to coat.

When oil is hot and begins to shimmer, add 4 (or more, if the skillet is large enough) tortilla wedges in a SINGLE LAYER to the skillet.

Deep fry for about 30 seconds, until golden brown on the bottom.

With thongs, carefully turn over and fry until that side is browned, about 20 seconds.

Using the thongs, carefully remove the fried dough from the skillet to your wire rack or plate.

Add a spot more oil to the skillet, if needed.

Place more tortilla wedges in the skillet.

While they cook (make sure to watch carefully so they don't burn), liberally sprinkle first batch with the cinnamon-sugar mix. Turn over and sprinkle second side.

Repeat with all remaining tortilla wedges.

Serve, warm or at room temperature, with honey.
Pour any remaining Cinnamon-Sugar into a sealable jar or container and store in your spice cabinet. Sealed, it should keep practically forever. Us it to make more Crispitos,  delicious Cinnamon Toast, as an Ice Cream topper or whatever else you can think up.
---
Photo of "Homemade cinnamon sugar tortilla chips. Yeayah!" is by Just Jefa and is used by permission under the Attribution-NonCommercial-NoDerivs 2.0 Generic (CC BY-NC-ND 2.0) Creative Commons License. Read the Full License Here – https://creativecommons.org/licenses/by-nc-nd/2.0/legalcode. Thank you, Jefa. Great Picture. Photos may be "representative" of the recipe and not the actual finished dish. All photo licenses listed were correct at the time of the posting of the page. Recipe is our adaption of several recipes formally widely-circulated on the internet – courtesy of the Wayback Machine. Additional Information Courtesy of Wikipedia and is used by permission.
---
Please use the Facebook, Twitter, Pinterest and Email Buttons below to SHARE this Recipe with your Friends!
It only takes a minute and they will love you for it!
Thank You!