Watch this video recipe for York Peppermint Pattie and make a batch tonight for your family. This Secret Home Recipe for Peppermint Patties tastes just like the real thing.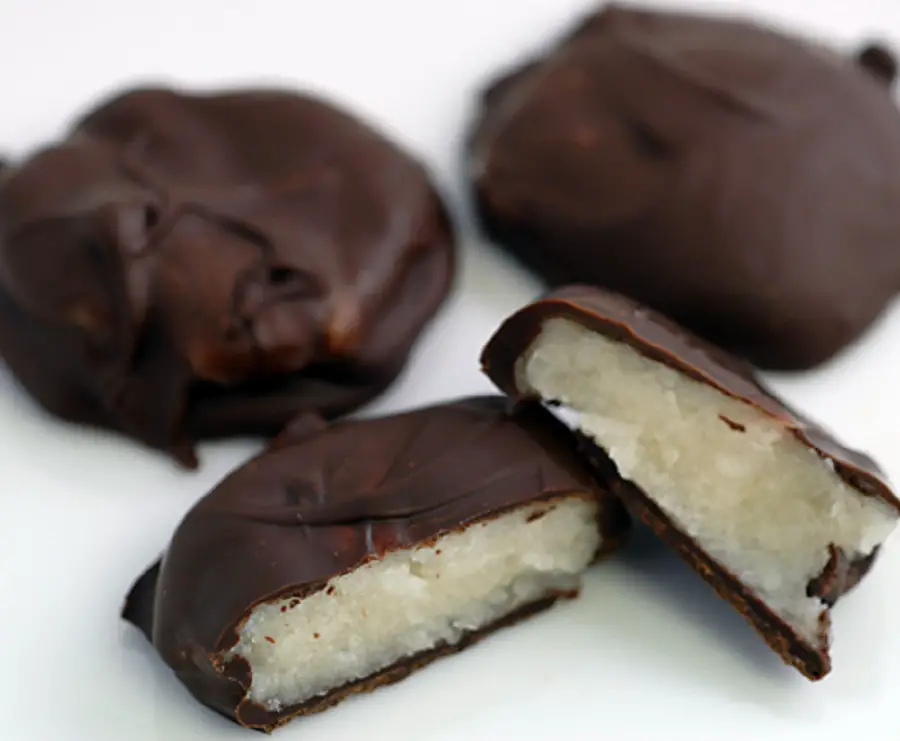 Photo by elanaspantry
Get More Secret Copycat Restaurant Recipes
Sign-up for our FREE Restaurant Recipes Emails. We send out Additional Email-Only Copycat Restaurant Recipes each week. Sign up NOW to get EVERY RECIPE.

---
And Please Follow Us on Your Favorite Social Sites
You'll Stay in Touch, Get More Recipes from All of Our Sites and Help Us Spread the Word about Secret Copycat Restaurant Recipes to All Your Friends.
Thank You.
Try these Recipes with Your York Peppermint Pattie
Click on any Name below for the Recipe
Here are a Few More Recipes From Across Our Family of Websites You Will Love
Click on any Name below for the Recipe
York Peppermint Pattie
York Peppermint Pattie is a dark chocolate enrobed peppermint confection produced by Hershey.
It was first produced in York, Pennsylvania, by Henry C. Kessler at his York Cone Company in 1940, for sale in the Northeastern United States, Ohio, Indiana and Florida. In 1972, the York Cone Company was acquired by Peter Paul, which launched the York Peppermint Pattie nationally in 1975.
The candy features strongly contrasting flavors, with a particularly bitter chocolate coating around a minty, sugar center.
Many chocolate-covered peppermints had been made before the York Peppermint Pattie came on the market, but Kessler's version was firm and crisp, while the competition was soft and gummy. A former employee and York resident Phil Kollin remembered the final test the York Peppermint Pattie went through before it left the factory. "It was a snap test. If the candy didn't break clean in the middle, it was a second."
York Peppermint Pattie Video Recipe
Full Written Recipe Included Below Video
York Peppermint Pattie Recipe
Watch our video recipe for York Peppermint Pattie and make a batch tonight for your family. Our Secret Home Recipe for their Peppermint Patties taste just like the real thing.
Ingredients
1 14-

ounce

can Sweetened Condensed Milk

NOT evaporated milk

1

tablespoon

Peppermint Extract

6

cups

Confectioners' Sugar

Additional Confectioners' Sugar

1 16-

ounce

bag Semi−Sweet Chocolate Chips
Instructions
In large mixer bowl, combine Eagle Brand milk and Peppermint Extract.

Add 6 cups sugar.

Beat on low speed until smooth and well blended.

Turn mixture onto surface sprinkled with confectioners sugar.

Knead lightly to form smooth ball. Shape into 1−inch (2.5cm) balls.

Place 2 inches apart on wax paper−lined baking sheets and flatten each ball into

a 1 1/2 inch pattie .

Let dry 1 hour or longer; turn over and let dry another 1 hour.

Melt the chocolate chips in a microwave set on high for 2 minutes. Stir halfway through the heating time. Melt thoroughly, but do not

overheat. Melting the chocolate chips can also be done using a double−boiler over low heat.

With fork, dip each patty into warm chocolate (draw fork lightly across rim of pan to remove excess coating). When dipping peppermint patties do it quickly, put it in, flip it over quickly take it out quickly and let the excess drip off slightly.

Invert onto wax paper−lined baking sheets; let stand until firm.

Store covered at room temperature or in refrigerator.
Recipe transcribed by Secret Copycat Restaurant Recipes for the convenience of our readers.
SPOTLIGHT RECIPE
Snickers Candy Bar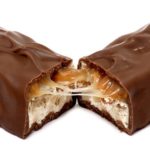 Make our Snickers Candy Bar Copycat Recipe at home tonight for your family.
Our Secret Copycat Recipe tastes just like the real thing.
Couture Chocolate: A Masterclass in Chocolate
"Couture Chocolate: A Masterclass in Chocolate unveils all the techniques and secrets a chocolate lover could wish for, before moving on to the mouth-watering array of recipes—like Thyme and Honey Filled Chocolates and Madagascan Chocolate Ice Cream." — Desserts Magazine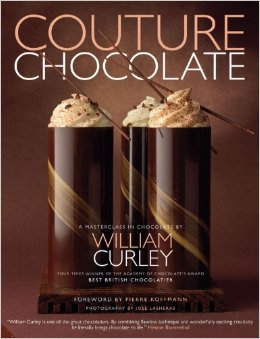 Couture Chocolate examines the origins of one of the world's most popular foods–explaining the method of creating chocolate, how its quality depends to a large extent on the variety of beans used, and the differences between plain, milk and white chocolates.
It reveals how some of today's most popular flavors – such as vanilla and chilli – were those favored by the pioneering Aztec chocolatiers centuries ago.
William shares his techniques and most mouth-watering recipes, starting with the basics: tempering and making a bar of chocolate; advice on how to add exotic flavors like rosemary or raspberry; and introducing different textures. Once those skills have been mastered, it's time to tackle some of the authors incredible creations.
---
Photo of Peppermint Patties is by Elana's Pantry and is used by permission under the Creative Commons Attribution-NonCommercial-NoDerivs 2.0 Generic (CC BY-NC-ND 2.0) License. Thank you, Elana. Great Picture. Photos may be "representative" of the recipe and not the actual finished dish. All photo licenses listed were correct at the time of the posting of the page. Video and recipe courtesy of yoyomax12 – the diet free zone YouTube Page. Additional Information Courtesy of Wikipedia and is used by permission.
---
Please use the Facebook, Twitter, Pinterest and Email Buttons below to SHARE this Recipe with your Friends!
It only takes a minute and they will love you for it!
Thank You!