Make this Texas Roadhouse Rattlesnake Bites Recipe at home tonight for your family. With this Secret Restaurant Recipe your Rattlesnake Bites will taste just like Texas Roadhouse's.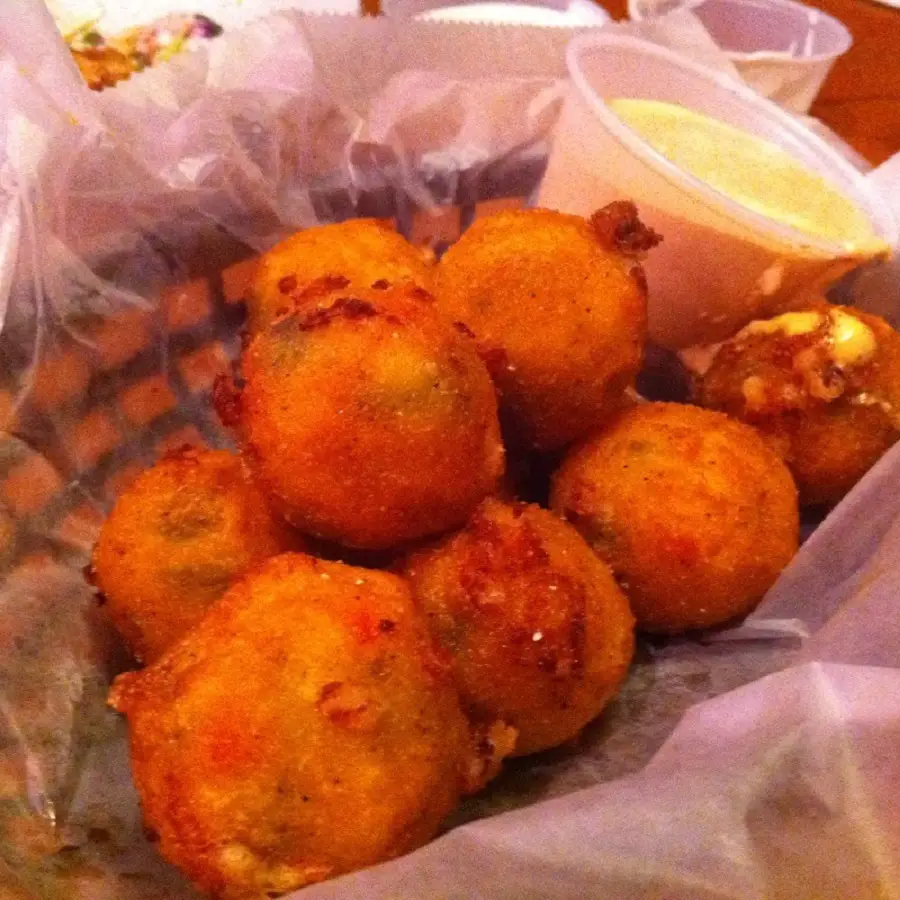 Photo by Mike McCormick
Texas Roadhouse Rattlesnake Bites
The Texas Roadhouse rattlesnake bites recipe does not include any actual rattlesnake — it's the jalapeno pepper in the recipe that provides the "bite." Jalapeno poppers are a very common and popular appetizer, and Texas Roadhouse's recipe is quite taste. And the great news is that you don't need to go out to dinner at Texas Roadhouse to enjoy their cheesy goodness. This approximation of Texas Roadhouse Rattlesnake Bites can be made in your home kitchen.
Texas Roadhouse was founded in 1993, and the first restaurant was opened in Indiana, not Texas! The restaurant chain prides itself on its steaks and freshly-baked bread, but all of their menu items are memorable. All Texas Roadhouse locations feature a menu with uniquely named dishes and a southwestern theme. Furthermore, loyal customers love Texas Roadhouse not only because of their delicious food, but also because of the laid-back atmosphere and terrific service.

Texas Roadhouse Rattlesnake Bites Recipe
Note: You need to make plans to start the Rattlesnake Bites about 1 hour before you want to serve them so they have time to firm up in the freezer before cooking.
Video Courtesy of Delish YouTube Channel
Texas Roadhouse Rattlesnake Bites Recipe
Recipe Courtesy of Delish YouTube Channel
Ingredients (Taken from the Video)
2 1/2 cups Monterey Jack Cheese, shredded
1 cup chopped fresh Jalapenos
1 cup chopped pickled Jalapenos
1 cup chopped Red or Green Bell Peppers
1/2 cup Buttermilk or regular Milk
1 1/2 cup Bread Crumbs, seasoned or unseasoned
1 1/2 cups Buttermilk
Vegetable Oil
Directions
In a shallow bowl, mix well cheese, jalapenos, bell peppers and 1/2 cup buttermilk.
Roll into a firm "golf ball-sized" balls.
Place bites in covered bowl and let set for 30 to 45 minutes in the freezer.
Take the balls out of the freezer and dip in buttermilk, then roll around in breadcrumbs.  You can do this early and place them in the freezer until you are ready to fry them
Deep fry in hot oil until golden brown.
Serve immediately with Ranch Dressing or Cajun Horseradish Sauce
Tell you what else is delicious with them – Honey Mustard.  Try our recipe for The Best Honey Mustard You Have Ever Tasted.  CLICK HERE.
Get More Secret Copycat Restaurant Recipes
Sign-up for our FREE Restaurant Recipes Emails. We send out Additional Email-Only Copycat Restaurant Recipes each week. Sign up NOW to get EVERY RECIPE.

---
And Please Follow Us on Your Favorite Social Sites
You'll Stay in Touch, Get More Recipes from All of Our Sites and Help Us Spread the Word about Secret Copycat Restaurant Recipes to All Your Friends.
Thank You.
You May Also Like These Recipes:
Click on any Name below for the Recipe
… MORE Great Recipes Coming Soon!
Photo of Texas Roadhouse Rattlesnake Bites is by Mike McCormick – http://aitiwv.wordpress.com/ – and is used by permission under the Creative Commons Attribution-NonCommercial-ShareAlike 2.0 Generic (CC BY-NC-SA 2.0) License. Original Video can be found here – Texas Roadhouse Rattlesnake Bites | Delish. Additional Information Courtesy of Wikipedia and is used by permission.
---
Please use the Facebook, Twitter, Pinterest or Email Buttons below to SHARE this Texas Roadhouse Rattlesnake Bites Video Recipe with your Friends!
It only takes a minute and they will love you for it!
Thank You!