Popular Chef, Emeril Lagasse, starts his Clam Chowder with a traditional mirepoix and finishes it with sweet corn, clams and cream at the 2007 Food & Wine Classic in Aspen.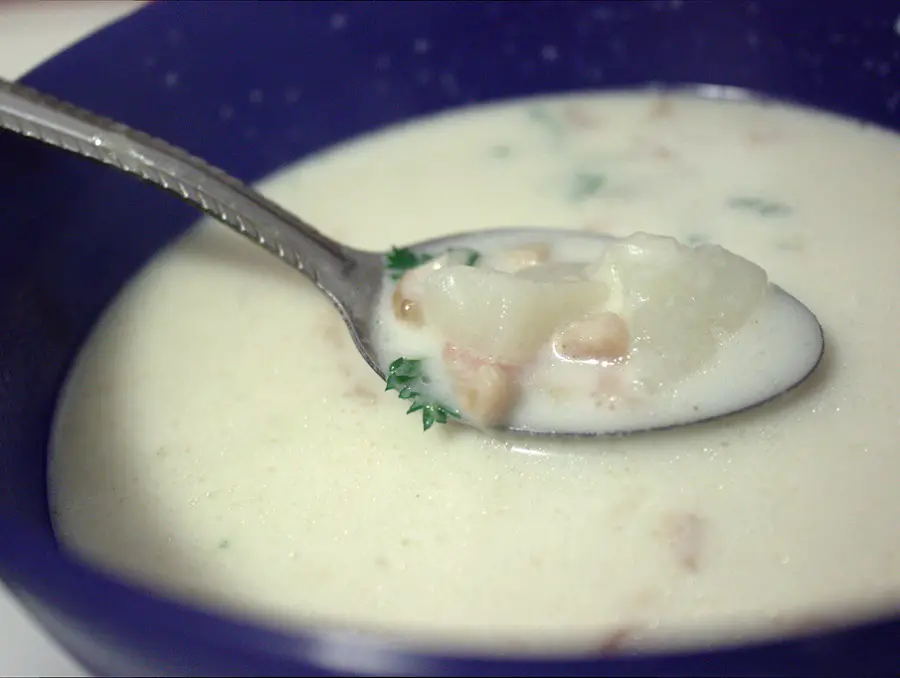 Photo is from the Video
Emeril Lagasse's Clam Chowder
The recipe is below the video and there is some good Emeril information and history below the recipe for those of you who are interested in that sort of thing.
Video Courtesy of Food and Wine's YouTube Channel
Emeril's Cooking with Power
Emeril's Cooking with Power includes more than 100 easy-to-follow recipes, illustrated with dozens of color photos, specially created for home cooks' favorite kitchen appliances: the pressure cooker, fryer, multi-cooker, and slow cooker.
All the mouthwatering crowd-pleasers Emeril is famous for are covered — such as Seafood and Smoked Sausage Gumbo and Slow Cooked Lasagna (slow cooker); Barley Risotto with Spring Vegetables and Dulce De Leche Rice Pudding (multi-cooker); Curried Pumpkin Soup and Emeril's Fastest Bar-B-Q Brisket (pressure cooker); and Fried Fish Tacos with Corn and Tomato Salsa and Apple Fritters (fryer).
Emeril's Cooking with Power will help you save time, save money, and make great food with minimum stress and maximum flavor.
Emeril Lagasse's Clam Chowder Recipe
Recipe is courtesy of Emeril Lagasse and the Food and Wine 2007 Classic in Aspen.
Ingredients
4 dozen Cherrystone Clams, scrubbed
About 2 cups low-sodium Chicken Broth
6 ounces sliced Bacon, cut crosswise into 1/2-inch pieces
2 medium Onions, cut into 1/4-inch dice
3 Carrots, cut into 1/4-inch dice
2 Celery Ribs, cut into 1/4-inch dice
Kosher Salt
1/8 teaspoon Cayenne Pepper
1 Bay Leaf
1/2 cup all-purpose Flour
3 medium Red Potatoes (1 1/4 pounds), peeled and cut into 1/2-inch dice
2 ears of Corn, kernels cut from the cobs
1 teaspoon Old Bay Seasoning
1 cup Half-and-Half
1/2 cup finely chopped Flat-Leaf Parsley
1 teaspoon Worcestershire Sauce
1/4 teaspoon Tabasco Sauce
Freshly ground Black Pepper, to taste
Directions
In a large soup pot, add the clams and 4 cups of water. Bring to a simmer over moderately high heat, cover and cook until the clams start to open, about 4 minutes. As the clams open, transfer them to a large bowl to cool; discard any clams that do not open. Strain the clam liquid into a large measuring cup (there should be 5 1/2 cups of liquid). Add enough chicken broth to make 7 1/2 cups. Remove the clams from their shells and coarsely chop them.
Wipe out the soup pot and place over moderate heat. Add the bacon and cook, stirring occasionally, until crisp, about 12 minutes. Add the onions, carrots, celery, 2 teaspoons of salt, cayenne and the bay leaf. Cook until the vegetables are soft, about 10 minutes. Stir in the flour and cook until it begins to stick to the bottom of the pan, about 2 minutes. Stir in the clam-broth mixture and bring to a boil. Add the potatoes, corn and Old Bay and simmer over moderately low heat until the potatoes are tender, about 15 minutes. Stir in the half-and-half, parsley, Worcestershire sauce and Tabasco. Remove from the heat and stir in the clams. Discard the bay leaf and season the chowder with salt and pepper. Ladle the chowder into bowls and serve.
Get More Secret Copycat Restaurant Recipes
If you like this recipe, you should sign-up for our FREE Restaurant Recipes Emails. We'll send you a Cool Starbucks Recipe Book just for trying us out. You'll love it.
Emeril John Lagasse
Emeril John Lagasse is an American celebrity chef, restaurateur, television personality, and cookbook author. A regional James Beard Award winner, he is perhaps most notable for his Food Network shows Emeril Live and Essence of Emeril.
On television, Lagasse is known for his light and jovial hosting style as well as several catchphrases, including "Bam!", "kick it up a notch," "aw, yeah, babe" and "feel the love," usually said before or after adding something spicy to a dish, or after the reaction to adding something, respectively. When frying or making dishes like sausage, Lagasse advocates using genuine lard, boasting, "Pork fat rules!" This style developed fully and Lagasse became more comfortable when a live studio audience was added in the change from Essence of Emeril to Emeril Live.
Lagasse describes what he calls his new and different use of local, Louisiana ingredients in his own interpretation of Creole, strongly influenced by Asian, Portuguese, and Southwestern, as "New New Orleans" cooking. The styles of cuisine from Lagasse's many restaurants vary a great deal from one another. Tchoup-Chop in Orlando is "Pan-Asian" while Delmonico at The Venetian in Las Vegas is a steakhouse with a Southern flair.
We have heard, though we can't find the proof, that he taught cooking briefly at Sullivan University here in our hometown of Louisville.
Related Recipes:
Click on any Name below for the Recipe
---
Photo of Homemade Clam Chowder is by beatsgo and is used by permission under the Creative Commons Attribution-NonCommercial 2.0 Generic (CC BY-NC 2.0) License. Recipe is courtesy of Emeril Lagasse and the Food and Wine 2007 Classic in Aspen. Portions of the information about chef Emeril Lagasse come from Wikipedia and is used by permission. Except that rumor at the end — that was all ours. But that's what we have heard. Really.

---
---
Please use the Facebook, Twitter, Pinterest or Email Buttons below to SHARE our Presentation of Emeril's Clam Chowder Recipe and Video with your Friends!
It only takes a minute and they will love you for it!
Thank You!