Make our City Grocery Shrimp and Grits Recipe at home tonight for your family. With our Secret Restaurant Recipe your Shrimp and Grits will taste just like City Grocery's.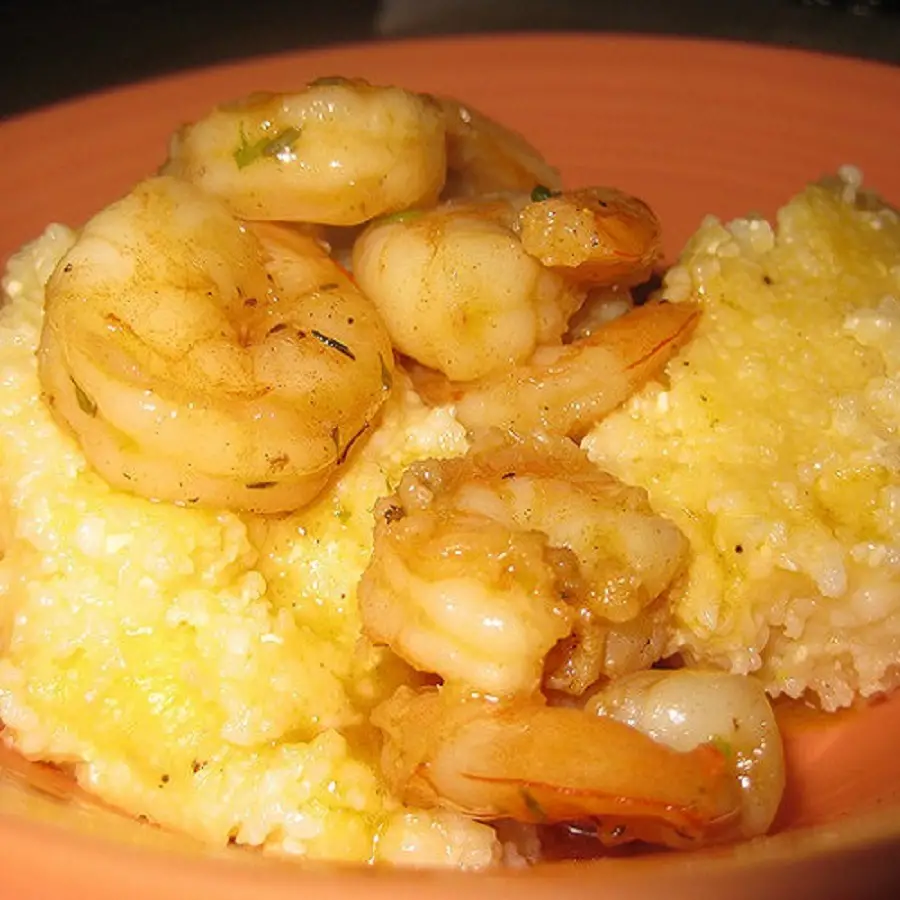 Photo by MLB
City Grocery Shrimp and Grits
Since 1992, Chef John Currence's City Grocery Restaurant Group has been the culinary epicenter of Oxford, Mississippi. The 2009 James Beard Best Southern Chef oversees four restaurants that showcase different aspects of the southern food experience. From the home-cured bacon at Big Bad Breakfast to the fine French-inspired Southern fare at City Grocery, Chef Currence's restaurants are where to eat in Oxford.
City Grocery Shrimp and Grits Recipe
Make our City Grocery Shrimp and Grits Recipe at home tonight for your family. With our Secret Restaurant Recipe your Shrimp and Grits will taste just like City Grocery's.
Ingredients
For the Grits:
1

cup

Quick Grits

4

tablespoons

unsalted Butter

3/4

cup

Extra Sharp White Cheddar Cheese

1/2

cup

grated Parmesan Cheese

1

teaspoon

Cayenne Pepper

1 1/2

tablespoons

Paprika

Tabasco Hot Sauce

to taste

Salt and freshly ground Black Pepper

to taste
For the Shrimp:
2

cups

chopped smoked Bacon

3

tablespoons

Olive Oil

1 1/2

pounds

20-30 count Shrimp

Salt and freshly ground Black Pepper

to taste

1

tablespoon

minced Garlic

3

cups

sliced White Mushrooms

3

tablespoons

White Wine

2

tablespoons

Lemon Juice

2

cups

sliced Scallions
Instructions
Cook grits according to package instructions.

As they are finishing, whisk in butter, cheeses, cayenne, paprika and Tabasco to taste.

Cook bacon until it begins to brown. Remove from heat and drain on paper towels.

Crumble bacon and set aside. Strain drippings and set aside.

Heat a large skillet until very hot.

Add olive oil and 2 tablespoons of bacon drippings.

As oil begins to smoke, toss in shrimp to cover bottom of pan.

Before stirring, season with salt and pepper.

Stir until shrimp begin to turn pink; let pan return to original hot temperature.

Stir in minced garlic and bacon bits, being careful not to burn garlic.

Toss in mushrooms and coat with oil briefly.

Add lemon juice and wine, and stir for 30 seconds or so until everything is well coated and incorporated.

When ready to serve, stir in sliced scallions and cook about 20 seconds.

Serve immediately over the aforementioned, patiently waiting cheese grits.

Enjoy, burp, and reminisce about those fine meals at City Grocery.
Get More Secret Copycat Restaurant Recipes
Sign-up for our FREE Restaurant Recipes Emails. We send out Additional Email-Only Copycat Restaurant Recipes each week. Sign up NOW to get EVERY RECIPE.

---
And Please Follow Us on Your Favorite Social Sites
You'll Stay in Touch, Get More Recipes from All of Our Sites and Help Us Spread the Word about Secret Copycat Restaurant Recipes to All Your Friends.
Thank You.
Real Cajun: Rustic Home Cooking from Donald Link's Louisiana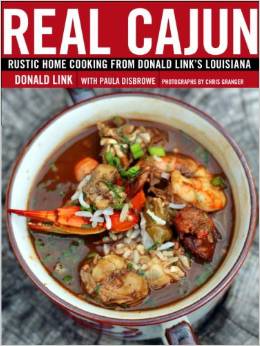 An untamed region teeming with snakes, alligators, and snapping turtles, with sausage and cracklins sold at every gas station, Cajun Country is a world unto itself. The heart of this area—the Acadiana region of Louisiana—is a tough land that funnels its spirit into the local cuisine. You can't find more delicious, rustic, and satisfying country cooking than the dirty rice, spicy sausage, and fresh crawfish that this area is known for. It takes a homegrown guide to show us around the back roads of this particularly unique region, and in Real Cajun, James Beard Award–winning chef Donald Link shares his own rough-and-tumble stories of living, cooking, and eating in Cajun Country.
From the backyards where crawfish boils reign as the greatest of outdoor events to the white tablecloths of Link's famed restaurants, Real Cajun takes you on a rollicking and inspiring tour of this wild part of America and shares the soulful recipes that capture its irrepressible spirit.
Related Recipes:
Click on any Name below for the Recipe
---
Recipe courtesy of Chef John Currence, City Grocery, Oxford, MS. Restaurant information courtesy of the City Grocery Website – http://citygroceryonline.com/. Photo of Shrimp and Grits is by MLB and is used by permission under the Creative Commons Attribution-NonCommercial-NoDerivs 2.0 Generic (CC BY-NC-ND 2.0) License. Thank you, Baseball. Great Picture. Photos may be "representative" of the recipe and not the actual finished dish. All photo licenses listed were correct at the time of the posting of the page. Additional Information Courtesy of Wikipedia and is used by permission.
---
Please use the Facebook, Twitter, Pinterest or Email Buttons below to SHARE our City Grocery Shrimp and Grits Recipe with your Friends!
It only takes a minute and they will love you for it!
Thank You!