Make our McDonald's McRib Secret Recipe at home tonight for your family. With our Secret Restaurant Recipe your McRib Sandwich will taste just like the elusive McDonalds's McRib.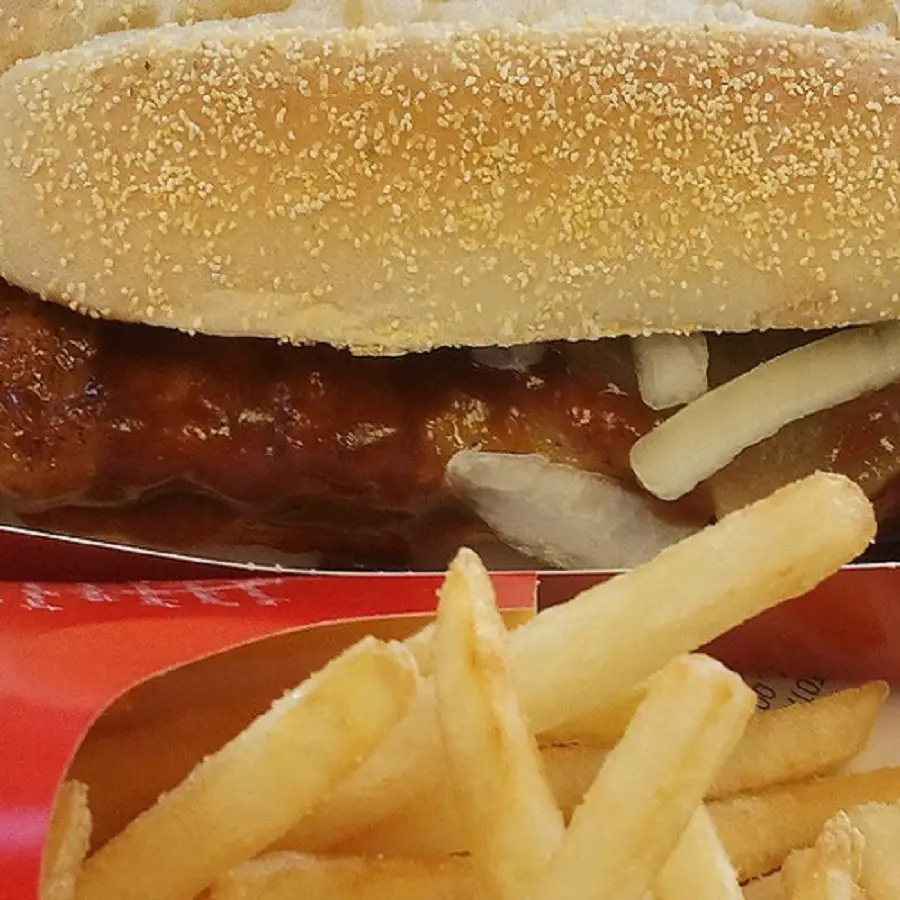 Photo by Simplerich.
McDonald's McRib (or Barbecue Pork Belly Sandwich with Quick Dill Pickles and Red Onions)
Okay — I must say I was taken by surprise by this recipe.
Not really the recipe — but where I found it.
I found this on the Saveur Website.
For those of you unfamiliar with Saveur — it is a high-end, glossy magazine totally dedicated to everything authentic in cooking and food.  So to see the McRib on it's website is a bit unusual to say the least.
However — in true Saveur fashion the recipe pretty complicated.
No scratch that – It's VERY complicated!
It even includes a recipe for the McPickles.
The great thing is — We no longer have to wait for "power-that-be" to reintroduce the McDonald's McRib for "a limited time."  We can just make it at home anytime.
And here is the recipe.  So that when Saveur wakes up and realizes they have a McDonald's Recipe on their fancy pants site and pulls it down, you can still find it here. 😉

McDonald's McRib (or Barbecue Pork Belly Sandwich with Quick Dill Pickles and Red Onions) Recipe
Make our McDonald's McRib Secret Recipe at home tonight for your family. With our Secret Restaurant Recipe your McRib Sandwich will taste just like the elusive McDonalds's McRib.
Ingredients
2

six-inch white Sandwich Rolls

split in half

1/2

small Red Onion

cut into batons
For the Pork Belly
3

pounds

Pork Belly

trimmed into a 5 x 2.5-inch rectangle

Salt and freshly ground Black Pepper

to taste

1 1/2

tablespoons

Vegetable Oil

2

medium Carrots

roughly chopped

2

medium Yellow Onions

roughly chopped

2

stalks Celery

roughly chopped

1

Bay Leaf

3

–4 sprigs of fresh Thyme

6

cups

Chicken Stock or fresh Water
For the Pickles
4

medium Cucumbers

sliced

1

cup

Kosher Salt

2

big pinches Pickling Spices

coriander seeds, bay leaf, peppercorns, dry mustard seeds, fennel and cumin seeds, cloves

3

cloves

Garlic

peeled and smashed

5

– 6 sprigs of fresh Dill

2

cups

Water

2

cups

White Wine Vinegar

1/4

cup

Sugar
For the BBQ Sauce
1

cup

Ketchup

1/4

cup

Water

1/4

cup

Apple Cider Vinegar

1/8

cup

Brown Sugar

1 1/2

tablespoons

Yellow Mustard

1 1/2

tablespoons

Onion Powder

1 1/2

tablespoons

Garlic Powder

1

tablespoon

Mesquite Liquid Smoke

1 1/2

teaspoons

Cayenne Pepper
Instructions
Preheat oven to 350°F.

Heat a heavy-bottomed, medium-size pot over medium-high heat. Season the pork belly with salt and pepper. Add oil to the pot and sear the pork on each side to a deep golden brown. Transfer pork to a plate and set aside.

Remove all but about 1 tablespoon of the fat from the pot. Add the chopped carrots, onions, and celery to the pot and cook, stirring occasionally, until the vegetables begin to soften. Add the bay leaf, thyme, and 2 cups of chicken stock or water. Bring to a boil, then lower heat to a simmer and reduce liquid by about half.

Place the pork back in the pot. Add the rest of the chicken stock or water. Bring to a simmer. Cover with a lid, place in the oven on the center rack, and let cook undisturbed for about 3 hours.

While the pork belly cooks, make the quick pickles: Cover cucumber slices with the kosher salt, making sure the slices are covered on both sides. Let sit for 30 minutes, then wash the salt off and place cucumber slices in a glass or stainless-steel bowl along with the pickling spices, smashed garlic, and fresh dill sprigs. Combine the water, vinegar, and sugar in a saucepan and bring to a boil. Pour the vinegar mixture over the cucumbers and allow to steep for 30 minutes. Remove the pickles from the bowl and lightly rinse them in water to remove the brine. Put the pickles in the refrigerator.

Now it's time for the BBQ sauce: Combine all ingredients in a saucepan over low heat. Bring to a simmer and cook, stirring occasionally, until the sauce coats the back of a spoon.

In a nonstick pan, melt a little butter, then add the sandwich rolls. Toast both rolls to a golden brown crust. Set aside.

When the pork belly is fork tender, remove it from the oven. With a slotted spatula, carefully remove the pork belly from the pot. In a bowl, combine the pork belly with the BBQ sauce, making sure to cover every inch of the meat. Slather a small amount of sauce on both the tops and bottoms of the sandwich rolls, then place the sauced pork belly on the bottom halves. Add pickles and red onions to each sandwich and cover with the top half of the bun.
Get More Secret Copycat Restaurant Recipes
Sign-up for our FREE Restaurant Recipes Emails. We send out Additional Email-Only Copycat Restaurant Recipes each week. Sign up NOW to get EVERY RECIPE.

---
And Please Follow Us on Your Favorite Social Sites
You'll Stay in Touch, Get More Recipes from All of Our Sites and Help Us Spread the Word about Secret Copycat Restaurant Recipes to All Your Friends.
Thank You.
Related Recipes:
Click on any Name below for the Recipe
… MORE Great Recipes Coming Soon!
Bobby Flay's Burgers, Fries, and Shakes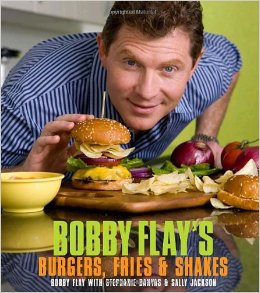 After a long day spent in one of his restaurants or taping a television show, what Bobby Flay craves more than anything else is… a crusty-on-the-outside, juicy-on-the-inside burger; a fistful of golden, crisp, salty fries; and a thick, icy milkshake. Given the grilling guru's affinity for bold flavors and signature twists on American favorites, it's no surprise that he has crafted the tastiest recipes ever for this ultimate food trio.
Though he doesn't believe in messing with delicious certified Angus chuck (just salt and pepper on the patty–no "meatloaf" burgers here), Bobby loves adding flavorful relishes and condiments to elevate the classic burger. Once you've learned what goes into making that burger (from how to shape it so it cooks up perfectly to melting the cheese just so), go to town with Bobby's favorite combinations of additions. Try the Cheyenne Burger, which gets slathered with homemade barbecue sauce and then piled high with bacon and shoestring onion rings, or the Santa Fe Burger, topped with a blistered poblano, queso sauce, and crumbled blue corn tortilla chips. And although Bobby's personal preference is for beef, turkey can be substituted in any burger, and a handful of salmon and tuna burger recipes are included for those looking for leaner options.
After you've mastered the burger, discover Bobby's secrets to cooking up the best French fries–whether they're fried, grilled, or oven roasted, or made from spuds, sweet potatoes, or even plantains–as well as homemade potato chips and onions rings. Wash it all down with a creamy shake, from Fresh Mint-Chocolate Speckled Milkshake to Blackberry Cheesecake Milkshake (or a spiked adult variation).
BONUS – There are TWO Free Recipes from the Book on the Amazon Page for You to try out. Click the Link Above.
---
Photo of McRib is by Simplerich and is used by permission under the Creative Commons Attribution-NonCommercial-ShareAlike 2.0 Generic (CC BY-NC-SA 2.0) License. Thank you, Simplerich. Great Picture. Photos may be "representative" of the recipe and not the actual finished dish. All photo licenses listed were correct at the time of the posting of the page. Additional Information Courtesy of Wikipedia and is used by permission.
---
Please use the Facebook, Twitter, Pinterest and Email Buttons below to SHARE our Recipe with your Friends!
It only takes a minute and they will love you for it!
Thank You!