More Home Cooking Tips you can use today from One of the World's Great Chefs. Bobby Flay makes Blue Cheese, Taco and Texas Beef Burgers at the 2008 Classic in Aspen.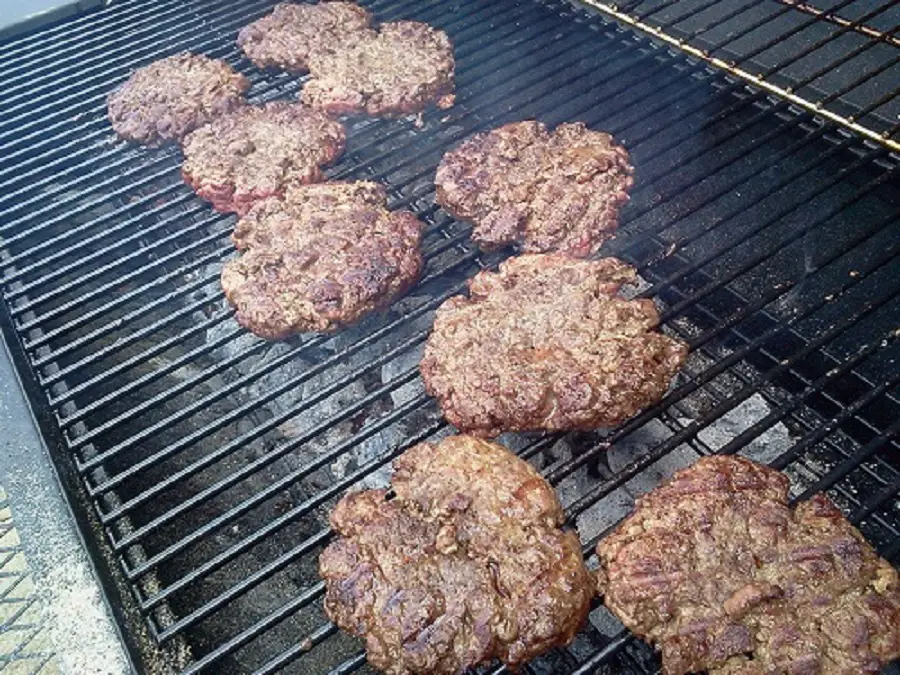 Photo by Mark
Bobby Flay's Texas Burgers
Video Courtesy of Food and Wine YouTube Channel
---
Bobby Flay is, of course, the American celebrity chef, restaurateur and reality television personality.
A regular on grilling shows on the Food Network as well as an Iron Chef, Bobby Flay is also the owner and executive chef of 10 restaurants.
His first restaurant was Mesa Grill in New York City and he has opened two more in Las Vegas and in the Bahamas. He also owns Bar Americain in New York City and Uncasville, Connecticut and Bobby Flay Steak in Atlantic City, New Jersey.
His Bobby's Burger Palace chain of five restaurants are an homage to his memories of hamburger shops from when he was a child. Based on what we saw on the menu, we think that means he serves "up-scale" versions of the traditional diner fare of burgers, fires, onion rings and shakes.
Bobby Flay's Burgers, Fries, and Shakes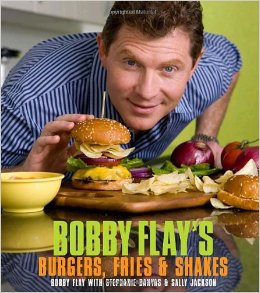 After a long day spent in one of his restaurants or taping a television show, what Bobby Flay craves more than anything else is… a crusty-on-the-outside, juicy-on-the-inside burger; a fistful of golden, crisp, salty fries; and a thick, icy milkshake. Given the grilling guru's affinity for bold flavors and signature twists on American favorites, it's no surprise that he has crafted the tastiest recipes ever for this ultimate food trio.
Though he doesn't believe in messing with delicious certified Angus chuck (just salt and pepper on the patty–no "meatloaf" burgers here), Bobby loves adding flavorful relishes and condiments to elevate the classic burger. Once you've learned what goes into making that burger (from how to shape it so it cooks up perfectly to melting the cheese just so), go to town with Bobby's favorite combinations of additions. Try the Cheyenne Burger, which gets slathered with homemade barbecue sauce and then piled high with bacon and shoestring onion rings, or the Santa Fe Burger, topped with a blistered poblano, queso sauce, and crumbled blue corn tortilla chips. And although Bobby's personal preference is for beef, turkey can be substituted in any burger, and a handful of salmon and tuna burger recipes are included for those looking for leaner options.
After you've mastered the burger, discover Bobby's secrets to cooking up the best French fries–whether they're fried, grilled, or oven roasted, or made from spuds, sweet potatoes, or even plantains–as well as homemade potato chips and onions rings. Wash it all down with a creamy shake, from Fresh Mint-Chocolate Speckled Milkshake to Blackberry Cheesecake Milkshake (or a spiked adult variation).
BONUS – There are TWO Free Recipes from the Book on the Amazon Page for You to try out. Click the Link Above.
Get More Secret Copycat Restaurant Recipes
If you like this recipe, you should sign-up for our FREE Restaurant Recipes Emails. We'll send you a Cool Starbucks Recipe Book just for trying us out. You'll love it.
Related Recipes:
Click on any Name below for the Recipe
---
Photo by Mark. Original Video can be found at Bobby Flay: Texas Burgers | Food & Wine. Portions of the information about chef Bobby Flay and additional information courtesy of Wikipedia and is used by permission.
---
---
Please use the Buttons below to SHARE Bobby's Texas Burgers Recipe with your Friends!
It only takes a minute and they will love you for it!