Watch Super-Star Chef Bobby Flay prepare fresh corn tamales with shrimp and roasted garlic — the signature dish at his award-winning flagship restaurant, Mesa Grill, at the 2007 Food & Wine Classic in Aspen.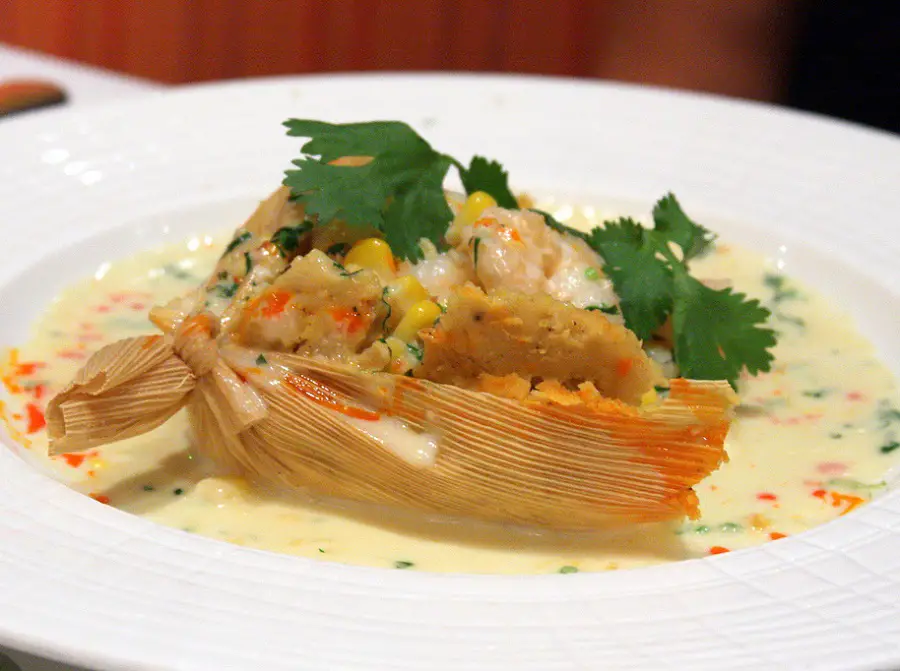 Photo by Larry – Muy Yum
Bobby Flay's Shrimp Tamales
Full Written Recipe Included Below Video
Video Courtesy of Food and Wine YouTube Channel
Bobby Flay's Shrimp Tamales Recipe
Ingredients
Tamales
4 cups fresh Corn Kernels (the corn from about 8 good ears)
1 1/2 cups Water
1 small Onion, coarsely chopped
2 tablespoons Honey
1 tablespoon Kosher Salt
1 teaspoon freshly ground Pepper
1 1/2 cups Yellow Cornmeal
1 stick Butter, melted
36 dried Corn Husks, soaked in water to cover for 2 hours
Shrimp
1 head of Garlic
1 1/2 tablespoons Vegetable Oil
1 small Onion, finely diced
1/2 cup White Wine
1 1/2 cups Heavy Cream
Kosher salt and freshly ground Pepper
1 1/4 pounds large Shrimp, peeled and deveined
3 tablespoons Extra-Virgin Olive Oil
1 cup fresh Corn Kernels (from 2 ears)
Snipped Chives and finely diced Red Bell Pepper, for garnish
---
---
Directions
In a blender, puree the corn with the water, onion, honey, salt and pepper. Transfer the puree to a bowl and stir in the cornmeal and melted butter. Don't worry if the filling is wet; it will firm up as it cooks.
Drain the corn husks and pat dry. Lay 2 husks flat on a work surface with the wide ends overlapping by about 3 inches. Spoon 1/3 cup of the tamale filling in the center. Roll the husks around the filling to make a compact cylinder, folding in the sides as you roll. Tie the tamale with kitchen string. Repeat with the remaining husks and filling for a total of 18 tamales.
Crumple foil into 2-inch balls and set a ball in each corner of a large flameproof roasting pan. Set a rack in the pan and fill the pan with 1 inch of water. Arrange the tamales on the rack and cover the pan tightly with foil. Steam the tamales over high heat for 45 minutes, or until they feel firm. Uncover and let cool for 15 minutes.
Preheat the oven to 375F°. Cut off the top of the head of garlic to expose the cloves. Set the head on a sheet of foil, cut side up, and drizzle with 1/2 tablespoon of the vegetable oil. Wrap the garlic in the foil and roast in the oven for 45 minutes, or until very tender. Let cool. Squeeze the roasted garlic cloves into a small bowl; discard the skins.
In a medium saucepan, heat the remaining 1 tablespoon of vegetable oil. Add the onion and cook over moderate heat until softened, about 6 minutes. Add the roasted garlic cloves and the wine and boil over high heat until the wine is reduced to 2 tablespoons, about 5 minutes. Add the cream and simmer over moderate heat until it is reduced by half, about 10 minutes. Transfer the mixture to a blender and puree until smooth. Season the sauce with salt and pepper.
Season the shrimp with salt and pepper. In a large skillet, heat 2 tablespoons of the olive oil. Add the shrimp and cook over moderately high heat until lightly golden on both sides and just white throughout, about 4 minutes. Transfer to a plate.
In the same skillet, heat the remaining 1 tablespoon of olive oil. Add the corn and cook over moderate heat for 2 minutes. Stir in the roasted garlic sauce and bring to a simmer over moderately low heat. Add the shrimp, toss to coat and cook for 1 minute.
Transfer the tamales to plates. Snip off the strings; slash through the husks and peel them back. Spoon the shrimp and sauce on top, garnish with chives and red pepper and serve.
Make Ahead — The steamed tamales can be refrigerated overnight. Resteam until heated through.
---
Recipe Transcribed by Alton for the convenience of our readers from the Video on Food and Wine YouTube Channel.
Recipe courtesy of Bobby Flay and Food and Wine.
Bobby Flay is, of course, the American celebrity chef, restaurateur and reality television personality.  A regular on grilling shows on the Food Network as well as an Iron Chef, Bobby Flay is also the owner and executive chef of 10 restaurants.
His first restaurant was Mesa Grill in New York City and he has opened two more in Las Vegas and in the Bahamas. He also owns Bar Americain in New York City and Uncasville, Connecticut and Bobby Flay Steak in Atlantic City, New Jersey.
His Bobby's Burger Palace chain of five restaurants are an homage to his memories of hamburger shops from when he was a child. Based on what we saw on the menu, we think that means he serves "up-scale" versions of the traditional diner fare of burgers, fires, onion rings and shakes.

Bobby Flay's Mesa Grill Cookbook: Explosive Flavors from the Southwestern Kitchen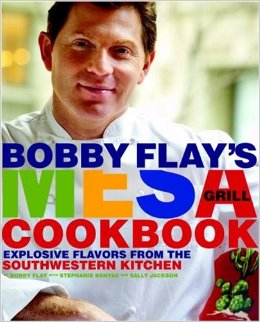 Here are 150 recipes for the drinks, appetizers, soups, salads, main dishes, sides, sauces, desserts, and brunch dishes that have earned Bobby his reputation for creating innovative combinations and big, rich flavors, including:
Grilled Asparagus and Goat Cheese Quesadillas with Tomato Jam and Cilantro Yogurt
Queso Fundido with Roasted Poblano Vinaigrette
Sweet Potato and Roasted Plantain Soup with Smoked Chile Crema
Grilled Shrimp Brushed with Smoked Chile Butter and Tomatillo Salsa
Seared Tuna Tostado with Black Bean Mango Salsa
Coffee-Rubbed Filets Mignons with Ancho-Mushroom Sauce
Spicy Coconut Tapioca with Mango and Blackberries
Complete with a guide no tequila lover should be without, a list of must-haves for the Southwestern pantry, menu suggestions for festive occasions with friends and family, Bobby's pointers on basic cooking techniques, and 100 full-color photographs, Bobby Flay's Mesa Grill Cookbook helps you re-create the fun and flavors of Mesa Grill in your own kitchen.
[/themify_box]
Get More Secret Copycat Restaurant Recipes
Sign-up for our FREE Restaurant Recipes Emails. We send out Additional Email-Only Copycat Restaurant Recipes each week. Sign up NOW to get EVERY RECIPE.

---
And Please Follow Us on Your Favorite Social Sites
You'll Stay in Touch, Get More Recipes from All of Our Sites and Help Us Spread the Word about Secret Copycat Restaurant Recipes to All Your Friends.
Thank You.
Related Recipes:
Click on any Name below for the Recipe
---
Photo of Bobby Flay's Shrimp Tamales Recipe at Mesa Grill is by Larry – Muy Yum and is used by permission under the Creative Commons Attribution-NonCommercial-NoDerivs 2.0 Generic (CC BY-NC-ND 2.0) License. Thank you, Larry. Great Picture. Photos may be "representative" of the recipe and not the actual finished dish. All photo licenses listed were correct at the time of the posting of the page. Additional Information Courtesy of Wikipedia and is used by permission. Recipe courtesy of Bobby Flay and Food and Wine.
---
Please use the Facebook, Twitter, Pinterest and Email Buttons below to SHARE this Recipe with your Friends!
It only takes a minute and they will love you for it!
Thank You!