Make our Applebee's Bruschetta Burger Recipe at home tonight for your family. With our Secret Restaurant Recipe your Bruschetta Burger will taste just like Applebee's.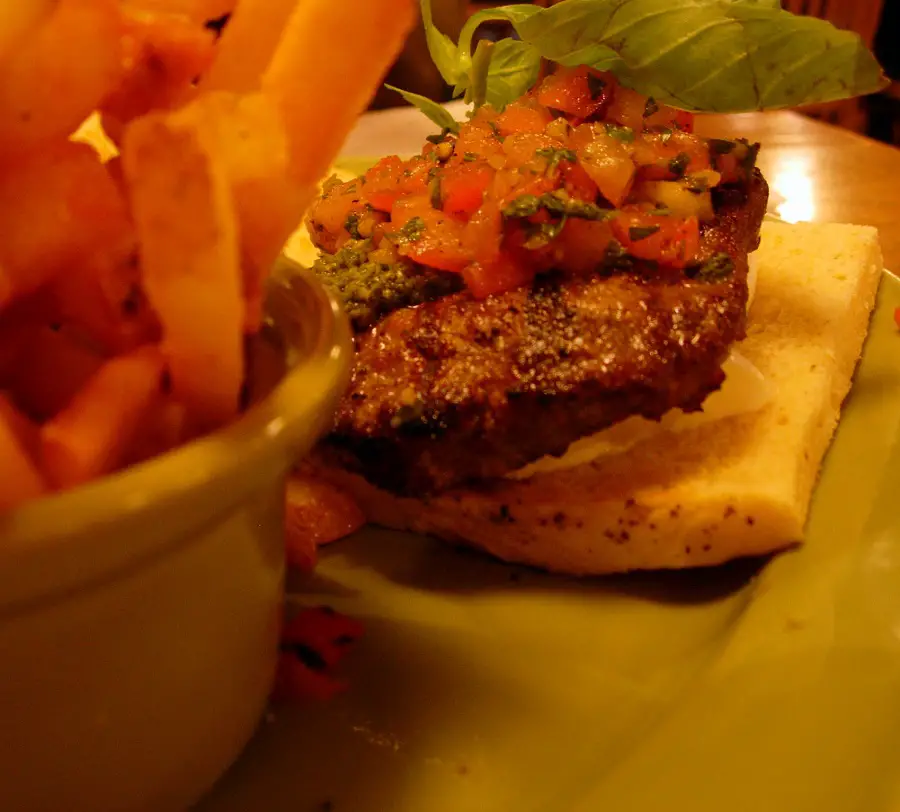 Photo by wEnDy
Applebee's Bruschetta Burger
From the Applebee's Menu – Bruschetta Burger:
This 100% Angus burger is juicy, robust – and like no other. It's crowned with a zesty pesto sauce and fresh bruschetta mix, and set on thick wedges of mozzarella. Served between grilled focaccia bread for a delicious crunch and crispy garlic fries sprinkled with shaved Parmesan complete this new classic
Applebee's Bruschetta Burger Recipe
Make our Applebee's Bruschetta Burger Recipe Recipe at home tonight for your family. With our Secret Restaurant Recipe your Bruschetta Burger will taste just like Applebee's.
Ingredients
1

pound

lean Ground Beef

3

teaspoons

Montreal Steak Spice

1

Egg

1/4

cup

Oatmeal

6

Focaccia Bread

1

tablespoon

Mayonnaise

1

tablespoon

Basil Pesto

Mozzarella Cheese

6 -12

tablespoons

Applebee's Bruschetta Burger Tomato Bruschetta Topping

See recipe below
Instructions
Combine ground beef,steak spice, egg and oatmeal.

Form into patties.

Grill patties over medium heat turning frequently for approximately 5 minutes per side.

On one half of the Focaccia bread spread the mayonnaise and top with mozzarella cheese.

Heat bun until cheese is melted.

Place the cooked burger patty atop the side of the bun with the mozzarella cheese on it.

Top the burger patty with basil pesto followed by Tomato Bruschetta Topping - 1-2 tablespoons to

taste.
Applebee's Bruschetta Burger Tomato Bruschetta Topping Recipe
Ingredients
2

Tomatoes

diced

4

tablespoons

Parmesan Cheese

shredded

2

tablespoons

Olive Oil

1

Garlic Clove

minced

1/8

teaspoon

Seasoning Salt

2

tablespoons

Balsamic Vinegar

1

teaspoon

Basil

chopped

1/8

teaspoon

Oregano

chopped

1

tablespoon

Green Onion

chopped
Instructions
Combine everything and mix well.
Get More Secret Copycat Restaurant Recipes
Sign-up for our FREE Restaurant Recipes Emails. We send out Additional Email-Only Copycat Restaurant Recipes each week. Sign up NOW to get EVERY RECIPE.

---
And Please Follow Us on Your Favorite Social Sites
You'll Stay in Touch, Get More Recipes from All of Our Sites and Help Us Spread the Word about Secret Copycat Restaurant Recipes to All Your Friends.
Thank You.
Related Recipes:
Click on any Name below for the Recipe
… MORE Great Recipes Coming Soon!
Bobby Flay's Burgers, Fries, and Shakes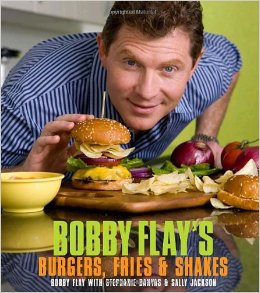 After a long day spent in one of his restaurants or taping a television show, what Bobby Flay craves more than anything else is… a crusty-on-the-outside, juicy-on-the-inside burger; a fistful of golden, crisp, salty fries; and a thick, icy milkshake. Given the grilling guru's affinity for bold flavors and signature twists on American favorites, it's no surprise that he has crafted the tastiest recipes ever for this ultimate food trio.
Though he doesn't believe in messing with delicious certified Angus chuck (just salt and pepper on the patty–no "meatloaf" burgers here), Bobby loves adding flavorful relishes and condiments to elevate the classic burger. Once you've learned what goes into making that burger (from how to shape it so it cooks up perfectly to melting the cheese just so), go to town with Bobby's favorite combinations of additions. Try the Cheyenne Burger, which gets slathered with homemade barbecue sauce and then piled high with bacon and shoestring onion rings, or the Santa Fe Burger, topped with a blistered poblano, queso sauce, and crumbled blue corn tortilla chips. And although Bobby's personal preference is for beef, turkey can be substituted in any burger, and a handful of salmon and tuna burger recipes are included for those looking for leaner options.
After you've mastered the burger, discover Bobby's secrets to cooking up the best French fries–whether they're fried, grilled, or oven roasted, or made from spuds, sweet potatoes, or even plantains–as well as homemade potato chips and onions rings. Wash it all down with a creamy shake, from Fresh Mint-Chocolate Speckled Milkshake to Blackberry Cheesecake Milkshake (or a spiked adult variation).
BONUS – There are TWO Free Recipes from the Book on the Amazon Page for You to try out. Click the Link Above.
---
The Photo of Applebee's Bruschetta Burger is by wEnDy and is used by permission under the Creative Commons Attribution-NonCommercial-NoDerivs 2.0 Generic (CC BY-NC-ND 2.0) License. Thank you, wEnDy. Great Picture. Photos may be "representative" of the recipe and not the actual finished dish. All photo licenses listed were correct at the time of the posting of the page. Additional Information Courtesy of Wikipedia and is used by permission.
---
Please use the Facebook, Twitter, Pinterest and Email Buttons below to SHARE our Recipe with your Friends!
It only takes a minute and they will love you for it!
Thank You!