Skip the line – Make your very own Egg McMuffins right at home.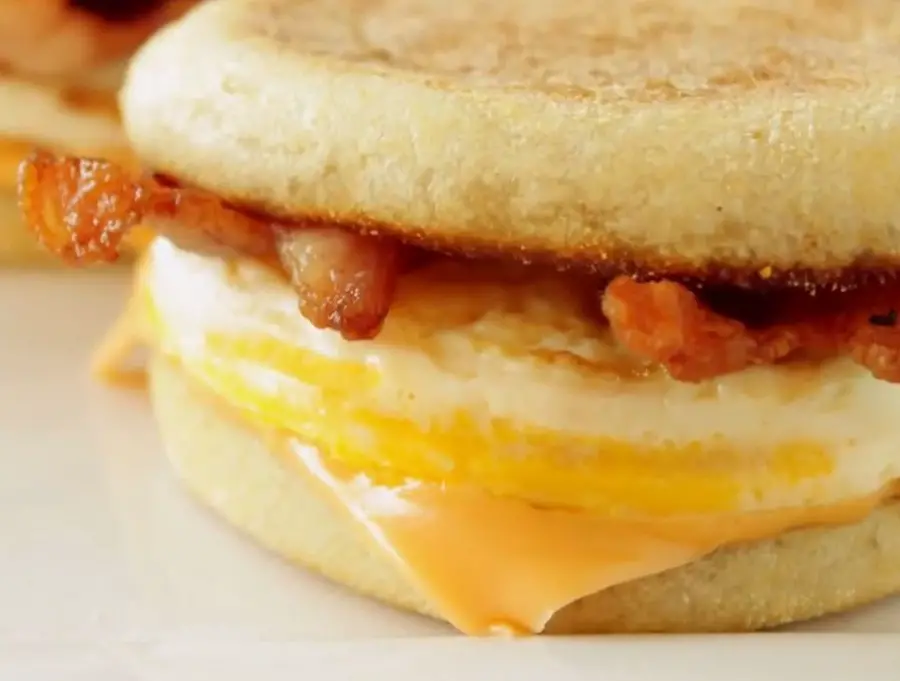 Photo is a Screen Shot from the Video
James, Mark and Uncle Alton want you to know…
Our pages may contain ads and affiliate links from Amazon and others. If you buy something after clicking on one of these links you will not pay one penny more – but we will get a small commission. This helps us keep bringing this site and our recipes to you for free. Thank you.
Homemade McDonald's Egg McMuffins Recipe
These are super easy to make. You can use bacon, sausage or Canadian bacon on these. Have them any way you like.
Make up a dozen and freeze them to have throughout the week.
Video Courtesy of Crouton Crackerjacks
Homemade McD's Egg McMuffins Notes
Egg Rings
You need anything round, that sits flat and is about 3 to 3-1/2-inches in diameter.
You should use egg rings or heat-proof (not plastic) cookie cutters or biscuit cutters, if you have them. If you like these McMuffins and plan on making them often, we recommend you buy a good set.
To Freeze Egg McMuffins for Later
Wrap in waxed paper and place into a zip-lock bag. Place in the freezer.
When you want one, remove from bag but leave in the waxed paper and microwave for 1 – 2 minutes or until heated through. Careful – Sandwich WILL be hot! Enjoy.
Get More Secret Copycat Restaurant Recipes
If you like this recipe, you should sign-up for our FREE Restaurant Recipes Emails. We have sent our readers over 200 Additional Email-Only Copycat Restaurant Recipes (and counting!) Sign up NOW to get EVERY RECIPE.

We'll send you a Cool Starbucks Recipe Book just for trying us out. You'll love it.
---
And Please Follow Us on Your Favorite Social Sites
You'll Stay in Touch, Get More Recipes from All of Our Sites and Help Us Spread the Word about Secret Copycat Restaurant Recipes to All Your Friends.
Thank You.
---
Related Recipes:
Click on any Name below for the Recipe
---
Breakfast Recipes to Wake Up For
"These days, George Weld and Evan Hanczor, the farmer/restaurateur and chef behind Willamsburg's Egg eatery, are serving up more than just scrumptious concoctions like Eggs Rothko or Grafton cheddar omelets with broiled tomatoes. Authors of the newly released Breakfast, they are now offering menus and ideas. The book, they say, 'is our best argument for waking up and making something delicious for breakfast.' And what better way to start the day than at Egg, or with one?" – Vogue
A delicious ode to morning foods, featuring eggs, biscuits, meats, and pancakes you'll want to start every day with.
George Weld draws on his passion and Southern roots to create the fresh, satisfying dishes his Williamsburg restaurant, Egg, has been serving for ten years.
This book will make breakfast the meal you dream about at night, and the most anticipated part of your morning.
---
---
---
Original Video can be found at Homemade McD's Egg McMuffins – How to Make Your Own McMuffin. Additional Information Courtesy of Wikipedia and is used by permission
---
---
Please use the Facebook, Twitter, Pinterest and Email Buttons below to SHARE this Recipe for Homemade (and Freezable) McDonald's Egg McMuffins with your Friends!
It only takes a minute and they will love you for it!
Thank You!