Make our Almond Joy Candy Bar Recipe at home tonight for your family. With our Secret Restaurant Recipe your Almond Joys will taste just like the real things.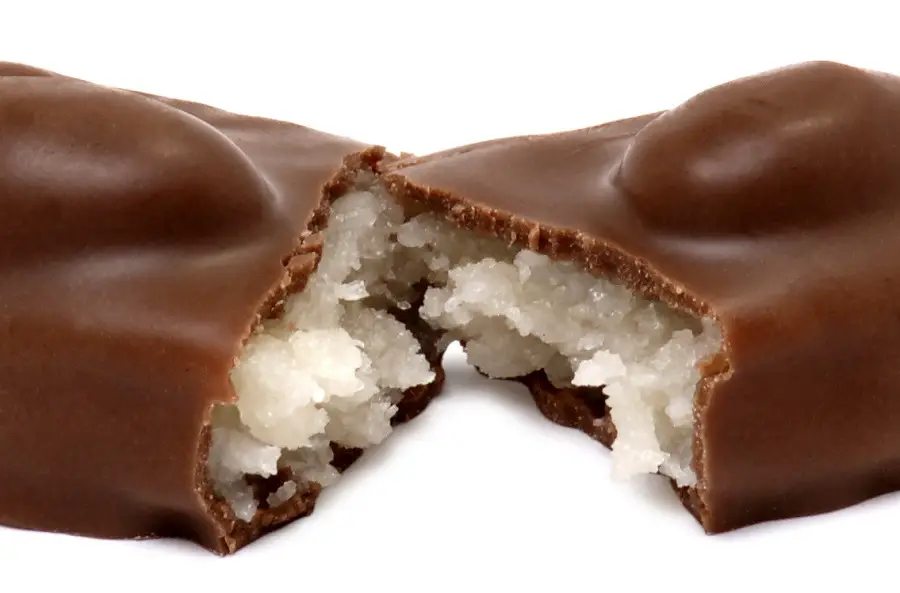 Photo by Evan-Amos
Almond Joy Candy Bar
This is my Mom's favorite candy bar.
Almond Joy Candy Bar Recipe
Make our Almond Joy Candy Bar Recipe at home tonight for your family. With our Secret Restaurant Recipe your Almond Joys will taste just like the real things.
Ingredients
4

cups

about 8 1/2 ounces shredded Coconut

1/4

cup

Light Corn Syrup

One 11 1/2-ounce package Milk Chocolate Pieces

1/4

cup

Vegetable Shortening

26

whole natural Almonds

abour 1 ounce
Instructions
Line two large cookie sheets with waxed paper. Set large wire cooling rack on paper; set aside.

Place coconut in large bowl; set aside.

Place corn syrup in a 1-cup glass measure. Microwave on high (100%) 1 minute or until syrup boils. Immediately pour over coconut.

Work warm syrup into coconut using the back of a wooden spoon until coconut is thoroughly coated. This takes a little time, and yes, there is enough syrup.

Using 1 level measuring tablespoon of coconut, shape into a ball by squeezing coconut firmly in palm of one hand, then rolling between both palms. (HINT: Measure out all of the coconut then roll into balls.)

Place 2 inches apart on wire racks. Let dry 10 minutes. Reroll coconut balls so there are no loose ends of coconut sticking up.

Place milk chocolate and shortening in a 4-cup glass measure or 1 1/2-quart microwave-safe bowl. Microwave on high 1 to 2 minutes or until mixture can be stirred smooth and is glossy; stirring once or twice.

Working quickly, spoon 1 level measuring tablespoon of the chocolate over each coconut ball, making sure chocolate coats and letting excess chocolate drip down onto waxed paper.

While chocolate coating is still soft, lightly press whole almond on top of each.

Let stand to set or place in refrigerator. Store in a single layer in airtight container.

Keeps best if refrigerated. Makes 26.
Get More Secret Copycat Restaurant Recipes
Sign-up for our FREE Restaurant Recipes Emails. We send out Additional Email-Only Copycat Restaurant Recipes each week. Sign up NOW to get EVERY RECIPE.

---
And Please Follow Us on Your Favorite Social Sites
You'll Stay in Touch, Get More Recipes from All of Our Sites and Help Us Spread the Word about Secret Copycat Restaurant Recipes to All Your Friends.
Thank You.
Couture Chocolate: A Masterclass in Chocolate
"Couture Chocolate: A Masterclass in Chocolate unveils all the techniques and secrets a chocolate lover could wish for, before moving on to the mouth-watering array of recipes—like Thyme and Honey Filled Chocolates and Madagascan Chocolate Ice Cream." — Desserts Magazine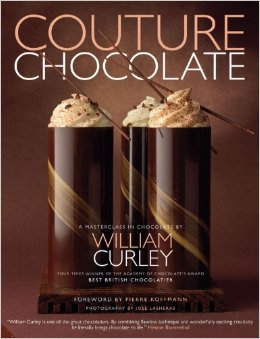 Couture Chocolate examines the origins of one of the world's most popular foods–explaining the method of creating chocolate, how its quality depends to a large extent on the variety of beans used, and the differences between plain, milk and white chocolates.
It reveals how some of today's most popular flavors – such as vanilla and chilli – were those favored by the pioneering Aztec chocolatiers centuries ago.
William shares his techniques and most mouth-watering recipes, starting with the basics: tempering and making a bar of chocolate; advice on how to add exotic flavors like rosemary or raspberry; and introducing different textures. Once those skills have been mastered, it's time to tackle some of the authors incredible creations.
---
Related Recipes:
Click on any Name below for the Recipe
… MORE Great Recipes Coming Soon!
Photo of Almond Joy Candy Bar is by Evan-Amos and is in the Public Domain – I, the copyright holder of this work, release this work into the public domain. This applies worldwide. I grant anyone the right to use this work for any purpose, without any conditions, unless such conditions are required by law. Thank you, Evan-Amos. Great Picture. Photos may be "representative" of the recipe and not the actual finished dish. All photo licenses listed were correct at the time of the posting of the page. Additional Information Courtesy of Wikipedia and is used by permission.
---
Please use the Facebook, Twitter, Pinterest or Email Buttons below to SHARE our Almond Joy Candy Bar Recipe with your Friends!
It only takes a minute and they will love you for it!
Thank You!