Make our Cracker Jack Recipe at home for your family.  You won't get a little prize in the batch, but with our Secret Copycat Recipe your Cracker Jacks will taste just like the real thing.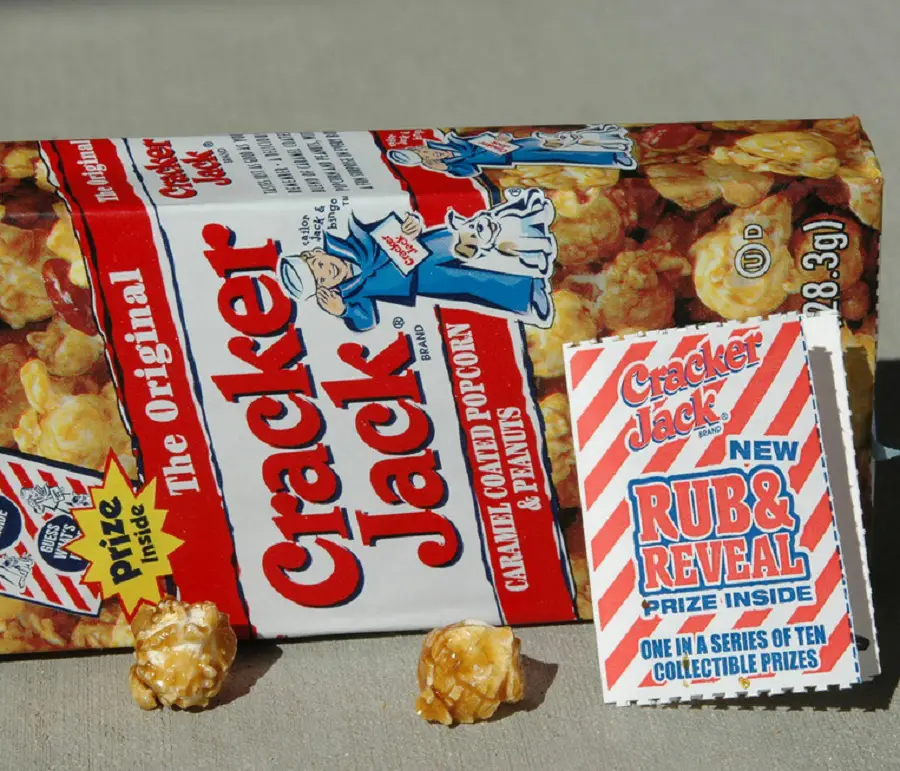 Photo by John Shappell
Cracker Jack
I noticed at a recent Football Party that, while we had a wealth of wonderful food, we were seriously lacking in the sweets department.
So I decided to do something about it.
I didn't want to make a pie or cake (while wonderful, they are too hard to eat while standing and cheering.) Cookies were a thought. But you can stop at almost any store nowadays and pick up great cookies.
So I needed something sweet, easy-to-eat and unique. 🙂
I knew I had a winner when I found this recipe for Tequila-Spiked Caramel Corn.
What I was not prepared for is just how popular it would be.
To say this was a HUGE hit would be a gross understatement. The entire bowl was gone long before the game even started — and it was a BIG, BIG BOWL (Not the tiny glass-full in the photo at the bottom. That's just my weak attempt at a little "food styling". 🙂 )
I highly recommend this recipe. Take some to your next party. You and your friends will not be disappointed.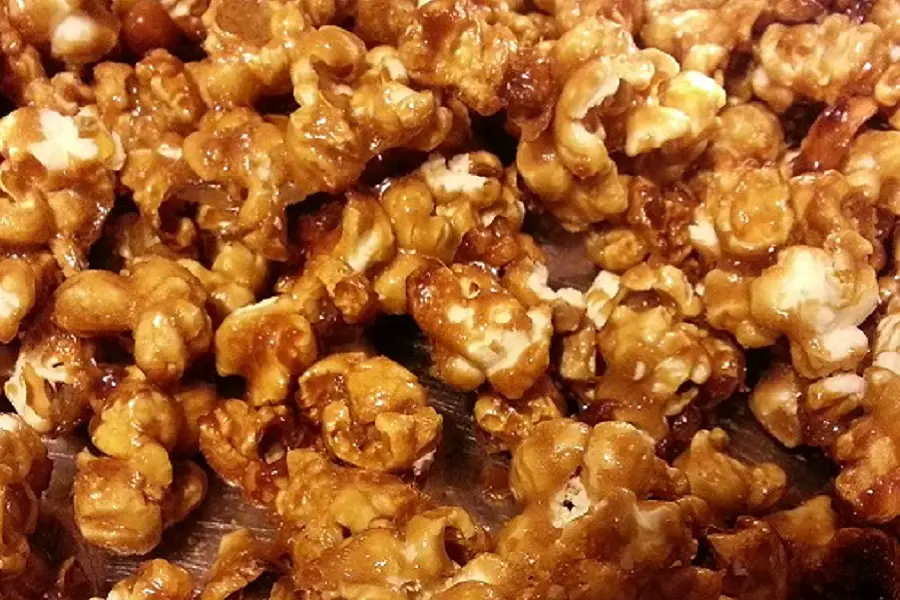 Adult Cracker Jack - Tequila-Spiked Caramel Corn
From Food and Wine Feb 2010 - Recipe by Taria Camerino - Atlanta pastry chef
Ingredients
16

cups

air-popped Popcorn

1/2

cup

salted roasted Peanuts

1

cup

Light Brown Sugar

1

stick Unsalted Butter

3

tablespoons

Agave Nectar

see Note 1

2

tablespoons

Light Corn Syrup

1/2

teaspoon

Salt

1/4

teaspoon

Baking Soda

1 1/2

tablespoons

Tequila

see Notes 2 & 3
Instructions
Preheat the oven to 250F° and position racks in the upper and middle thirds.

Toss the popcorn with the roasted peanuts in a large heatproof bowl.

In a large saucepan, combine the brown sugar with the butter, agave nectar, corn syrup and salt and bring to a boil, stirring until the sugar is completely dissolved.

Boil over moderate heat for 4 minutes.

Remove from the heat.

Using a long spoon, stir in the baking soda and tequila; the syrup will foam. (See Note 4)

Immediately pour the hot syrup over the popcorn and peanuts and, using 2 spoons, toss to coat thoroughly.

Spread the popcorn on 2 nonstick baking sheets and bake for about 1 hour, stirring occasionally and switching the sheets halfway through, until golden and nearly dry.

Turn off the oven, open the oven door completely and let the popcorn cool completely before serving.
The caramel corn can be kept in an airtight container for up to 1 week.
---
Agave nectar (also called agave syrup) is a liquid sweetener made from the agave plant. Look for it in health-food stores or almost any big grocery.
Alcohol "cooks off" when heated. So this recipe is safe for children and those who don't drink. The kids at the party I took it to loved it.
There is very little tequila taste to the corn. I love tequila and this is one of the things I was a bit disappointed in. I think you could safely leave it out -- BUT I have NOT tried it without and cannot say for sure.
It will foam A LOT. Be prepared. I wasn't and made a bit of a mess. 😉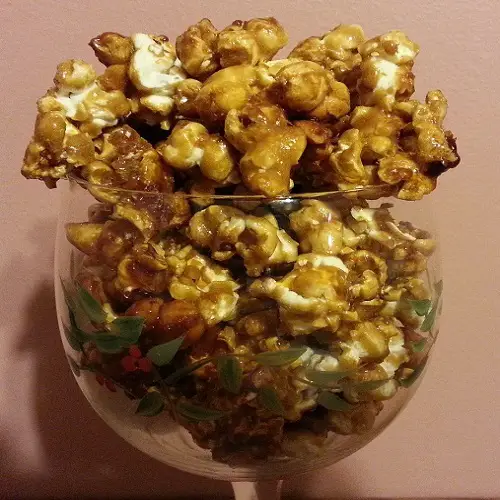 Get More Secret Copycat Restaurant Recipes
Sign-up for our FREE Restaurant Recipes Emails. We send out Additional Email-Only Copycat Restaurant Recipes each week. Sign up NOW to get EVERY RECIPE.

---
And Please Follow Us on Your Favorite Social Sites
You'll Stay in Touch, Get More Recipes from All of Our Sites and Help Us Spread the Word about Secret Copycat Restaurant Recipes to All Your Friends.
Thank You.
Related Recipes:
Click on any Name below for the Recipe
… MORE Great Recipes Coming Soon!
---
Photo of Cracker Jack Box is by John Shappell and is used by permission under the Creative Commons Attribution-NonCommercial-NoDerivs 2.0 Generic (CC BY-NC-ND 2.0) License. Photos of Tequila-Spiked Caramel Corn are by Mark. Photos may be "representative" of the recipe and not the actual finished dish. All photo licenses listed were correct at the time of the posting of the page. Additional Information Courtesy of Wikipedia and is used by permission.
---
Please use the Facebook, Twitter, Pinterest and Email Buttons below to SHARE our Recipe with your Friends!
It only takes a minute and they will love you for it!
Thank You!