Make our Baby Ruth Candy Bar Secret Home Recipe for your family.  With our Secret Restaurant Recipe your Baby Ruth will taste just like The Real Thing.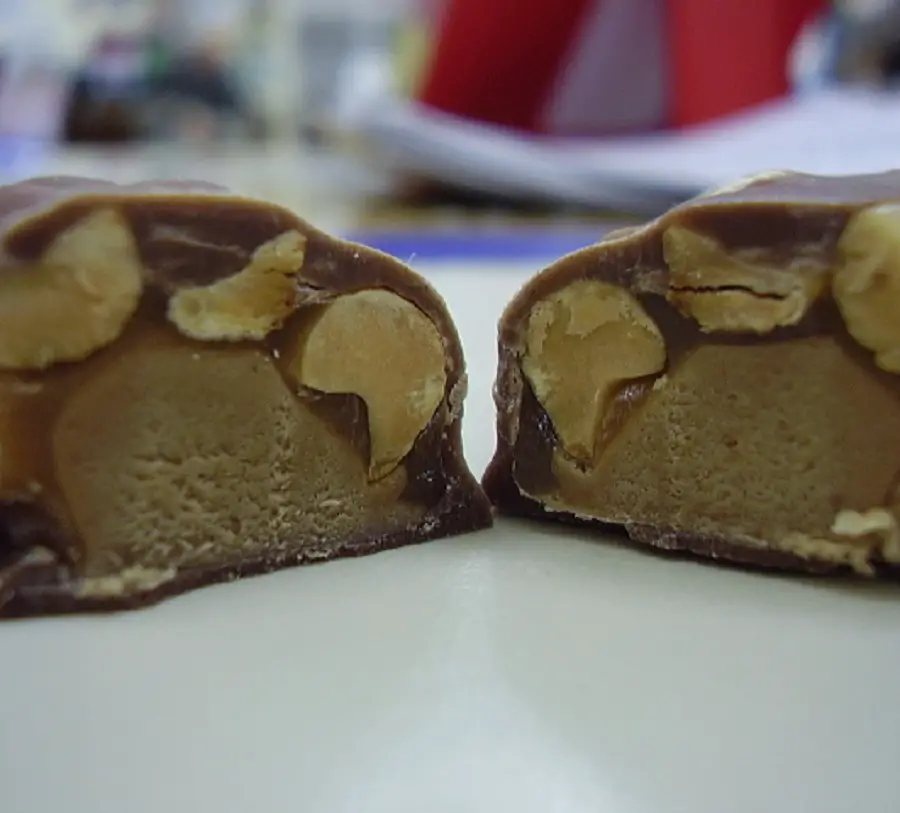 Photo by Lottery Monkey
Baby Ruth Candy Bar
One of my good friends is a fund raiser for schools. He used to work for Nestle' and would go around to schools getting them to sell candy bars to raise money. He would take boxes of samples of his 4 candy bars, Butterfinger, Crunch, $100 Grand Bar and Baby Ruth, to give out to the kids during his presentation. Naturally he lets the kids choose the sample candy bar they want.
Every couple months, he would give me several whole boxes of Baby Ruths so they wouldn't go stale. He told me he would go through 4 to 5 boxes of all the others to every 1 box of Baby Ruths.
I told him that I was not surprised. Baby Ruth is an adult candy bar. Always has been.
That Curious Name
Most people just assume that the bar is named after Babe Ruth.
But the Curtiss Candy Company has traditionally claimed that it was named after President Grover Cleveland's daughter, Ruth Cleveland.
The candy bar was first introduced in 1921. Baby Ruth Cleveland died in 1904. The idea that it would be named after the daughter of a former President who died 17 years earlier is absurd. Add to this the fact that the most famous person in America at the time was Babe Ruth and it sounds even more absurd.
What seems more likely is that the Curtiss Candy Company either tried to get permission from Ruth or didn't want to pay for the rights. So they changed the name from "Babe" to "Baby" and then came up with the ridiculous "official story".
Other Trivia
Company founder Otto Schnering chartered a plane in 1923 to drop thousands of Baby Ruth bars over the city of Pittsburgh — each with its own mini parachute.
The Baby Ruth is the candy bar used in one of the funniest scenes in one of the funniest movies of all time, Caddyshack. I won't ruin it, if you haven't seen it. If you haven't seen it — DO SO!
Baby Ruth Candy Bar Recipe
Make our Baby Ruth Candy Bar Secret Home Recipe for your family. With our Secret Restaurant Recipe your Baby Ruth will taste just like The Real Thing.
Ingredients
1 1/3

cups

Margarine

2

cups

Brown Sugar

1/3

cup

White Corn Syrup

8

cups

Oatmeal

2

teaspoons

Vanilla

1/2

cup

Peanut Butter
Toppings
1 6-

ounce

package Chocolate Chips

1/2 6

oz.

package Butterscotch Chips

2/3

cup

Peanut Butter

1

cup

chopped Nuts/Peanuts
Instructions
Melt margarine.

Add brown sugar, syrup, peanut butter, oatmeal and vanilla.

Put in 9 x 13-inch cake pan.

Bake at 350°F for about 15 minutes.

Melt topping ingredients together and spread on top.

Cut into bars when cool.
Get More Secret Copycat Restaurant Recipes
Sign-up for our FREE Restaurant Recipes Emails. We send out Additional Email-Only Copycat Restaurant Recipes each week. Sign up NOW to get EVERY RECIPE.

---
And Please Follow Us on Your Favorite Social Sites
You'll Stay in Touch, Get More Recipes from All of Our Sites and Help Us Spread the Word about Secret Copycat Restaurant Recipes to All Your Friends.
Thank You.
---
Related Recipes:
Click on any Name below for the Recipe
… MORE Great Recipes Coming Soon!
---
Photo of Baby Ruth is by Lottery Monkey and is used by permission under the Creative Commons Attribution-NonCommercial-NoDerivs 2.0 Generic (CC BY-NC-ND 2.0) License. Thank you, Monkey. Great Picture. Photos may be "representative" of the recipe and not the actual finished dish. All photo licenses listed were correct at the time of the posting of the page. Additional Information Courtesy of Wikipedia and is used by permission — It's all there. Look it up.
---
Please use the Facebook, Twitter, Pinterest or Email Buttons below to SHARE our Baby Ruth Recipe with your Friends!
It only takes a minute and they will love you for it!
Thank You!