Make this Straight-From-the-Restaurant Z'Tejas Cornbread Recipe at home and your Cornbread will taste just like Z'Tejas.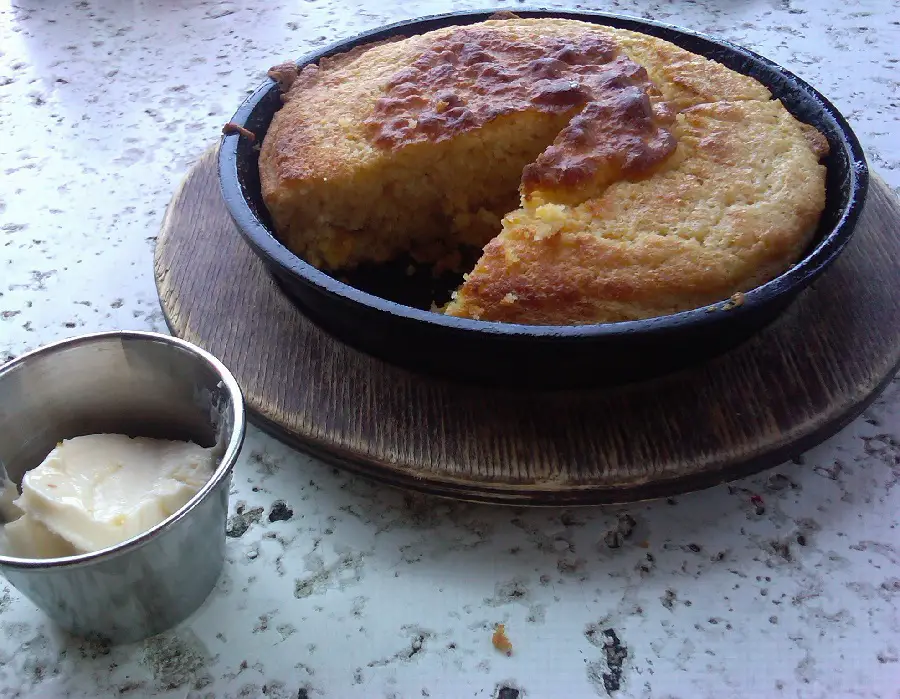 Photo by Dawn Comford Wilcox
Straight-From-the-Restaurant
Restaurants love to share their recipes with their fans so they can cook and enjoy their favorite dishes at home – And we love to share them with you. Alton has spent hours tracking down these recipes all over the internet and in old newspapers, magazines and books. We are proud that we can help the restaurants share these recipes with our fans.
Z'Tejas Cornbread Recipe is a Straight-From-the-Restaurant Recipe.
To See ALL of Our Straight-From-the-Restaurant Copycat Recipes – Click HERE
Get Notified of All New Secret Copycat Restaurant Recipes
Sign-up for our FREE Secret Copycat Restaurant Recipes Emails and Never Miss a New Recipe.
NOW With 2 Ways to Get Emails on YOUR Schedule – Daily or One Email per Week.
---
And Please Follow Us on Your Favorite Social Sites
You'll Stay in Touch, Get More Recipes from All of Our Sites and Help Us Spread the Word about Secret Copycat Restaurant Recipes to All Your Friends.
Thank You.
Here are a Few More Recipes From Across Our Family of Websites You Will Love
Click on any Name below for the Recipe
Cornbread
Cornbread is a quick bread made with cornmeal, associated with the cuisine of the Southern United States.
Cornbread has its origins in Native American cuisine. Dumplings and pancakes made with finely ground cornmeal were staple foods of the Hopi people in Arizona. Cherokee and Seneca tribes enriched the basic batter, adding chestnuts, sunflower seeds, apples or berries, and sometimes combining beans or potatoes with the cornmeal.
Modern versions are seen on the menus of most Southern Restaurants and are particularly popular in TexMex, BBQ and Fried Seafood Restaurants.
Z'Tejas Corn Cornbread
Make this Straight-From-the-Restaurant Z'Tejas Cornbread Recipe at home and your Cornbread will taste just like Z'Tejas.
Ingredients
1 1/2

cups

Corn Meal

1 1/2

cups

Flour

1/3

cups

+ 1 tablespoon Sugar

1

tablespoon

Baking Powder

1

tablespoon

Baking Soda

1

cup

Plain Yogurt

1/3

cups

+ 1 tablespoon Cream Corn

1/3

cups

+ 1 tablespoon frozen Corn

thawed

1 1/2

cups

Buttermilk

3

Eggs

1/3

cups

+ 1 tablespoon Butter

melted

1/4

teaspoon

Salt
Instructions
Preheat oven to 400°F.

To a large mixing bowl, add corn meal, flour, sugar, baking powder and baking soda. Mix well. Set aside briefly.

To another mixing bowl, add yogurt, cream corn, corn, buttermilk, eggs and salt. Whisk to mix well.

Add wet mixture to dry mixture. Mix together to form a batter.

Spray a small skillet with non-stick cooking spray.

Fill with batter.

Repeat with more skillets, if desired.

Place skillets in preheated oven. Bake for about 16 minutes, rotating 1/2 turn at 8 minutes.

Test for doneness by poking a toothpick into the center of the cornbread. If toothpick comes out clean, bread is done.
Pin this Recipe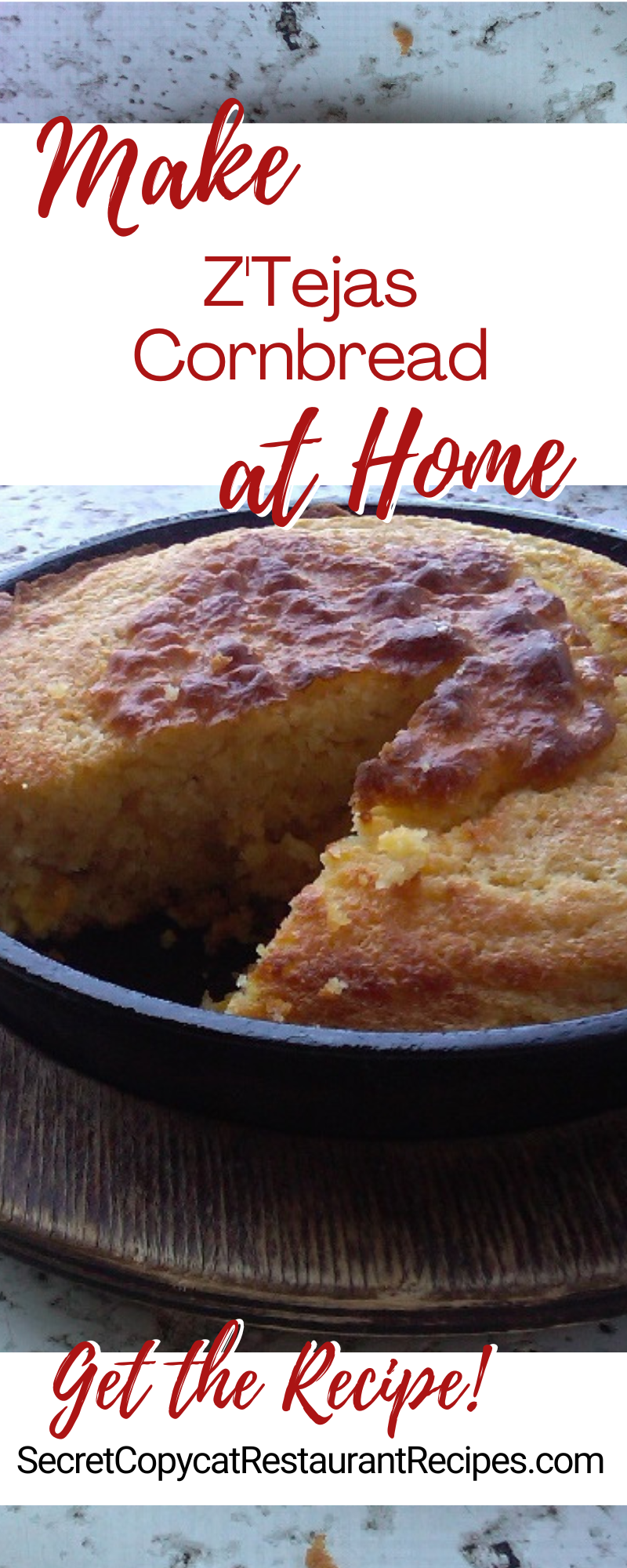 ---
Photo of "Z'Tejas skillet cornbread" is by Dawn Comford Wilcox and is used by permission under the Attribution-NonCommercial 2.0 Generic (CC BY-NC 2.0) Creative Commons License. Read the Full License Here – https://creativecommons.org/licenses/by-nc/2.0/legalcode. Thank you, Dawn Comford Wilcox. Great Picture. Photos may be "representative" of the recipe and not the actual finished dish. All photo licenses listed were correct at the time of the posting of the page. Recipe Courtesy of Z'Tejas. Additional Information Courtesy of Wikipedia and is used by permission.
---
Please use the Facebook, Twitter, Pinterest and Email Buttons below to SHARE this Recipe with your Friends!
It only takes a minute and they will love you for it!
Thank You!