Taste a bit of history with our The Original Brown Derby Cobb Salad Secret Recipe. With our Secret Restaurant Recipe your homemade Cobb Salad will be just a glamorous as the ones at The Original Brown Derby.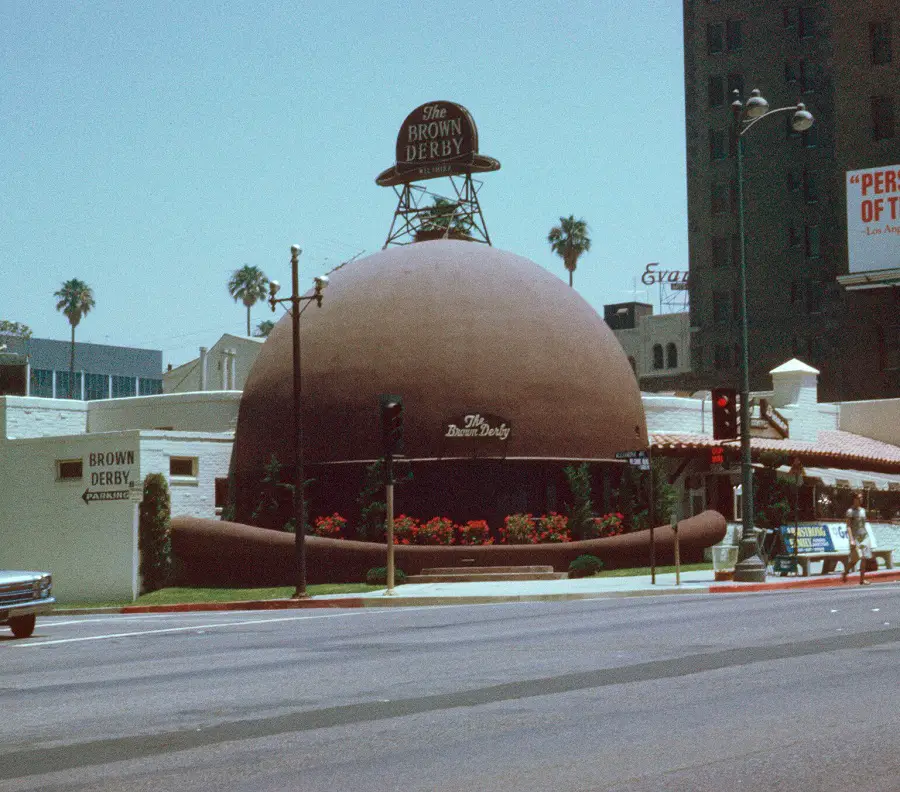 Photo by Chalmers Butterfield from Wikipedia
The Original Brown Derby's Cobb Salad
The Brown Derby was a landmark restaurant in Los Angeles frequented by celebrities during the Golden Age of Hollywood. It was an example of novelty architecture, known for being physically shaped like a brown derby hat.
It was the first restaurant to serve chiffon cake, a soon-to-be famous recipe invented by insurance salesman Harry Baker and later picked up by Betty Crocker.
The single greatest legacy recipe of the Brown Derby is the The Original Brown Derby Cobb Salad. It was invented by and named after Bob Cobb, one of the owners of the Brown Derby. According to Bob's wife Sally, Bob basically raided the fridge late one night at the restaurant and chopped up some left-overs for his dinner. Some of his Hollywood friends, including Jack Warner, Sid Grauman, Wilson Mizner, and Gene Fowler stopped by the restaurant that night and, curious about Bob's creation, joined him. They then began to ask for "The Original Brown Derby Cobb Salad" on later visits, and the rest was history.


The first Brown Derby, also known as the Little Hat, was opened in February 1926 across the street from the Ambassador Hotel. The Derby was often the site of after-parties following bashes at the Ambassador Hotel's Cocoanut Grove nightclub. This was the only Derby that was actually built in the shape of a hat. In 1937, it was moved one block up the street.
A second Brown Derby opened at 1628 Vine Street, near Hollywood and Vine on Valentine's Day, 1929. In 1942 MGM film star Ruth Hussey first met her talent agent husband Bob Longenecker at lunch there. Other Derbies were later built in Beverly Hills (across from the Beverly-Wilshire Hotel on Wilshire and Rodeo) and in East Hollywood (also known as Los Feliz) at Los Feliz Boulevard and Hillhurst. The Los Feliz Derby had a "car café" which emulated the then-new "drive-in" trend.
The Wilshire Boulevard Brown Derby today
The Hollywood Derby closed in 1985, shortly followed by the original location's closure. The shell of the Brown Derby was restored and placed on top of the strip mall that took its spot at 3377 Wilshire Boulevard. It is now painted orange and home to Buzz.
There is a re-created Hollywood Brown Derby at the Disney's Hollywood Studios at the Walt Disney World Resort in Florida. Another recreation of the Hollywood Brown Derby is currently being constructed in Albany, New York. (www.thehollywoodbrownderby.com)
In "L. A. At Last", the first of the Hollywood episodes of "I Love Lucy", Lucy (Lucille Ball), Ethel (Vivian Vance), and Fred (William Frawley) have lunch at the Brown Derby. During the misadventure, the trio dines in a booth neighbored by Eve Arden on one side and William Holden on the other. This leads to the famous disaster scene in which Lucy inadvertently causes a waiter to dump a plate of food on Holden.
The Original Brown Derby's Cobb Salad Recipe
Taste a bit of history with our The Original Brown Derby Cobb Salad Secret Recipe. With our Secret Restaurant Recipe your homemade Cobb Salad will be just a glamorous as the ones at The Original Brown Derby.
Ingredients
1/2

head of Lettuce

1/2

bunch Watercress

1

small bunch Chicory

1/2

head Romaine

2

medium Tomatoes

peeled

2

Breasts of boiled Roasting Chicken

6

strips crisp Bacon

1

Avocado

peeled and pitted

3

hard-cooked Eggs

peeled

2

tablespoons

chopped Chives

1/2

cup

crumbled imported Roquefort Cheese

1

cup

Brown Derby Old-Fashioned French Dressing

See Recipe Below
Instructions
Cut finely lettuce, watercress, chicory and romaine and arrange in salad bowl.

Cut tomatoes in half, remove seeds, dice finely, and arrange over top of chopped greens.

Dice breasts of chicken and arrange over top of chopped greens.

Chop bacon finely and sprinkle over the salad.

Cut avocado in small pieces and arrange around the edge of the salad.

Decorate the salad by sprinkling over the top the chopped eggs, chopped chives, and grated cheese.

Just before serving mix the salad thoroughly with French Dressing.
The Original Brown Derby's Old-Fashioned French Dressing Recipe
Ingredients
1

cup

water

1

cup

red wine vinegar

1

teaspoon

sugar

Juice of 1/2 lemon

2 1/2

teaspoons

salt

1

teaspoon

ground black pepper

1

teaspoon

Worcestershire sauce

1

teaspoon

English mustard

1

clove

garlic

chopped

1

cup

olive oil

3

cups

salad

vegetable oil
Instructions
Blend together all ingredients except oils.

Add olive and salad oils and mix well again.

Chill.

Shake before serving.
Get More Secret Copycat Restaurant Recipes
Sign-up for our FREE Restaurant Recipes Emails. We send out Additional Email-Only Copycat Restaurant Recipes each week. Sign up NOW to get EVERY RECIPE.

---
And Please Follow Us on Your Favorite Social Sites
You'll Stay in Touch, Get More Recipes from All of Our Sites and Help Us Spread the Word about Secret Copycat Restaurant Recipes to All Your Friends.
Thank You.
Salad of the Day: 365 Recipes for Every Day of the Year

This enticing collection of 365 recipes offers a salad for each day of the year. From January to December, you'll find daily inspiration and a seasonal salad to satisfy any craving or suit any occasion.
Full-color photographs enhance many of the recipes inside to give you a preview of what awaits. You'll be amazed at the wide range of dishes from which to choose—just open this book, check the calendar, and discover an exciting new salad to try.
---
Related Recipes:
Click on any Name below for the Recipe
… MORE Great Recipes Coming Soon!
---
Photo of Brown Derby Restaurant, Los Angeles, California is by Chalmers Butterfield from Wikipedia and is used by permission under the Creative Commons Attribution-ShareAlike 3.0 Unported (CC BY-SA 3.0) License. Thank you, Chalmers. Great Picture. Photos may be "representative" of the recipe and not the actual finished dish. All photo licenses listed were correct at the time of the posting of the page. Additional Information Courtesy of Wikipedia and is used by permission. Information on The Original Brown Derby Courtesy of Wikipedia — http://en.wikipedia.org/wiki/Brown_Derby.
---
Please use the Facebook, Twitter, Pinterest and Email Buttons below to SHARE our Recipe with your Friends!
It only takes a minute and they will love you for it!
Thank You!