English Pub-Style Beer Battered Fish and Chips is a dish consisting of fried fish in batter served with chips, known as French fries or steak fries in the US.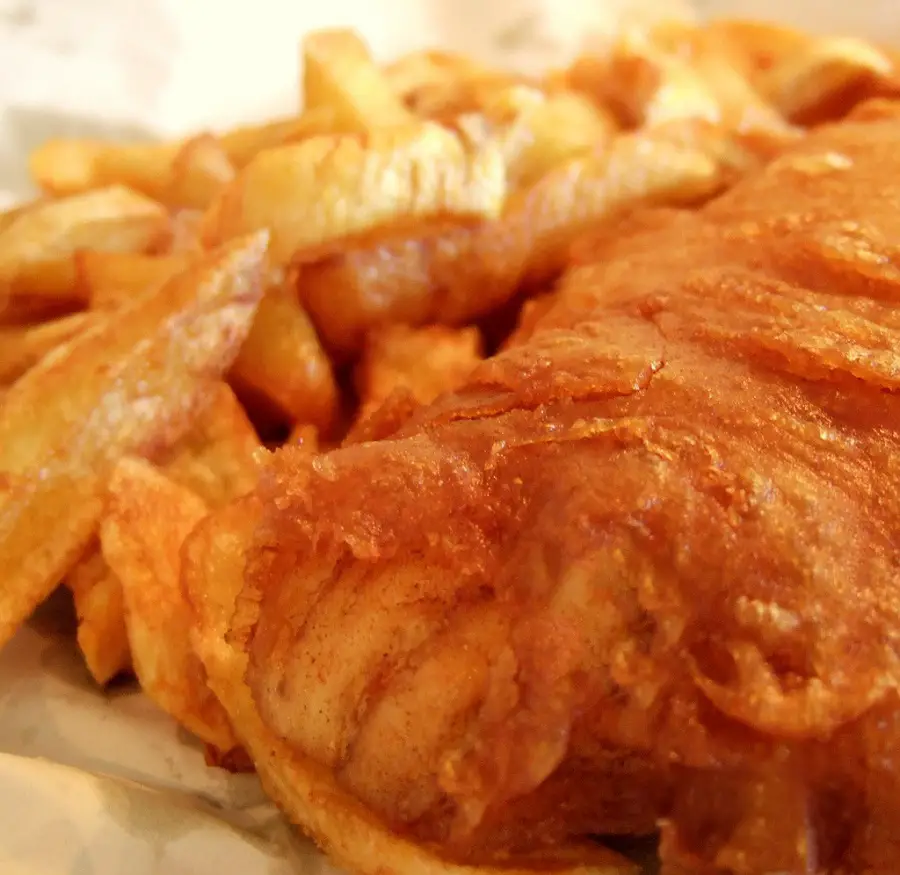 Photo by Chris Jones
TITLE
English Pub-Style Beer Battered Fish and Chips
English Pub-Style Beer Battered Fish and Chips is a common take-away food in the United Kingdom, Ireland, and numerous other countries, particularly in English-speaking and Commonwealth nations.
Fish and chips first appeared in the UK in the 1860s. By 1910 there were more than 25,000 fish and chip shops across the UK, and by the 1930s there were over 35,000, falling to about 10,000 by 2009. The British government safeguarded the supply of fish and chips during World War I and World War II; it was one of the few foods in the UK not subject to rationing. Prime Minister Winston Churchill referred to the combination of fish and chips as "the good companions". John Lennon enjoyed his fish and chips – a staple of the working class – smothered in ketchup.
---
The exact location of the first fish and chip shop is unclear. The earliest known shops were opened in the 1860s, in London by Joseph Malin and in Mossley, near Oldham, Lancashire, by John Lees. However, fried fish, as well as chips, had existed independently for at least fifty years, so the possibility that they had been combined at an earlier time cannot be ruled out. Charles Dickens mentions a "fried fish warehouse" in Oliver Twist, first published in 1838.
On a single day in 1952, Harry Ramsden's famous shop served 10,000 portions of fish and chips, earning a place in the Guinness Book of Records.
English Pub-Style Beer Battered Fish and Chips were originally served in a wrapping of old newspapers but this practice has now largely ceased, with plain paper, cardboard, or plastic being used instead.

English Pub-Style Beer Battered Fish and Chips Recipe
English Pub-Style Beer Battered Fish and Chips is a dish consisting of fried fish in batter served with chips, known as French fries or steak fries in the US.
Ingredients
4

Cod Fillets or 4 Haddock Fillets

6

ounces

plain Flour

1

teaspoon

Bicarbonate of Soda

Baking Soda

1 8-

ounce

bottle British Beer

Freshly squeezed Juice of 1 Lemon or Malt Vinegar

Salt and freshly ground Black Pepper

to taste

Extra Flour

3

pounds

Potatoes

See Notes below for Tips on choosing and preparing potatoes for "chipping"

Good quality Cooking Oil

Tartar Sauce

for serving (See Notes below for recipes for Tartar Sauce from your favorite restaurants and more)
Instructions
Heat oil up in a chip pan or deep fat fryer to 375°F.

Peel the potatoes and cut into chunky sized chips. Rinse and dry thoroughly.

Fry chips for about 3 minutes until soft but NOT colored. Drain and shake well. Set aside.

Put some flour onto a plate.

Dredge the fish fillets in the flour thoroughly - this is VERY important, it stops the batter sliding off when fried! Leave the fish fillets in the flour while you make the batter. (Some recommend making the batter at least one hour before - we have found little difference - so make it before if it is convenient or make it now.)

Put flour, bicarbonate of soda, salt and pepper into a large bowl.

Add the beer gradually, stop when you have a thick coating type of batter.

Drink any beer that is left!

Whisk thoroughly until mixture is smooth and there are no lumps.

Add lemon juice or a splash of malt vinegar, if desired. Mix thoroughly again.

Have your plates, newspaper or whatever ready for serving.

Adjust deep fryer to fish frying temperature of 320°F (See comment below by Donna for a good tip here).

Take one fillet of fish at a time and, holding it by the tail or thin end (!), swirl it around the batter until well coated.

Immediately plunge into hot oil.

As soon as it has crisped up and set, add your other fillets one at a time, taking out the first ones as they finish cooking, about 6 to 10 minutes depending on the thickness. Place onto a tray and keep warm in the oven.

Turn up the heat setting on the deep fryer to 375°F again.

Cook your chips until golden and crisp.

Serve on plates or newspaper with salt, vinegar and plenty of homemade tartar sauce.
Serve English Pub-Style Beer Battered Fish and Chips with plenty of Tartar Sauce – Here are some good recipes:
…More Delicious Recipes Coming Soon
Here are a few tips or tricks for Chips:
Make sure they are DRIED thoroughly.
Make sure the fat is VERY hot – 375°F.
Certain potatoes are better for chipping, such as King Edwards, Desiree, Majestic, Maris Piper, and Romano.
You can soak the chips in water for an hour before the first frying – it extracts excess starch, which helps in the "crisping" process!
Always drain them thoroughly before serving.
Get More Secret Copycat Restaurant Recipes
Sign-up for our FREE Restaurant Recipes Emails. We send out Additional Email-Only Copycat Restaurant Recipes each week. Sign up NOW to get EVERY RECIPE.

---
And Please Follow Us on Your Favorite Social Sites
You'll Stay in Touch, Get More Recipes from All of Our Sites and Help Us Spread the Word about Secret Copycat Restaurant Recipes to All Your Friends.
Thank You.
Ploughman's Lunch and the Miser's Feast
Authentic Pub Food, Restaurant Fare, and Home Cooking from Small Towns, Big Cities, and Country Villages Across the British Isles
Celebrity television chefs like Jamie Oliver and Gordon Ramsay have made Americans newly aware of the great potential in British cooking. But the new British food revolution is not limited to fine restaurants and television.
In The Ploughman's Lunch and the Miser's Feast, the American cookbook author, travel writer and professional photographer Brian Yarvin brings these newly rediscovered pub pleasures to the attention of home cooks on this side of the Atlantic.
In 100 recipes, 65 color photos, and dozens of lively sidebars, Yarvin reveals what he has discovered in his numerous walking and driving trips across the length and breadth of Great Britain. His recipes emphasize traditional and down-home dishes as perfected and updated by the best cooks in Britain. They include lots of pub fare, like Fish and Chips, Shepherd's Pie, Ploughman's Lunch, and a host of savory cakes and pasties. There are festive and substantial main courses like Howtowdie, Poached Salmon with White Sauce, and, of course, a splendidly done Beef Wellington. The hard-working Brits love big breakfasts, and there is a chapter devoted to those, while another chapter celebrates the sandwiches, salads, and snacks that are served at tea time. Curry shops have been ubiquitous for so long that Indian food by now is properly British, and Yarvin devotes another chapter to dishes such as Shrimp Biryani and Chicken Korma. A big chapter, too, shows us how to make the best-loved British sweets, from the humbly named Plum Pudding and Mincemeat Cake to the amusingly monikered Fast Rascals, Kentish Huffkins, and Welsh Dripping Cake.
---
Photo of Fish and Chips is by Chris Jones and is used by permission under the Creative Commons Attribution-NonCommercial-NoDerivs 2.0 Generic (CC BY-NC-ND 2.0) License. Thank you, Chris. Great Picture. Photos may be "representative" of the recipe and not the actual finished dish. All photo licenses listed were correct at the time of the posting of the page. Additional Information Courtesy of Wikipedia and is used by permission.
---
Please use the Facebook, Twitter, Pinterest and Email Buttons below to SHARE this Recipe with your Friends!
It only takes a minute and they will love you for it!
Thank You!