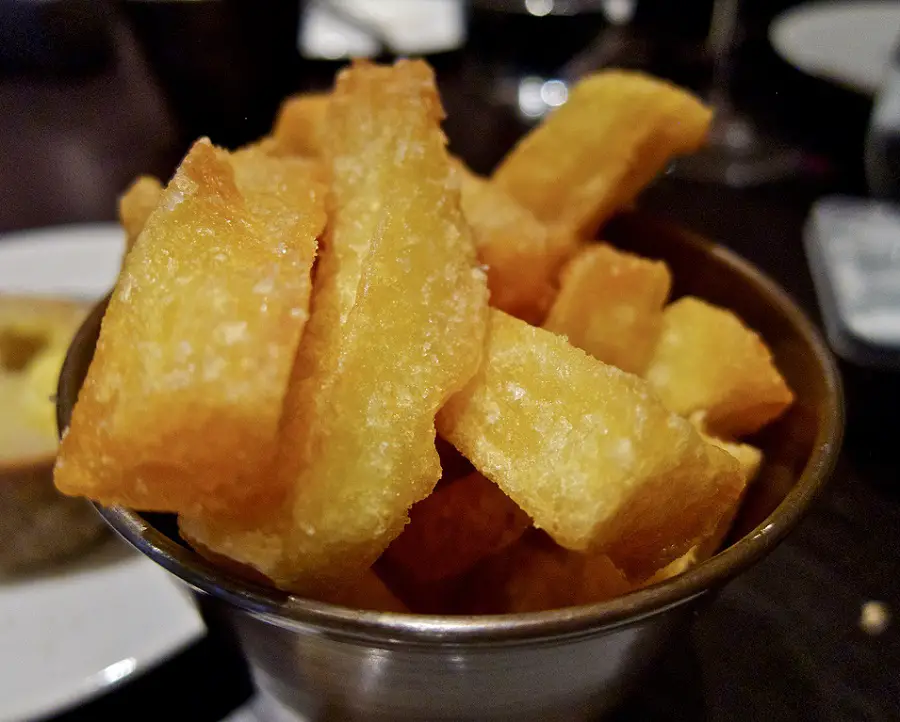 Photo by Laissez Fare
James, Mark and Uncle Alton want you to know…
Our pages may contain ads and affiliate links from Amazon and others. If you buy something after clicking on one of these links you will not pay one penny more – but we will get a small commission. This helps us keep bringing this site and our recipes to you for free. Thank you.
Heston Blumenthal's Triple-Cooked Chips Recipe
Video Courtesy of godwratherror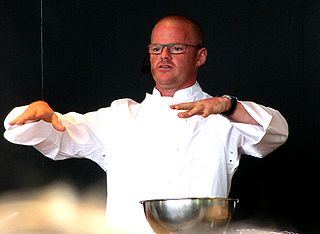 Heston Blumenthal is an English celebrity chef and owner of The Fat Duck, a three-Michelin-starred restaurant in Bray, Berkshire, which has been voted Best Restaurant in the UK and received a perfect score of 10/10 every year since 2007 by The Good Food Guide. He has also written many cook books as well as doing televised cooking programs.
This recipe and video come from the show Heston Blumenthal: In Search of Perfection in which he takes normal, everyday food and elevates it to high cuisine.
Heston Blumenthal at Home
Until now, home cooking has remained radically out of touch with the technological developments that characterize the rest of modern life. This is the book to prove that science can dramatically improve the way we eat. Having spent years refining his analytical and imaginative approach at the Fat Duck restaurant, Heston Blumenthal is uniquely qualified to bring the benefits of science to the domestic kitchen. Both time-saving and energy-efficient, his methods unlock the alchemical potential of flavor and taste.
The first part of the book maps the new techniques in fifteen sections, including: taste and flavor; stocks and infusing; brining, curing, marinating, and macerating; and sections on proper care of meat, fish, pasta, and many other dishes. In the second part, there are 150 specially chosen recipes. Here, at last, is the secret to irrefutably perfect fish and chips, as well as a few more unconventional dishes such as salmon with licorice, and crab lasagna.
Heston at Home is an ingeniously designed book for cooks who want to know how food works, and who are excited about adopting an unconventional approach that will revolutionize the experience of cooking at home.
Heston Blumenthal's Triple-Cooked Chips Recipe
Recipe and Technique courtesy of Heston Blumenthal
Ingredients
1 kg (about 2.2 pounds) Maris Piper potatoes, peeled and cut into chips (approx. 2 × 2 × 6 cm or 3/4 x 3/4 x 2 1/2 inches)
Groundnut or Grape Seed oil
Salt
Directions
Put the cut chips into a bowl under running water for 5 minutes to wash the starch off.
Place 2 litres (1/2 gallon) of cold tap water in a large saucepan and add the potatoes. Place the pan over a medium heat and simmer until the chips are almost falling apart (approximately 20–30 minutes, depending on the potato).
Carefully remove the cooked chips and place them on a cooling rack to dry out. Then place the rack in the freezer for at least 1 hour to remove more moisture.
Heat a deep-fat fryer or a deep pan no more than half filled with oil (to a depth of around 10 cm or 4 inches) to 130ºC or 260ºF. Fry the chips in small batches until a light crust forms (approximately 5 minutes), remove from the oil and drain on kitchen paper.
Put the potatoes on a cooling rack and place in the freezer for at least 1 hour. (At this stage, if you don't want to cook and serve immediately, the chips can be kept in the fridge for 3 days.)
Heat the oil in the deep-fat fryer or deep pan to 180ºC or 350ºF and fry the chips until golden (approximately 7 minutes). Drain and sprinkle with salt.
Get More Secret Copycat Restaurant Recipes
If you like this recipe, you should sign-up for our FREE Restaurant Recipes Emails. We have sent our readers over 200 Additional Email-Only Copycat Restaurant Recipes (and counting!) Sign up NOW to get EVERY RECIPE.

We'll send you a Cool Starbucks Recipe Book just for trying us out. You'll love it.
---
And Please Follow Us on Your Favorite Social Sites
You'll Stay in Touch, Get More Recipes from All of Our Sites and Help Us Spread the Word about Secret Copycat Restaurant Recipes to All Your Friends.
Thank You.
---
Related Recipes:
Click on any Name below for the Recipe
---
---
Photo of Heston Blumenthal's Triple-Cooked Chips is by Laissez Fare and is used by permission under the Creative Commons Attribution-NonCommercial 2.0 Generic (CC BY-NC 2.0) License. Additional information about Heston Blumenthal courtesy of Wikipedia. Photo of Heston Blumenthal by Brian Minkoff- London Pixels and is used by permission under the Creative Commons Attribution-Share Alike 3.0 Unported license. Recipe courtesy of Heston Blumenthal and the BBC Channel 4 Website – http://www.channel4.com/programmes/how-to-cook-like-heston/articles/all/triple-cooked-chips-recipe (Page no longer up).