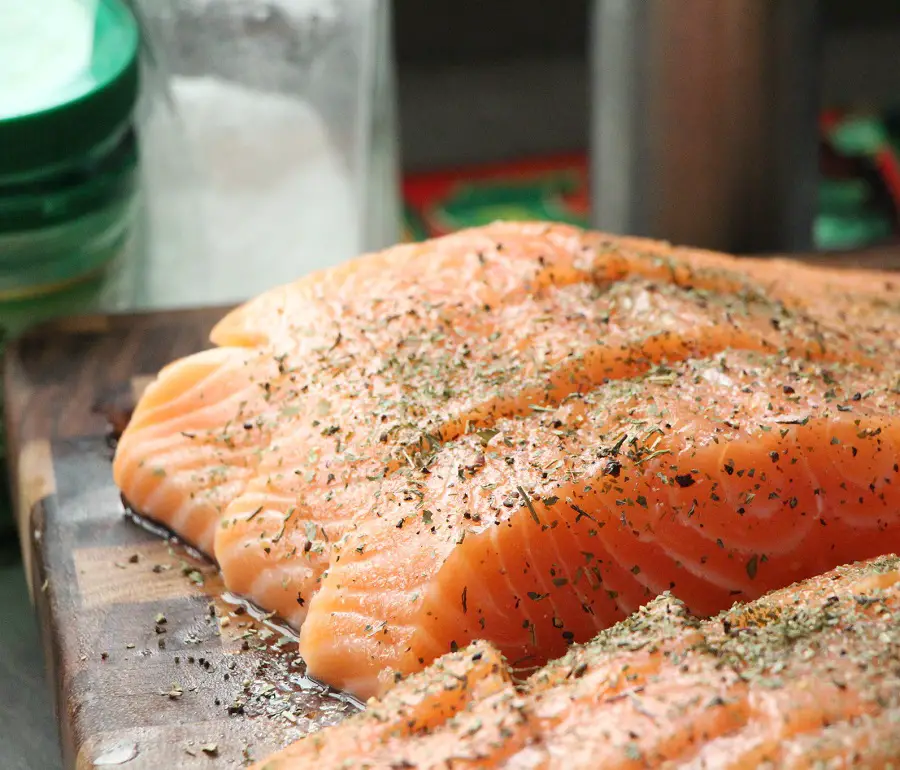 Photo by Ján Sokoly
James, Mark and Uncle Alton want you to know…
Our pages may contain ads and affiliate links from Amazon and others. If you buy something after clicking on one of these links you will not pay one penny more – but we will get a small commission. This helps us keep bringing this site and our recipes to you for free. Thank you.
Marco Pierre White's Salmon with New Potatoes
"So often, salmon is served over-cooked with dry flesh. The way I cook the salmon in this recipe means it has a crispy skin but moist flesh. I serve it with buttered new potatoes and home-made tartare sauce – a great combination."
— Marco Pierre White
Marco Pierre White's Salmon with New Potatoes Recipe
Recipe Courtesy of Marco Pierre White and Knorr Recipes
A printable version of the recipe with all ingredients, measurements and directions can also be found on the Knorr website – HERE
Ingredients
6 pieces of Salmon Fillet
1 Knorr Fish Stock Cube
1 tablespoon Olive Oil
Half a large Lemon
Parsley Sprigs, to garnish
1 kg (2 1/4 pounds) New Potatoes, peeled
1 ounce Butter, cubed
Salt
A handful of Fresh Mint Leaves
Tartare Sauce
1 egg Yolk, at room temperature
1/2 teaspoon Dijon Mustard
1 tablespoon White Wine Vinegar or Lemon Juice
175 ml (6 ounces) Arachide (Groundnut) Oil or Sunflower or Vegetable Oil
2 teaspoons Capers (if using capers in vinegar, rinse them before using and pat dry)
2 teaspoons Baby Gherkins, very finely chopped
1 teaspoon very finely chopped Shallot
1 teaspoon very finely chopped Parsley
This Tartar Sauce recipe is worth the price of admission all by itself!
– Mark
Directions
Make the Tartare Sauce
The first step is to make mayonnaise, which will then be a base for your tartare sauce. Whenever possible, I recommend making your mayonnaise by hand rather than by machine.
In a mixing bowl and using a metal balloon whisk, whisk together the egg yolk, mustard and white wine vinegar until thoroughly blended.
Whisking all the while, gradually pour in the groundnut oil, pouring it down the side of the bowl so that it trickles slowly into the mayonnaise mixture.
I use groundnut oil as olive oil would be far too strong. Any light-flavoured oil – sunflower or vegetable – will do.
Gradually the mixture will emulsify, becoming thicker, velvety and smooth. As the mixture begins to emulsify, you can add the oil in faster.
The great thing about making it yourself is that you can make the mayonnaise as thick as you want it.
Mix in the capers, gherkins, shallot and parsley.
Add these in to your taste; your palate should dictate. Where possible, I'd recommend setting the tartare sauce for an hour to let the flavours develop before serving. Don't forget to taste it again before serving to adjust the flavouring.
Prepare the Buttered Potatoes
Place the potatoes in a large pan of water, bring to the boil and boil until tender.
Using a slotted spoon, transfer the hot potatoes to a dish containing the cubed butter, season with a pinch of salt and add in the mint leaves.
Cover the dish with cling film and set aside for 20 minutes.
Once the potatoes have been set aside, pre-heat the oven to Gas Mark 5, 190°C, 170°C fan, 350°F.
Make the Seasoning Paste and Prepare the Salmon

Crumble together a Knorr Fish Stock Cube into the olive oil.
Spread the paste evenly over both sides of the salmon steaks to season them.
Cook the Salmon
Heat two large ovenproof frying pans on the top of the stove.
Add half a tablespoon of olive oil to each.
The trick here is not to have the pans too hot to start with. You want them hot but not red-hot.
Add three pieces of salmon to each fish hot pan, skin side-down.
Then increase the heat. Fry for 5–6 minutes until the skin is browned.
Transfer the pans with the salmon steaks in them, still skin-side down, to the oven and cook for a further 5–6 minutes.
By cooking them skin side-down, without turning them over, the skin becomes crispy and the flesh remains moist, rather than drying out.
Take the salmon from the oven and transfer to a serving dish.
Squeeze the juice from the lemon half over the salmon steaks.
Top each piece of salmon with a spoonful of tartare sauce, garnish with parsley and serve with the buttered potatoes and the tartare sauce.
Get More Secret Copycat Restaurant Recipes
If you like this recipe, you should sign-up for our FREE Restaurant Recipes Emails. We have sent our readers over 200 Additional Email-Only Copycat Restaurant Recipes (and counting!) Sign up NOW to get EVERY RECIPE.

We'll send you a Cool Starbucks Recipe Book just for trying us out. You'll love it.
---
And Please Follow Us on Your Favorite Social Sites
You'll Stay in Touch, Get More Recipes from All of Our Sites and Help Us Spread the Word about Secret Copycat Restaurant Recipes to All Your Friends.
Thank You.
Related Recipes:
Click on any Name below for the Recipe
---
Recipe courtesy of Marco Pierre White and Knorr Crispy Salmon with Buttered New Potatoes and Tartar Sauce Recipe | Marco Pierre White (Video Since Removed) from Knorr's YouTube Channel. Video was originally included on this page. Full recipe was included on the YouTube Page. Photo by Ján Sokoly. Additional Information Courtesy of Wikipedia and is used by permission.
---
---
Please use the Facebook, Twitter, Pinterest and Email Buttons below to SHARE this Recipe for Marco Pierre White's Salmon with New Potatoes with your Friends!
It only takes a minute and they will love you for it!
Thank You!