Watch SuperStar Chef, Marco Pierre White, as he quickly whips up a tender Chicken Chasseur (also called Hunter's Chicken). An easy recipe from Knorr.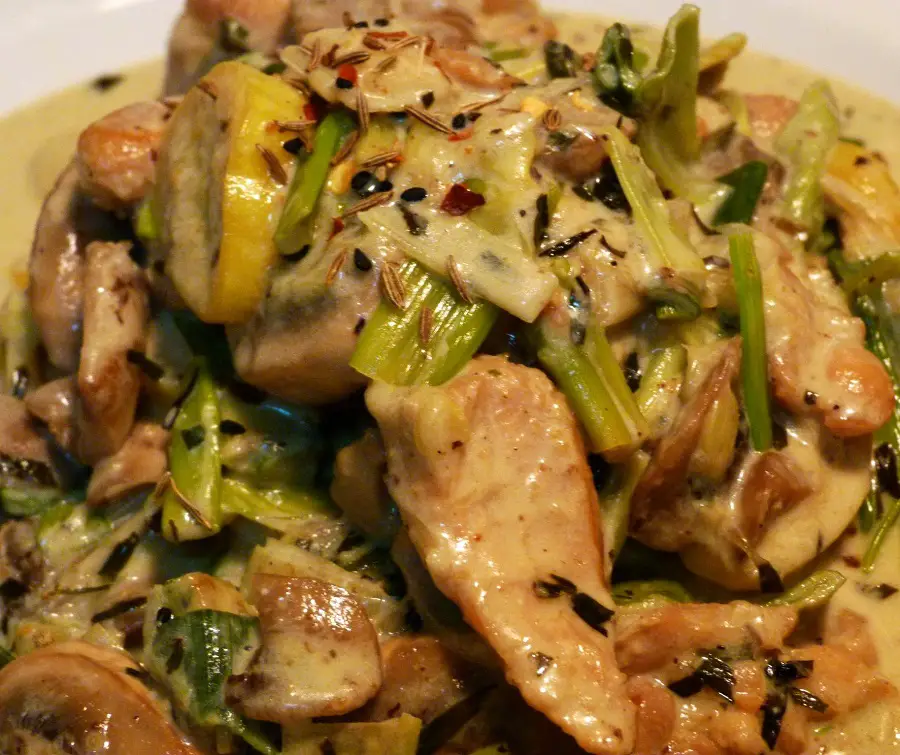 Photo by Rusty Clark ~ 100K Photos
Marco Pierre White's Chicken Chasseur
This classic French casserole recipe starts with pieces of chicken, cooked together with shallots, brandy, wine and served with a rich tomato and mushroom based sauce using a Knorr Chicken Stock Pot to improve the flavor of the dish.
Chicken on the bone will add extra flavor here, but you can use chicken breast fillets if you prefer. Cooking off the brandy and wine gives this dish a delicious sauce, made even more tasty with the Knorr Chicken Stock Pot.
---
Marco Pierre White's Chicken Chasseur Recipe
Complete Written Recipe is Below the Video
Video Courtesy of Marco Recipes
Marco Pierre White's Chicken Chasseur Recipe
Recipe courtesy of Marco Pierre White and Knorr.
Ingredients
2 tablespoons Olive Oil
1 tablespoon plain Flour, for coating
1 small Chicken, cut into 8 pieces or 8 Chicken Thighs or 8 chicken Breast Fillets (skin on or off as preferred)
2 Shallots, very finely chopped (100 grams or 3.5 ounces)
50 milliliters (3 1/2 tablespoons) Brandy or 100 milliliters (7 tablespoons) White Wine, optional
1 Knorr Chicken Stock Pot (see below)
600 milliliters (2 1/2 cups) Tomato Juice
250 grams (9 ounces) Button Mushrooms, finely sliced
3 tablespoons Tarragon, chopped
2 tablespoons Parsley, chopped
2 Tomatoes, skinned, de-seeded and finely diced
Several sprigs of fresh Parsley
---
---
Directions
Gently heat 1 tablespoon olive oil in a large heavy-based frying pan. You want the oil to be hot but not so hot that it scorches the floured chicken.
Spread a layer of flour on a plate or a tray. Flour the chicken pieces, coating them in the flour evenly and thoroughly and shaking off the excess.
Add the floured chicken pieces to the hot olive oil, skin side down. Fry the chicken without moving the pieces until golden-brown underneath, around 8–10 minutes; turn over the chicken and fry until browned on the other side.
Add the finely chopped shallot to the chicken pieces in the frying pan, placing them under the chicken so that the shallot cooks.
If using brandy, pour it in around the edge of the pan so that it runs underneath the chicken pieces. Cook for 2–3 minutes to cook off the alcohol.
Then add in the wine, again pouring it in round the sides of the pan. Cook for 2–3 minutes so that the alcohol from the wine cooks off and its acidity is reduced.
Now add in the Knorr Chicken Stock Pot and the tomato juice. Shake the pan to gently work it in, turning the chicken pieces to coat them in the liquid.
Slowly bring to the boil, dissolving the Knorr Chicken Stock Pot. Add the tarragon to the chicken and simmer for 5 minutes.
While the chicken is simmering, heat remaining olive oil, in a separate frying pan.
Add in the sliced mushrooms and fry them for 3–5 minutes. Add in the parsley, shaking the pan to mix it in well. Add in the diced tomato, shaking to mix in well.
Spoon the mushroom mixture over the chicken pieces, garnish with parsley sprigs and serve at once.
Knorr Chicken Stock Pot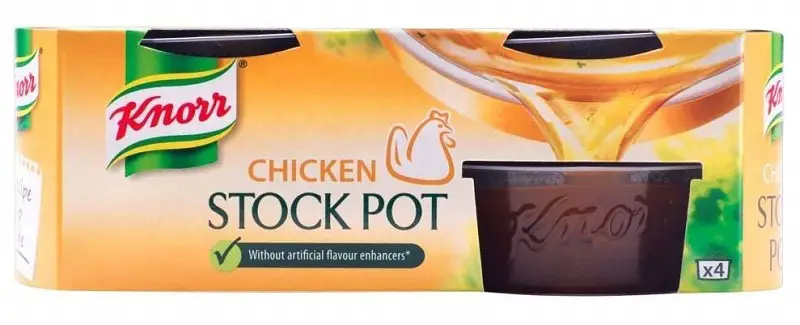 Knorr Chicken Stock Pot is a rich and tasty stock containing ingredients that have been carefully selected by our Knorr chefs. It will add a depth of flavour to a range of dishes including risottos, soups and roasts. Buy Knorr Stock Pots in a 4-pot pack or 8-pot pack.
You can find them in most large supermarkets. Or you can easily order a 4-pack to be delivered straight to your door from Amazon.
Get More Secret Copycat Restaurant Recipes
If you like this recipe, you should sign-up for our FREE Restaurant Recipes Emails. We have sent our readers over 200 Additional Email-Only Copycat Restaurant Recipes (and counting!) Sign up NOW to get EVERY RECIPE.

We'll send you a Cool Starbucks Recipe Book just for trying us out. You'll love it.
---
And Please Follow Us on Your Favorite Social Sites
You'll Stay in Touch, Get More Recipes from All of Our Sites and Help Us Spread the Word about Secret Copycat Restaurant Recipes to All Your Friends.
Thank You.
---
Related Recipes:
Click on any Name below for the Recipe
More Coming Soon
More Coming Soon
---
Original Video can be found at Marco Pierre White Recipe for Chicken Chasseur. Photo of Chicken Chasseur is by Rusty Clark ~ 100K Photos and is used by permission under the Creative Commons Attribution 2.0 Generic (CC BY 2.0) License. Recipe courtesy of Marco Pierre White and Knorr. Additional Information Courtesy of Wikipedia and is used by permission.
---
---
Please use the Facebook, Twitter, Pinterest and Email Buttons below to SHARE our Marco Pierre White's Chicken Chasseur Recipe with your Friends!
It only takes a minute and they will love you for it!
Thank You!