Make this Straight-From-the-Restaurant Chevys Fresh Mex Flour Tortillas Recipe at home and your Flour Tortillas will taste just like Chevys Fresh Mex.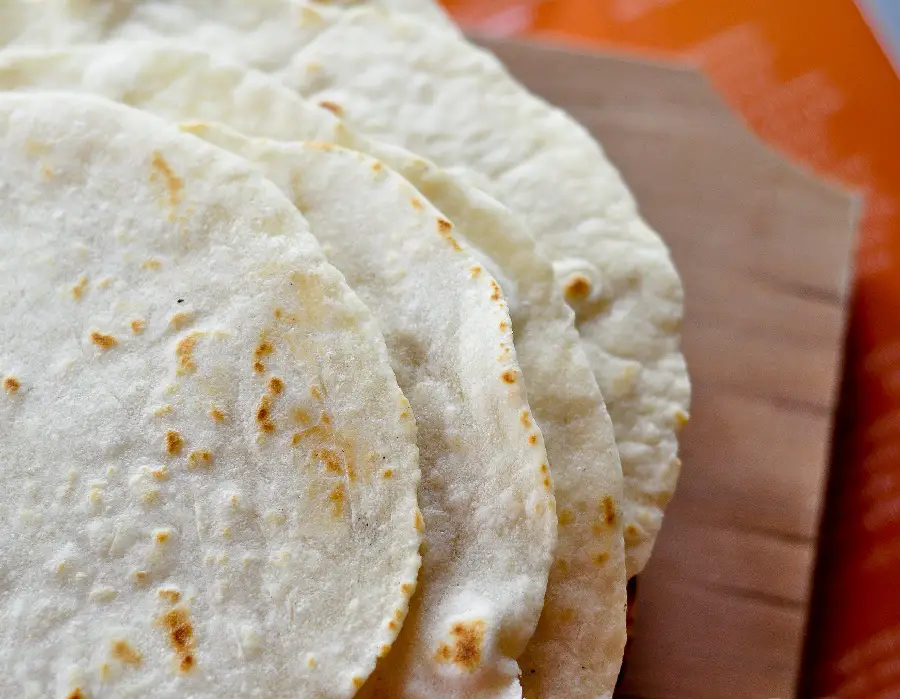 Photo by Seoulful Adventures
Chevys Fresh Mex Flour Tortillas
A Chevys Fresh Mex Copycat Recipe
Straight-From-the-Restaurant
Way back in the simpler days of the internet, restaurants were kind enough to share recipes on their new websites so that fans could enjoy their favorite dishes at home. Alton has spent hours tracking down these recipes. We are proud that we can help the restaurants share these vintage recipes with a whole new generation of fans.
Chevys Fresh Mex Flour Tortillas Recipe from 2008 is a Straight-From-the-Restaurant Recipe.
To See ALL of Our Straight-From-the-Restaurant Copycat Recipes – Click HERE
Get Notified of All New Secret Copycat Restaurant Recipes
Sign-up for our FREE Secret Copycat Restaurant Recipes Emails and Never Miss a New Recipe.
NOW With 2 Ways to Get Emails on YOUR Schedule – Daily or One Email per Week.
---
And Please Follow Us on Your Favorite Social Sites
You'll Stay in Touch, Get More Recipes from All of Our Sites and Help Us Spread the Word about Secret Copycat Restaurant Recipes to All Your Friends.
Thank You.
Here are a Few More Recipes From Across Our Family of Websites You Will Love
Click on any Name below for the Recipe
Chevys Fresh Mex Flour Tortillas
Twice a day, Chevys Fresh Mex mixes up gigantic batches of tortilla dough, divides the mass into thousands of little flour balls and then feeds them, one at a time, into the El Machino™. Out the other end comes their Famous Flour Tortillas ready to make their delicious Tacos, Burritos and More.
Here's a slightly scaled-down version you can make at home, minus the El Machino™. We are assuming here that you do not own one of these. 😉
Chevys Fresh Mex Famous Flour Tortillas Recipe
Make Chevys Fresh Mex Famous Flour Tortillas Recipe at home tonight. With this Straight-From-the-Restaurant Recipe your Flour Tortillas will be just as Famous as Chevys.
Ingredients
6

cups

All-Purpose Flour

1

teaspoon

Baking Powder

1/2

teaspoon

Salt

1/2

cup

Vegetable Shortening

cut into small pieces

2 1/2

cups

Warm Water
Instructions
Mix the Dough

Place flour in the bowl of a mixer.

Add baking powder and salt, stirring to mix well.

Add shortening.

Turn mixer on low and slowly pour in water. Mix on low for 90 seconds or until well mixed.

Make the Tortillas

Scrape dough out of the bowl onto a floured surface.

Divide dough into 2 equal portions.

Cover with plastic wrap and set aside to rest at room temperature for 20 minutes.

Divide each half into 8 equal portions. You will now have 16 dough balls.

Lightly flour your work surface.

With a floured rolling pin, roll each ball into an 8-inch round. Stack the rounds on a baking sheet with plastic wrap between each tortilla.

Let the tortillas rest for 10 minutes.

Cook the Tortillas

Heat a griddle or large cast-iron skillet over medium heat.

Lightly coat with vegetable oil cooking spray.

Cook tortillas on the griddle or in the skillet for 1 minute each side, or until light brown spots form on the surface.

Remove and serve immediately warm.
Pin this Recipe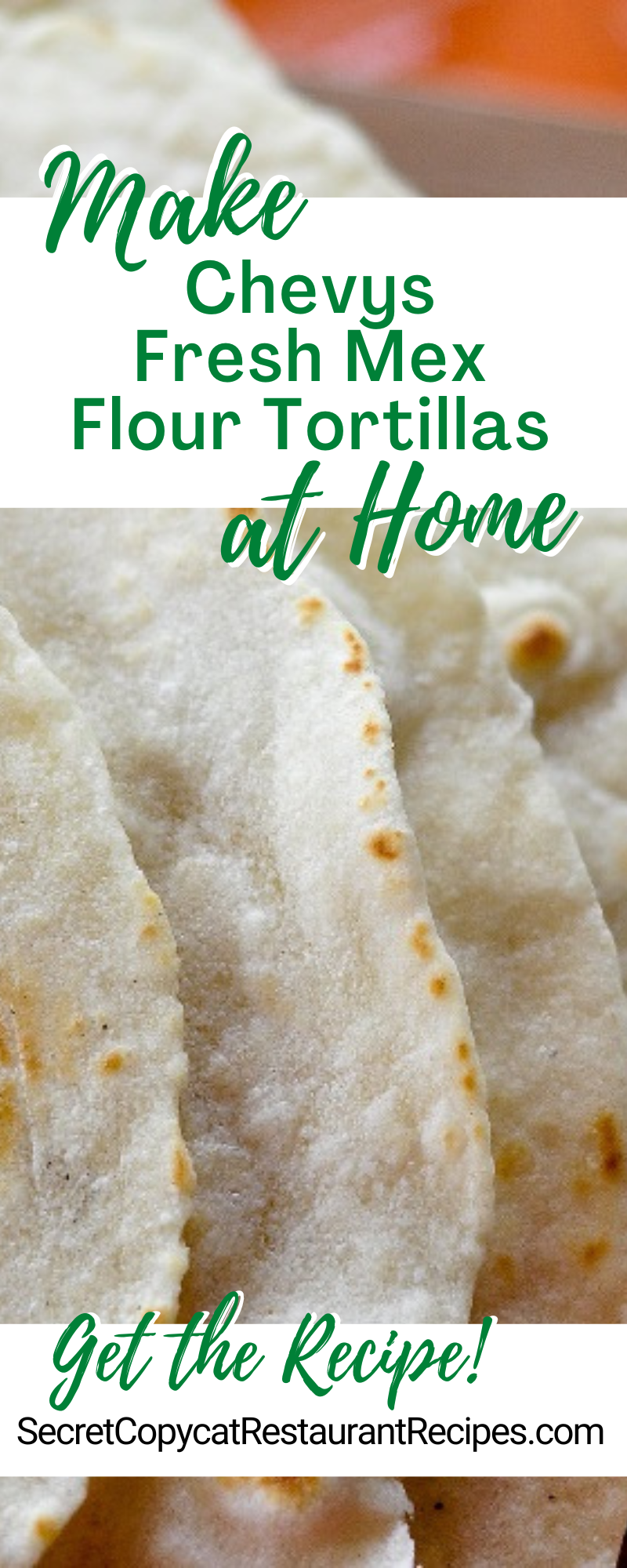 ---
Photo of "More homemade flour tortillas" is by Seoulful Adventures and is used by permission under the Attribution-NonCommercial-NoDerivs 2.0 Generic (CC BY-NC-ND 2.0) Creative Commons License. Read the Full License Here – https://creativecommons.org/licenses/by-nc-nd/2.0/legalcode. Thank you, Seoulful Adventures. Great Picture. Photos may be "representative" of the recipe and not the actual finished dish. All photo licenses listed were correct at the time of the posting of the page. Recipe Courtesy of Chevy's Website, circa 2008, "Chevy's Recipes" Page by way of the Wayback Machine on the Internet Archive. Recipe Information Courtesy of Chevys Fresh Mex website, circa 2008. Additional Information Courtesy of Wikipedia and is used by permission.
---
Please use the Facebook, Twitter, Pinterest and Email Buttons below to SHARE this Recipe with your Friends!
It only takes a minute and they will love you for it!
Thank You!