Make our Chinese Restaurant-Style Sweet and Sour Sauce Recipe at home. This is the recipe for the sweet and sour sauce made in many Mom and Pop Chinese Restaurants and the one you get when your order Chinese Take-Out.
There are 100's more Sweet and Sour Sauce recipes out there. Most are more complicated, some are more authentic to real Chinese cooking and some are, frankly, just plain better. But this very simple recipe is the one you are most familiar with and enjoy most often.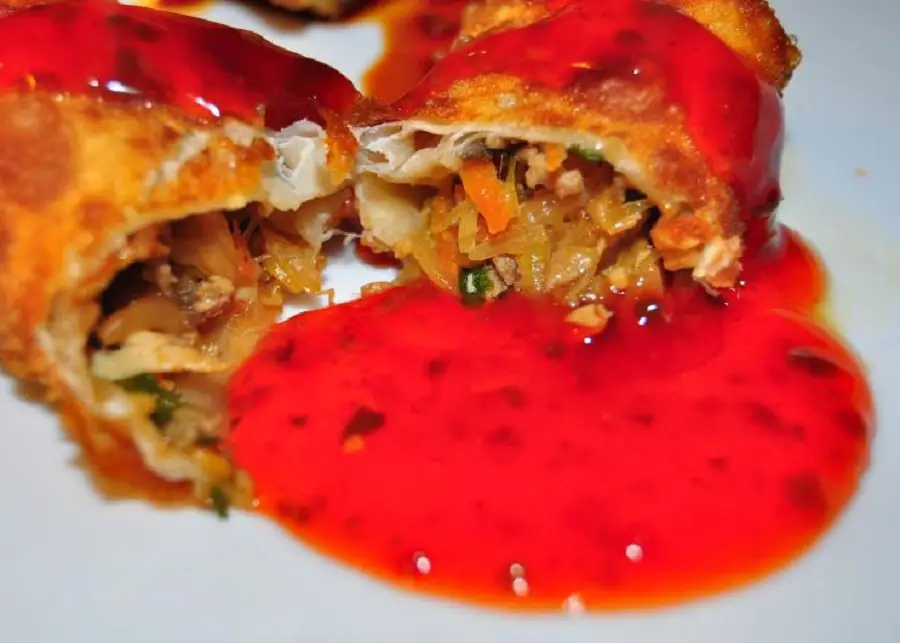 Photo by jeffreyw
Get More Secret Copycat Restaurant Recipes
Sign-up for our FREE Restaurant Recipes Emails. We send out Additional Email-Only Copycat Restaurant Recipes each week. Sign up NOW to get EVERY RECIPE.

---
And Please Follow Us on Your Favorite Social Sites
You'll Stay in Touch, Get More Recipes from All of Our Sites and Help Us Spread the Word about Secret Copycat Restaurant Recipes to All Your Friends.
Thank You.
Try these Recipes with Your Chinese Restaurant-Style Sweet and Sour Sauce
Click on any Name below for the Recipe
Delicious Fried Appetizer Recipes from Your Favorite Restaurants and Our Readers and Friends
Click on any Name below for the Recipe
Here are a Few More Recipes From Across Our Family of Websites You Will Love
Click on any Name below for the Recipe
Chinese Restaurant-Style Sweet and Sour Sauce Recipe
This is the recipe for sweet and sour sauce used in many Mom and Pop Chinese Restaurants. There are plenty of more complicated, more authentic and just plain better recipes out there, but try this just one time and I think you will find this simple one is the one you see and use most often.
Ingredients
1

cup

Water

3/4

cup

Sugar

3/4

cup

Vinegar
Instructions
Mix well.

Boil.

Mix together corn starch and cold water and add to the boiling mixture to thicken it to the consistancy you desire.

Add red or orange food coloring if you like.
Pin this Recipe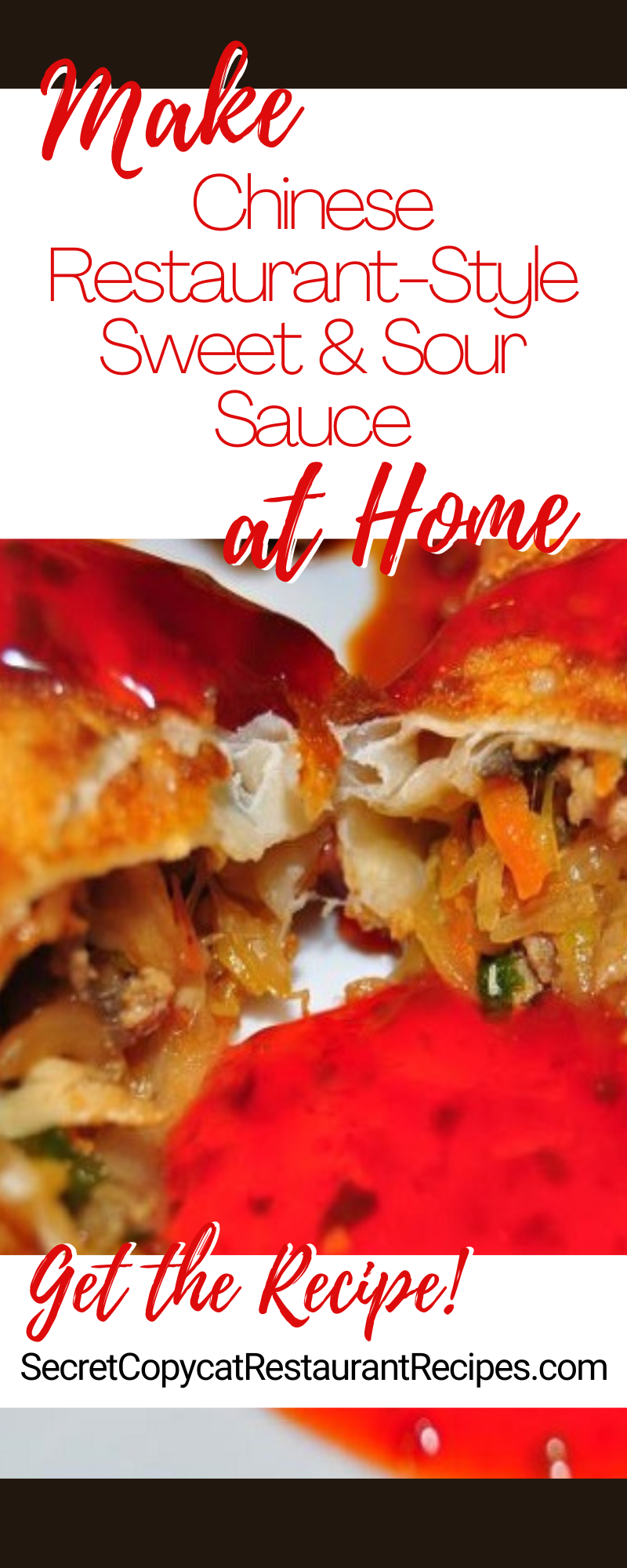 Essential Wok Cookbook
A Simple Chinese Cookbook for Stir-Fry, Dim Sum, and Other Restaurant Favorites. All the Recipes You Need to Enjoy Comforting Chinese Food at Home.
Ordering Chinese takeout is easy–but it's definitely not the healthiest or most affordable way to enjoy Chinese comfort food at home. With this simple cookbook in your kitchen and a mighty wok in your hand, Chinese favorites are now quicker, healthier, and cheaper than delivery.
The Essential Wok Cookbook is your guide to mastering the wok, the versatile pan that makes possible all of the Chinese restaurant dishes you love–no extra salt, oil, or MSG required. Beyond tips for selecting, seasoning, and caring for your wok, this cookbook also provides:
Step-by-step illustrations for how to fold a dumpling, egg roll and wonton.
Fun features on the origin stories and American reinventions of foods such as egg drop soup and fortune cookies.
Recipe labels to help you decide what to make when you're short on time (30 minutes or less) and tight on cash (under $10).
Recipe tips to swap ingredients, save time, make a dish more healthy, or kick up the heat.
Fire up the wok with recipes like Perfect Pork Pot Stickers, Easy Vegetable Stir-Fry, Lighter Egg Foo Young, Sweet Chili Shrimp, General Tso's Chicken, Better Beef with Broccoli, and many more!
Every Grain of Rice: Simple Chinese Home Cooking
"A must-have for anyone who wants to cook Chinese food at home, home cooks and professionals alike."—David Chang, Momofuku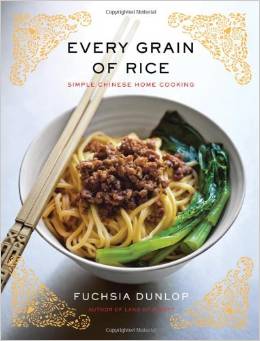 Fuchsia Dunlop trained as a chef in China's leading Sichuan cooking school and possesses the rare ability to write recipes for authentic Chinese food that you can make at home. Following her two seminal volumes on Sichuan and Hunan cooking, Every Grain of Rice is inspired by the vibrant everyday cooking of southern China, in which vegetables play the starring role, with small portions of meat and fish.
Try your hand at stir-fried potato slivers with chili pepper, vegetarian "Gong Bao Chicken," sour-and-hot mushroom soup, or, if you're ever in need of a quick fix, Fuchsia's emergency late-night noodles. Many of the recipes require few ingredients and are ridiculously easy to make. Fuchsia also includes a comprehensive introduction to the key seasonings and techniques of the Chinese kitchen. With stunning photography and clear instructions, this is an essential cookbook for everyone, beginner and connoisseur alike, eager to introduce Chinese dishes into their daily cooking repertoire. 150 color photographs
---
Photo of Sweet and Sour Sauce is by jeffreyw and is used by permission under the Creative Commons Attribution 2.0 Generic (CC BY 2.0) License. Thank you, Jeffrey. Great Picture. Photos may be "representative" of the recipe and not the actual finished dish. All photo licenses listed were correct at the time of the posting of the page. Recipe is traditional. Additional Information Courtesy of Wikipedia and is used by permission.
---
Please use the Facebook, Twitter, Pinterest and Email Buttons below to SHARE this Recipe with your Friends!
It only takes a minute and they will love you for it!
Thank You!