Make this Straight-From-the-Restaurant Shakey's Pizza Parlor Mojo Potatoes Recipe at home.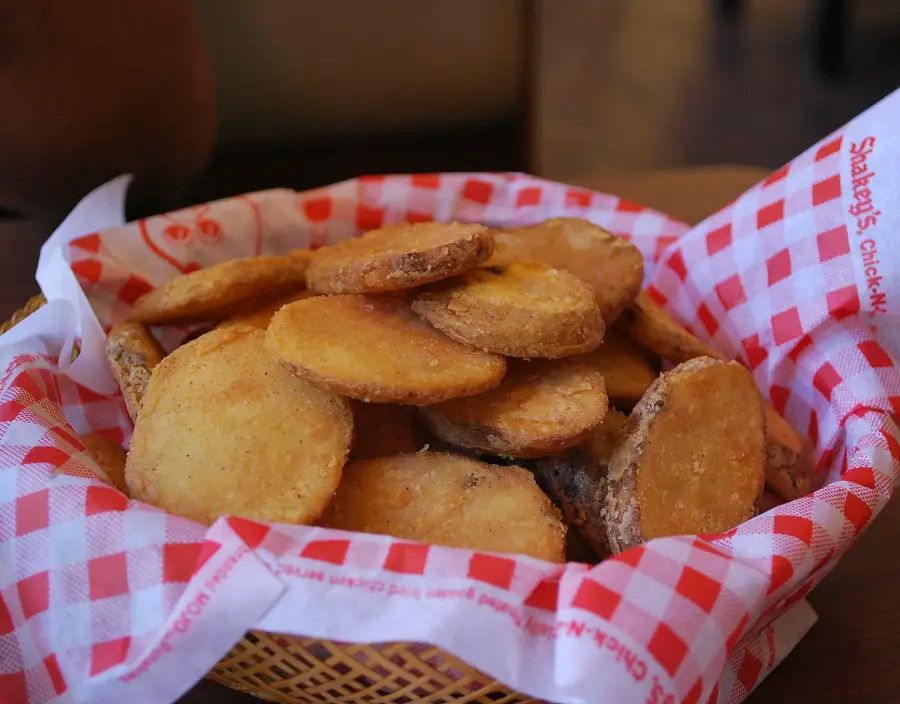 Photo by Gadjo Sevilla
Shakey's Pizza Parlor Mojo Potatoes
A Shakey's Pizza Parlor Copycat Recipe
The Japanese arm of Shakey's Pizza Parlor shared the secret recipe for its extremely popular, zesty fried potatoes on SoraNews24 so that people quarantining at home could enjoy them.
The recipe is simple. But be sure that all the slices are the same thickness. That way they fry up best. A mandolin works best for this.
Shakey's Pizza Parlor
Shakey's Pizza was founded in 1954 and was the first franchise pizza chain in the United States. They've even trademarked the slogan, "The pizza that started it all." to commemorate this.
One of the features of early Shakey's that James and Mark remember fondly was its large windows between the dining hall and the kitchen. We would watch as our pizza was thrown, sauce and toppings added and the whole sha-bang slid into the oven.
Shakey's had about 500 stores globally, and 58 in the United States, as of July 2019. Currently, the stores can be found in the states of California and Washington, Japan, The Philippines, Mexico and elsewhere.
Straight-From-the-Restaurant
During the quarantine period of 2020, many restaurants were kind enough to share some of their most popular recipes on their websites so that fans could enjoy their favorite dishes at home. Alton has spent hours tracking down these recipes. This was a very cool thing for the restaurants to do and we are proud that we can help them share these recipes with their fans.
Shakey's Pizza Parlor Mojo Potatoes from 2020 is a Straight-From-the-Restaurant Recipe.
Shakey's Pizza Parlor Mojo Potatoes Recipe
Make this Straight-From-the-Restaurant Shakey's Pizza Parlor Mojo Potatoes Recipe at home.
Yield:
4
People as an Appetizer
Ingredients
2 -3

Potatoes

sliced 1/4-inch thick

3 1/2

ounces

Fried Chicken Breading Mix

Salt and freshly ground Black Pepper

to taste

Cooking Oil

to fry potatoes
Instructions
Place potato slices in a medium bowl.

Stir fried chicken breading mix, salt, and pepper in another medium bowl.

Place potatoes in a microwave and cook on a setting of 7 for 5 minutes, to soften. Watch that they don't start to burn.

Carefully remove heated potatoes from microwave.

Add potatoes to dry mix. Toss to make sure all surfaces are seasoned.

Heat oil in a deep fryer or large pot to a temperature of 375°F.

Add seasoned potatoes a few at a time, do not crowd, and deep fry until you reach desired level of crispiness. Repeat until all slices are fried.

Serve immediately.
Get More Secret Copycat Restaurant Recipes
Sign-up for our FREE Restaurant Recipes Emails. We send out Additional Email-Only Copycat Restaurant Recipes each week. Sign up NOW to get EVERY RECIPE.

---
And Please Follow Us on Your Favorite Social Sites
You'll Stay in Touch, Get More Recipes from All of Our Sites and Help Us Spread the Word about Secret Copycat Restaurant Recipes to All Your Friends.
Thank You.
---
Photo of "Mojo Potatoes from Shakey's" is by Gadjo Sevilla and is used by permission under the Attribution-NonCommercial 2.0 Generic (CC BY-NC 2.0) Creative Commons License. Read the Full License Here – https://creativecommons.org/licenses/by-nc/2.0/legalcode. Thank you, Gadjo Sevilla. Great Picture. Photos may be "representative" of the recipe and not the actual finished dish. All photo licenses listed were correct at the time of the posting of the page. Recipe was shared by Shakey's Pizza Parlor Japan to SoraNews24. Additional Information Courtesy of Wikipedia and is used by permission.
---
Please use the Facebook, Twitter, Pinterest and Email Buttons below to SHARE this Recipe with your Friends!
It only takes a minute and they will love you for it!
Thank You!