Chevys Fresh Mex Avocado Corn Salsa Recipe
Make our Chevys Fresh Mex Avocado Corn Salsa Recipe at home and your Avocado Corn Salsa will taste just like Chevys Fresh Mex.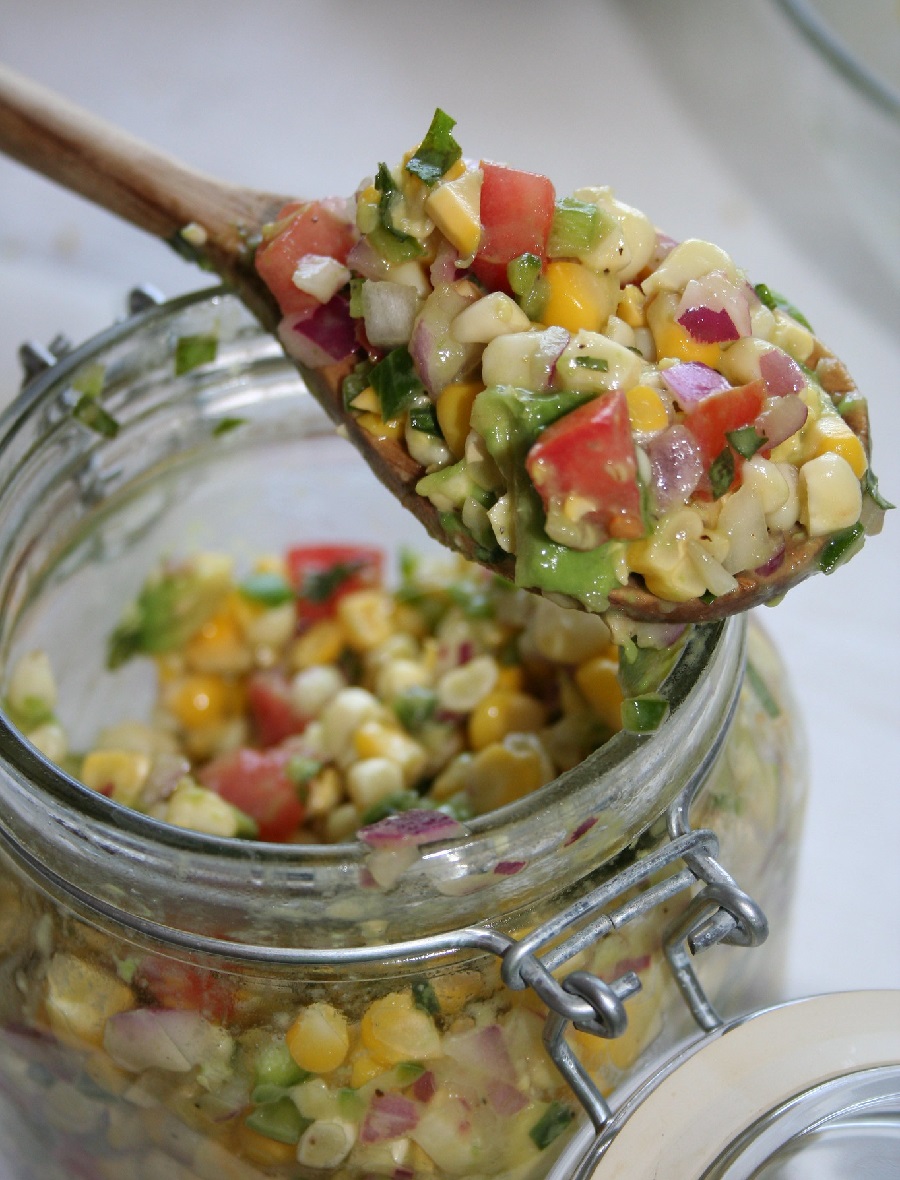 Photo by feministjulie
Get More Secret Copycat Restaurant Recipes
Sign-up for our FREE Restaurant Recipes Emails. We send out Additional Email-Only Copycat Restaurant Recipes each week. Sign up NOW to get EVERY RECIPE.

---
And Please Follow Us on Your Favorite Social Sites
You'll Stay in Touch, Get More Recipes from All of Our Sites and Help Us Spread the Word about Secret Copycat Restaurant Recipes to All Your Friends.
Thank You.
Here are a Few More Recipes From Across Our Family of Websites You Will Love
Click on any Name below for the Recipe
Chevys Fresh Mex Avocado Corn Salsa Recipe
Make this Straight-From-the-Restaurant Chevys Fresh Mex Avocado Corn Salsa Recipe at home and your Avocado Corn Salsa will taste just like Chevys Fresh Mex.
Ingredients
3/4

cup

Olive Oil

4

cups

fresh (about 5 ears) or frozen (thawed) Corn Kernels

1

teaspoon

Salt

3/4

teaspoon

freshly ground Black Pepper

to taste

2

Avocados

1

Red Bell Pepper

cored and seeded

4

Poblano Chiles

roasted, peeled and seeded (See Box below - How to Roast Peppers)

4

Scallions

white and light green parts, thinly sliced on the diagonal

1/2

cup

Red Wine Vinegar
Instructions
Place 1/2 cup of the olive oil in a large skillet.

Place skillet over medium heat.

When oil is hot and shimmering, add corn, salt and pepper, to taste. Sauté corn about 5 minutes. Transfer roasted corn to a large mixing bowl. Set aside to cool.

Starting at the top, with a very sharp knife, cut down into each avocado until you hit the pit. Cut completely around the avocado, top to bottom, touching the pit the entire time.

Pull the two halves of the avocado apart and remove the pit with a spoon.

Use the spoon to scoop the avocado out of the skin. (Some people like to score the avocado with a knife before scooping.)

Chop avocado into 1/4 to 1/2-inch pieces. Add to roasted corn.

Chop bell pepper and roasted Poblanos into 1/4-inch dice. Add to the sautéed corn.

Add scallions, red wine vinegar and the remaining 1/4 cup olive oil.

Mix gently but well. Allow to rest for 20 to 30 minutes to blend the flavors before serving.

Serve at room temperature.

If making in advance, make recipe as is - Except do not cut the avocado. Store, tightly covered, in the refrigerator up to 2 to 3 days. Prepare and add the avocado just before serving and allow salsa to come up to room temperature or slightly below.
Pin this Recipe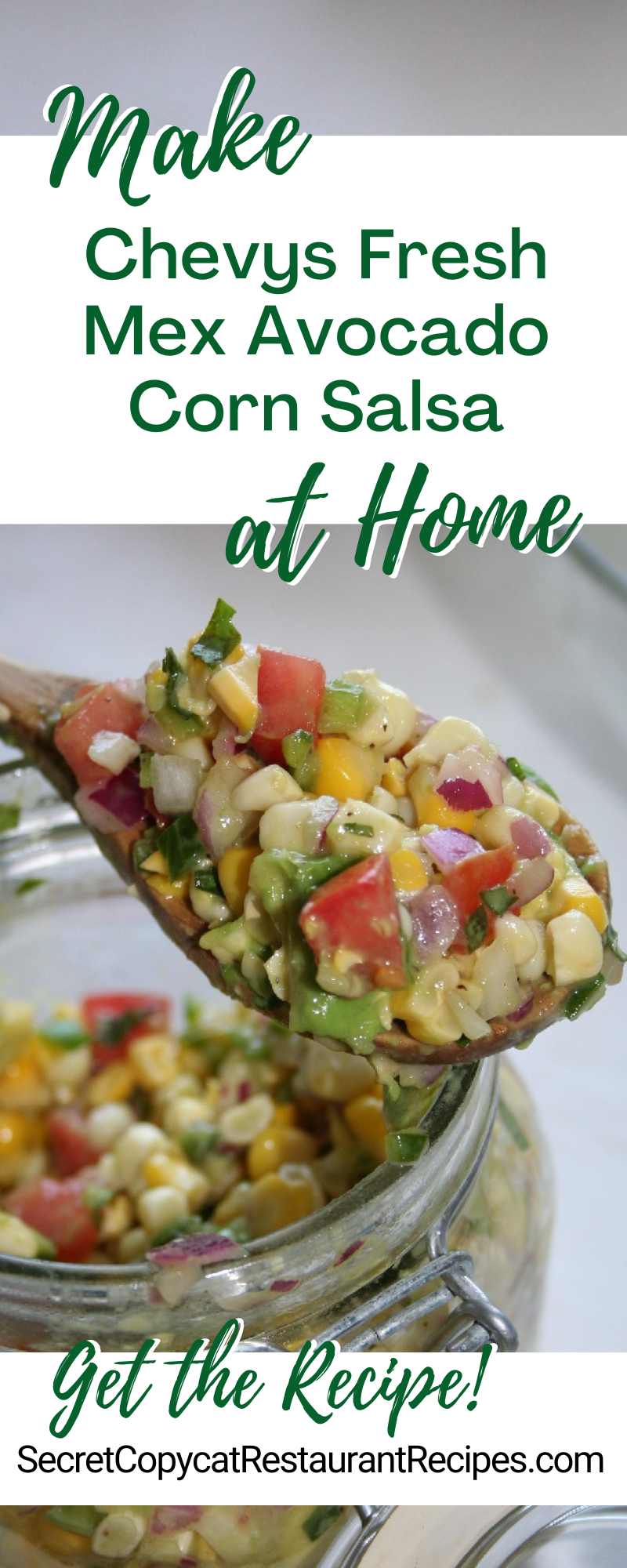 How to Roast Peppers
Turn over to broil to preheat.
Cut pepper in 1/2. Remove the stem, veins and seeds.
Place pepper halves in a mixing bowl.
Add just enough oil to coat the peppers, a tablespoon or two, to the bowl. Toss to fully coat.
Place coated peppers on a broiler pan.
Place under broiler and roast for 5 to 7 minutes. Rotate the pepper as the flesh closest to the heat blackens and blisters.
Remove each pepper when they have blackened completely.
Place all roasted peppers in a bowl. Cover with plastic wrap to allow them to steam (Alternately, place peppers in a paper bag and close it).
After 15 to 20 minutes, remove from bowl and scrape off and discard the blackened skin.
---
Photo of "Corn Salsa" is by feministjulie and is used by permission under the Attribution-NonCommercial-NoDerivs 2.0 Generic (CC BY-NC-ND 2.0) Creative Commons License. Read the Full License Here – https://creativecommons.org/licenses/by-nc-nd/2.0/legalcode. Thank you, feministjulie. Great Picture. Photos may be "representative" of the recipe and not the actual finished dish. All photo licenses listed were correct at the time of the posting of the page. Recipe is our adaption of several recipes formally widely-circulated on the internet – courtesy of the Wayback Machine. Additional Information Courtesy of Wikipedia and is used by permission.
---
Please use the Facebook, Twitter, Pinterest and Email Buttons below to SHARE this Recipe with your Friends!
It only takes a minute and they will love you for it!
Thank You!