Make this Straight-From-the-Restaurant Uncle Julio's Guacamole Recipe at home and your Guacamole will taste just like Uncle Julio's.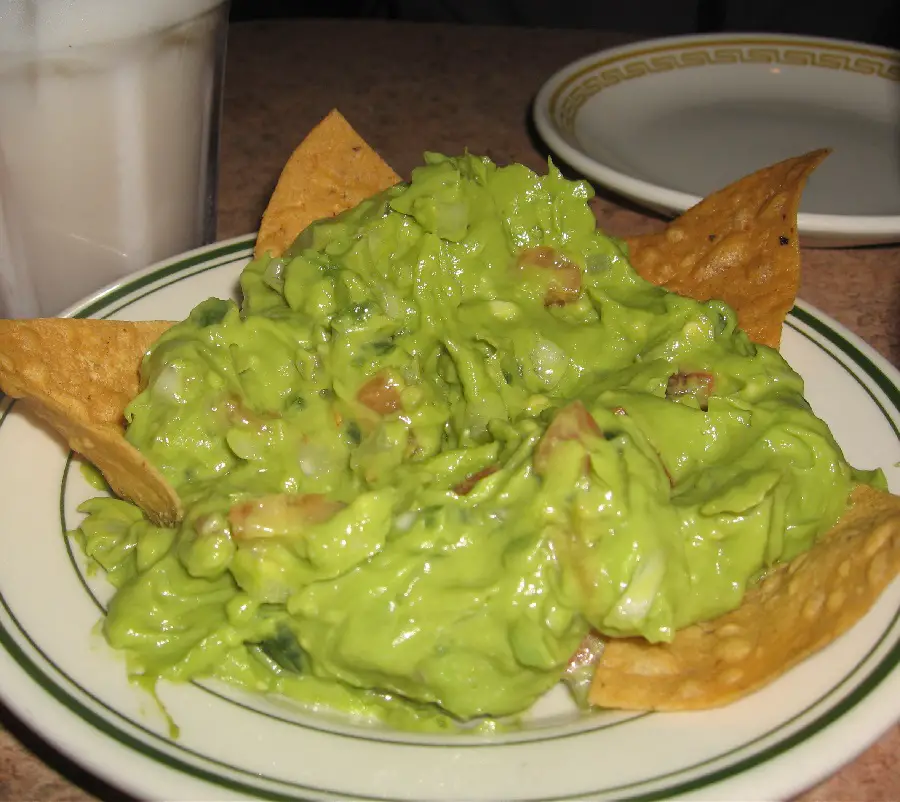 Photo by feministjulie
Straight-From-the-Restaurant
Occasionally restaurants are kind enough to share their recipes with their fans so they can cook and enjoy their favorite dishes at home. Alton has spent hours tracking down these recipes. We are proud that we can help the restaurants share these recipes with our fans.
Uncle Julio's Guacamole Recipe is a Straight-From-the-Restaurant Recipe.
To See ALL of Our Straight-From-the-Restaurant Copycat Recipes – Click HERE
Get More Secret Copycat Restaurant Recipes
Sign-up for our FREE Restaurant Recipes Emails. We send out Additional Email-Only Copycat Restaurant Recipes each week. Sign up NOW to get EVERY RECIPE.

---
And Please Follow Us on Your Favorite Social Sites
You'll Stay in Touch, Get More Recipes from All of Our Sites and Help Us Spread the Word about Secret Copycat Restaurant Recipes to All Your Friends.
Thank You.
Here are a Few More Recipes From Across Our Family of Websites You Will Love
Click on any Name below for the Recipe
Uncle Julio's Guacamole Recipe
Make this Straight-From-the-Restaurant Uncle Julio's Guacamole Recipe at home and your Guacamole will taste just like Uncle Julio's.
Ingredients
6

Ripe Avocados

1/4 cup Guacamole Oil, store bought or homemade, of choice (Make it yourself by mixing 1/4 cup Olive Oil and 1 peeled and minced clove of Garlic. Seal in a jar and allow to infuse for 1 week.)

Freshly squeezed Juice of 2 Lemons

1

teaspoon

Salt

to taste

1/2

cup

chopped Tomato

1/4

cup

chopped White Onion
Instructions
Starting at the top, with a very sharp knife, cut down into each avocado until you hit the pit. Cut completely around the avocado, top to bottom, touching the pit the entire time.

Pull the two halves of the avocado apart and remove the pit with a spoon.

Use the spoon to scoop the avocado out of the skin. (Some people like to score the avocado with a knife before scooping.) Make sure to gently scrap the skin to get the dark, creamy "good stuff."

Place 2/3 to 3/4 of the softest avocados in a mixing bowl. Using a fork, roughly mash them.

Place the remaining firmest avocados on a cutting board or plate and chop into 1/4 to 1/2-inch pieces. Add these to the mashed avocado in the bowl and mix well.

Stir guacamole oil into avocado.

Add lemon juice, salt, tomato and onion. Mix gently but well.

Taste. Add more salt, to taste, if needed.
Pin this Recipe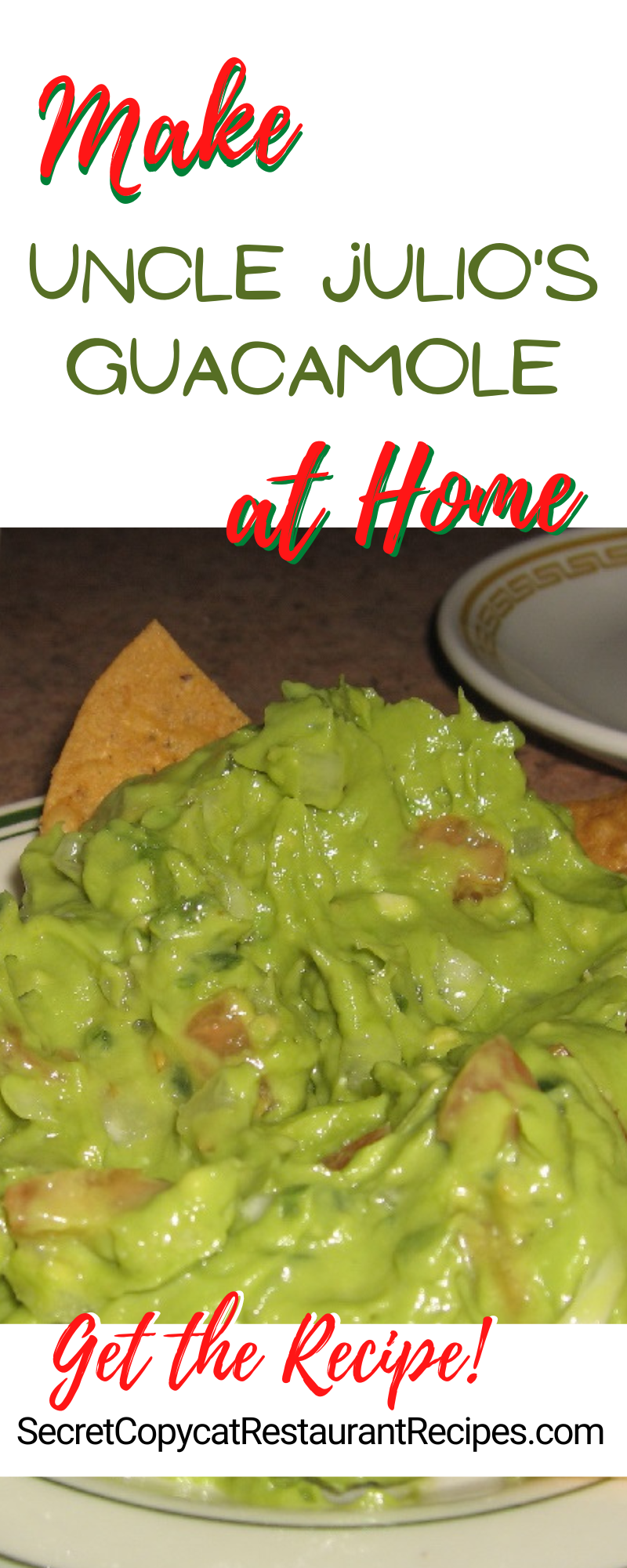 ---
Photo of "Guacamole" is by feministjulie and is used by permission under the Attribution-NonCommercial-NoDerivs 2.0 Generic (CC BY-NC-ND 2.0) Creative Commons License. Read the Full License Here – https://creativecommons.org/licenses/by-nc-nd/2.0/legalcode. Thank you, feministjulie. Great Picture. Photos may be "representative" of the recipe and not the actual finished dish. All photo licenses listed were correct at the time of the posting of the page. Recipe Courtesy of Uncle Julio's, presented by Uncle Julio's Chef, Ron Vasquez, on KXAN, Austin, TX on or before July 18, 2013. Additional Information Courtesy of Wikipedia and is used by permission.
---
Please use the Facebook, Twitter, Pinterest and Email Buttons below to SHARE this Recipe with your Friends!
It only takes a minute and they will love you for it!
Thank You!