Make this Straight-From-the-Restaurant Chevys Fresh Mex Flan Recipe at home and your Flan will taste just like Chevys Fresh Mex.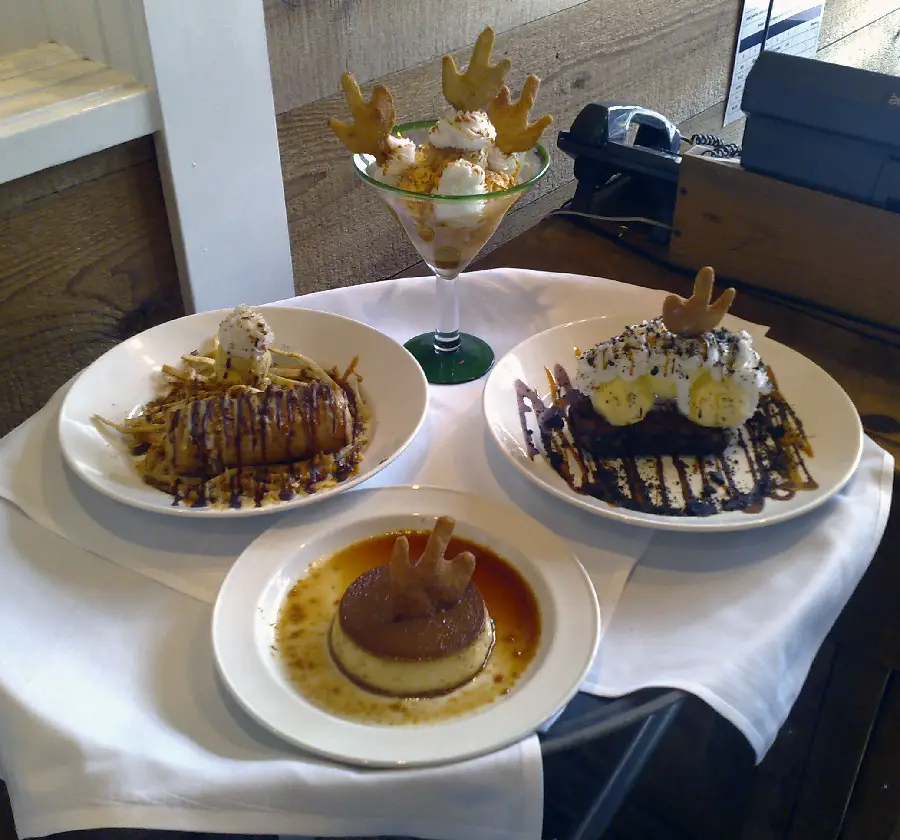 Photo by Niall Kennedy
Straight-From-the-Restaurant
Way back in the simpler days of the internet, restaurants were kind enough to share recipes on their new websites so that fans could enjoy their favorite dishes at home. Alton has spent hours tracking down these recipes. We are proud that we can help the restaurants share these vintage recipes with a whole new generation of fans.
Chevys Fresh Mex Flan Recipe from 2008 is a Straight-From-the-Restaurant Recipe.
To See ALL of Our Straight-From-the-Restaurant Copycat Recipes – Click HERE
Get More Secret Copycat Restaurant Recipes
Sign-up for our FREE Restaurant Recipes Emails. We send out Additional Email-Only Copycat Restaurant Recipes each week. Sign up NOW to get EVERY RECIPE.

---
And Please Follow Us on Your Favorite Social Sites
You'll Stay in Touch, Get More Recipes from All of Our Sites and Help Us Spread the Word about Secret Copycat Restaurant Recipes to All Your Friends.
Thank You.
Chevys Fresh Mex Flan
From the Chevys Fresh Mex Website –
"Along with Cajeta, Flan is Mexico's other national obsession. And we're pretty "flanatical" about it, too. We make this recipe every night, using fresh eggs, whole milk and pure vanilla extract. Don't skimp on the vanilla; this is such a simple recipe, every flavor really counts."
NOTE – Chevys Fresh Mex Flan Recipe is a 2-Day Recipe
Chevys Fresh Mex Flan Recipe
Make this Straight-From-the-Restaurant Chevys Fresh Mex Flan Recipe at home and your Flan will taste just like Chevys Fresh Mex.
Ingredients
1 3/4

cups

Sugar

1/2

teaspoon

Ground Cinnamon

3

tablespoons

Water

3

cups

Whole Milk

3

Eggs

6

Egg Yolks

1

tablespoon

Pure Vanilla Extract
Instructions
Preheat oven to 250°F.

In a large frying pan, place 1 cup sugar and cinnamon.

Place pan over low heat and caramelize, stirring continuously, until amber colored.

Remove from heat. Slowly add water while stirring.

Immediately pour caramelized sugar into four 8-ounce ramekins, swirling the cups to evenly coat the bottom.

Pour milk in a saucepan.

Place saucepan over medium-low heat. Cook until almost simmering. Remove from heat and set aside.

In a medium mixing bowl, add eggs, egg yolks, remaining 3/4 cup sugar and vanilla. Beat with a whisk until pale yellow in color.

Gradually add hot milk to egg mixture while stirring continuously.

Strain milk/egg mixture through a fine-mesh strainer.

Pour mixture into the ramekins, dividing equally. Skim any foam or bubbles off the surface of the custard.

Place the ramekins in a roasting pan.

Fill the pan with 2 inches of warm water, so that the water comes about halfway up the outsides of the ramekins. Do not get water into the ramekins.

Cover ramekins with a sheet of parchment paper.

Place pan of custards in preheated oven. Bake 1 1/2 to 2 hours, or until a toothpick comes out clean when inserted in the middle of the flans.

Remove from oven. Cool to room temperature on a cooling rack.

Cover with plastic wrap and place in the refrigerator overnight.

Remove ramekins from water.

Run a knife around the inside edge of the ramekins to loosen the flans.

Gently invert and turn out the flans onto serving plates.

Serve cold.
Pin this Recipe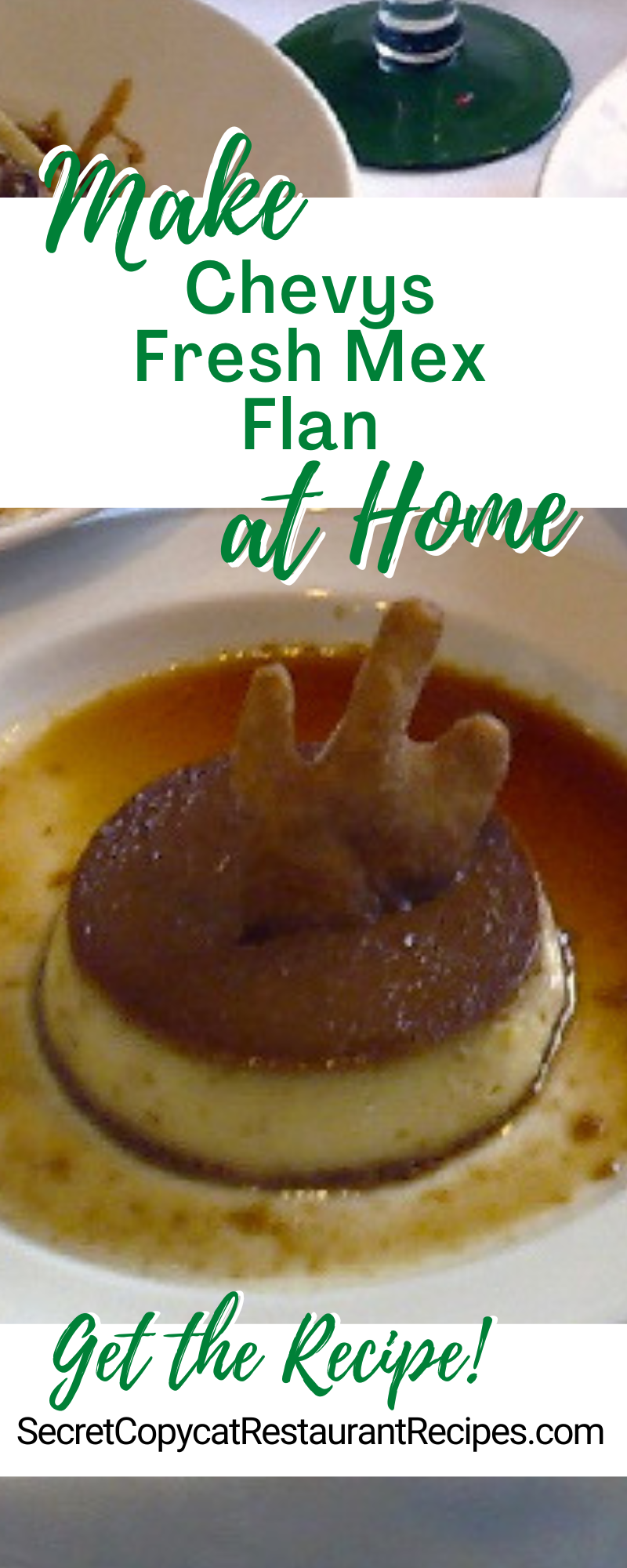 Be Sure to Try These Other Delicious Dessert Recipes from Your Favorite Restaurants and Our Readers and Friends
Click on any Name below for the Recipe
---
Photo of "Chevy's desserts" is by Niall Kennedy and is used by permission under the Attribution-NonCommercial 2.0 Generic (CC BY-NC 2.0) Creative Commons License. Read the Full License Here – https://creativecommons.org/licenses/by-nc/2.0/legalcode. Thank you, Niall. Great Picture. Photos may be "representative" of the recipe and not the actual finished dish. All photo licenses listed were correct at the time of the posting of the page. Recipe Courtesy of Chevy's Website, circa 2008, "Chevy's Recipes" Page by way of the Wayback Machine on the Internet Archive. Recipe Information Courtesy of Chevys Fresh Mex website, circa 2008. Additional Information Courtesy of Wikipedia and is used by permission.
---
Please use the Facebook, Twitter, Pinterest and Email Buttons below to SHARE this Recipe with your Friends!
It only takes a minute and they will love you for it!
Thank You!