Make our J. Alexander's Mac and Cheese Recipe at home tonight for your family. With our Secret Restaurant Recipe your Mac & Cheese will taste just like J. Alexander's.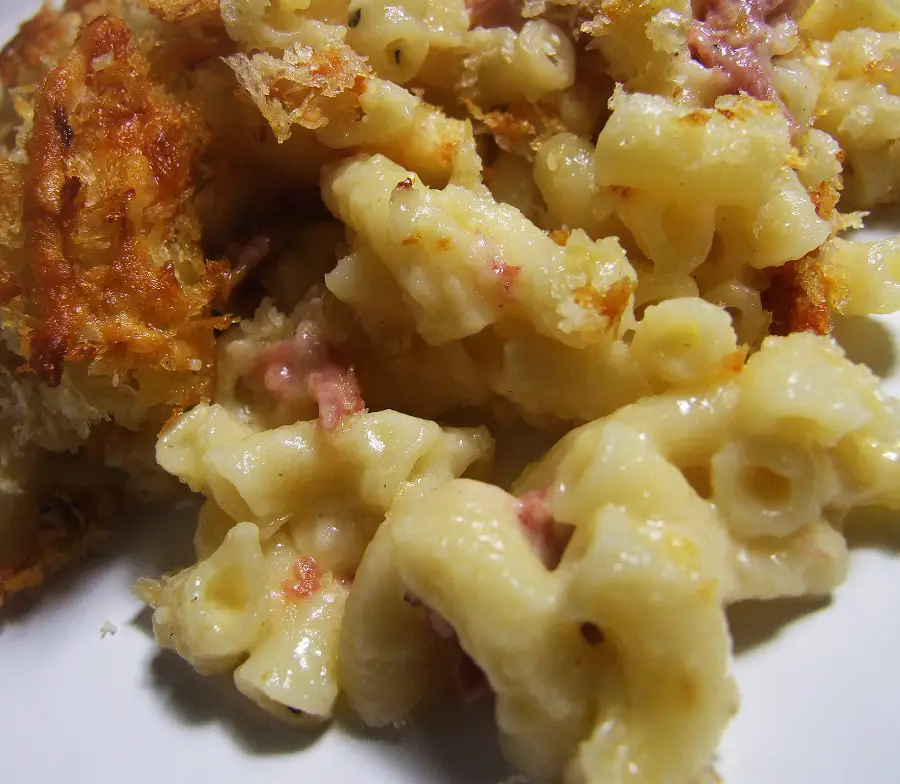 Photo by Helen Graves
J. Alexander's Mac and Cheese
J. Alexander's Mac and Cheese Recipe
Make our J. Alexander's Mac and Cheese Recipe at home tonight for your family. With our Secret Restaurant Recipe your Mac & Cheese will taste just like J. Alexander's.
Ingredients
6

cups

Chicken Stock

2

cubes Chicken Bouillon/base

2

cups

8 ounces Cavatappi (also called Cellentani or Double Elbows, is macaroni formed in a spiral tube shape with ridges)

3

tablespoons

Olive Oil

2

teaspoons

Lemon Juice

1

teaspoon

Sugar

3

tablespoons

Butter — divided plus extra for greasing pan

2

tablespoons

Flour

1

cup

Heavy Cream

1/2

cup

Sour Cream

1/2

cup

Half and Half

1/2

small Red Onion — minced and sauteed in a bit of butter

1/2

teaspoon

of minced Garlic

sauteed with onion

1

teaspoon

Cholula Brand Hot Sauce

more if you prefer a spicy kick

2 1/4

cups

fresh grated Gruyere cheese divided

1/2

cup

fresh grated Parmigiano-Reggiano Cheese

Super expensive - but oh, so worth it!

Freshly ground Black Pepper

No extra Salt. There is plenty of Salt in the chicken stock, bouillon and cheese

1/2

cup

Panko
Instructions
Bring 6 cups chicken stock and 1 1/1 cubes chicken base/bouillon to rolling boil in medium saucepan.

Add macaroni and cook until al dente, 8 to 10 minutes.

Drain and put in large bowl, toss with olive pomace oil and lemon juice.

Melt 2 tablespoons butter in large saucepan over medium-low heat.

Whisk in flour and cook, whisking constantly, 3 minutes.

Gradually whisk in heavy cream, half n half, and sour cream.

Stir in sautéed onion and garlic mixture, , sugar and Tabasco.

Simmer gently, stirring often, 15 minutes.

Remain on low heat and stir in 1 1/2 cups of Gruyere and Parmesan cheese.

Season to taste with pepper.

Stir in macaroni. Pour half of mixture into greased, deep 1 1/2-quart baking dish (or 3 - 4 ramekins) and sprinkle with 1/2 of remaining cheese mixture.

Top with remaining macaroni and remaining cheese mixture.

Melt remaining 1 tablespoon butter and 1/2 cube chicken base in small skillet over medium heat.

Add panko and toss to coat. (Don't brown in pan)

Sprinkle buttered panko and over top of macaroni.

Bake at 350: F. until panko is lightly browned, about 25 - 30 minutes.

Let stand 5 minutes before serving. Makes 4 servings.
Get More Secret Copycat Restaurant Recipes
Sign-up for our FREE Restaurant Recipes Emails. We send out Additional Email-Only Copycat Restaurant Recipes each week. Sign up NOW to get EVERY RECIPE.

---
And Please Follow Us on Your Favorite Social Sites
You'll Stay in Touch, Get More Recipes from All of Our Sites and Help Us Spread the Word about Secret Copycat Restaurant Recipes to All Your Friends.
Thank You.
The Mac + Cheese Cookbook 50 Simple Recipes from Homeroom, America's Favorite Mac and Cheese Restaurant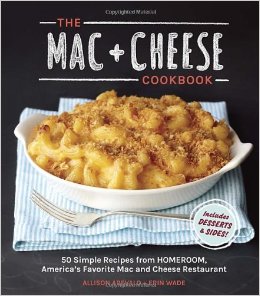 A fun and playful cookbook featuring retro, decadent, and kid-friendly mac-and-cheese recipes from the popular Oakland restaurant Homeroom.
Macaroni and cheese is one of America's favorite comfort foods, beloved by kids and adults alike. But there's no need to rely on prefab mixes—all you need is a handful of kitchen staples, some tasty cheese, and a little insider advice courtesy of Homeroom restaurant. This perennially popular Oakland, California, eatery—with its entire menu devoted to mac and cheese—now shares its secrets for the best-ever mac recipes.
These inventive dishes offer something for everyone: nostalgic homestyle recipes like Tuna Mac, international varieties like Sriracha Mac, decadent delights like Truffle Mac, and even the logic-defying Vegan Mac. You'll also find recipes for quick veggie sides like Brussels Sprouts with Bacon and old-school desserts like frozen Peanut Butter Pie.
Related Recipes:
Click on any Name below for the Recipe
… MORE Great Recipes Coming Soon!
---
Photo of Mac n' Cheeese is by Helen Graves and Food Stories and is used by permission under the Creative Commons Attribution-NonCommercial-ShareAlike 2.0 Generic (CC BY-NC-SA 2.0) License. Thank you, Helen. Great Picture. Photos may be "representative" of the recipe and not the actual finished dish. All photo licenses listed were correct at the time of the posting of the page. Additional Information Courtesy of Wikipedia and is used by permission.
---
Please use the Facebook, Twitter, Pinterest or Email Buttons below to SHARE our J. Alexander's Mac and Cheese Recipe with your Friends!
It only takes a minute and they will love you for it!
Thank You!