"DUDE! Out of all the billions on video's I've seen this, hands down, is the most informative and simple Mac & Cheese video! Thank you!"
From a Review by AT on YouTube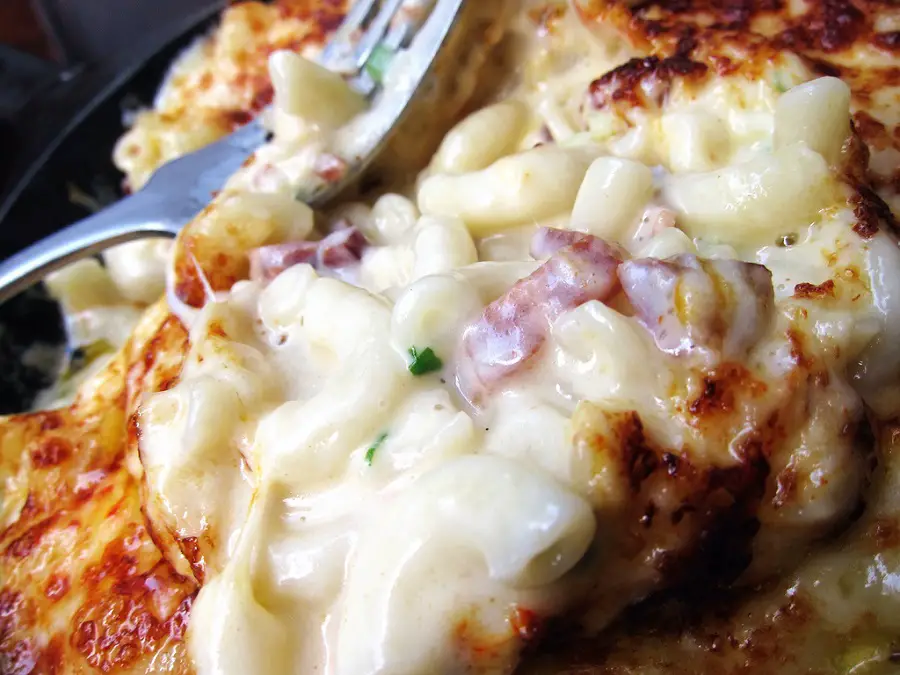 Photo by Young Sok Yun 윤영석
James, Mark and Uncle Alton want you to know…
Our pages may contain ads and affiliate links from Amazon and others. If you buy something after clicking on one of these links you will not pay one penny more – but we will get a small commission. This helps us keep bringing this site and our recipes to you for free. Thank you.

Michael Symon's Bacon Mac and Cheese
Video Courtesy of FFChefMichaelSymon YouTube and Eat Wisconsin Cheese
Michael Symon's Bacon Mac and Cheese Recipe
Recipe courtesy of Michael Symon and Eat Wisconsin Cheese
Ingredients (From the Video)
4 cups Heavy Whipping Cream
4 tablespoons chopped fresh Rosemary
Salt and freshly ground Black Pepper, to taste
1/2 pound Bacon, diced, fried crisp and drained
1 pound Elbow Macaroni or Short Hollow Pasta
2 cups (about 8 ounces) grated Wisconsin Gruyère Cheese
Chopped Chives, for garnish
---
---
Directions (From the Video)
Prepare pasta according to package directions. Drain, reserving 3 teaspoons of the pasta water. Set both aside.
Place cream in large saucepan.
Add rosemary
Add salt and pepper, to taste.
Place over medium heat and bring to boil. Keep at a boil, until reduced by half (be patient, this takes some time).
Add bacon and pasta. Stir well to mix. Simmer until hot.
Add in Gruyère and the 3 teaspoons reserved pasta water.
Stir continuously until cheese is melted.
Taste. Add salt and pepper, to taste.
Garnish with chopped chives.
Serve immediately.
Get More Secret Copycat Restaurant Recipes
If you like this recipe, you should sign-up for our FREE Restaurant Recipes Emails. We have sent our readers over 200 Additional Email-Only Copycat Restaurant Recipes (and counting!) Sign up NOW to get EVERY RECIPE.

We'll send you a Cool Starbucks Recipe Book just for trying us out. You'll love it.
---
And Please Follow Us on Your Favorite Social Sites
You'll Stay in Touch, Get More Recipes from All of Our Sites and Help Us Spread the Word about Secret Copycat Restaurant Recipes to All Your Friends.
Thank You.
Michael Symon's Carnivore: 120 Recipes for Meat Lovers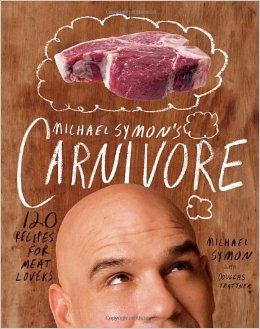 Celebrity chef, restaurateur, and meat lover Michael Symon—of Food Network's Iron Chef America and ABC's The Chew—shares his wealth of knowledge and more than 100 killer recipes for steaks, chops, wings, and lesser-known cuts.
Michael gives home cooks just the right amount of key information on breeds, cuts, and techniques to help them at the meat counter and in the kitchen, and then lets loose with fantastic recipes for beef, pork, poultry, lamb, goat, and game. Favorites include Broiled Porterhouse with Garlic and Lemon, Ribs with Cleveland BBQ Sauce, Braised Chicken Thighs with Kale and Chiles, Lamb Moussaka, and Bacon-Wrapped Rabbit Legs. Recipes for sides that enhance the main event, like Apple and Celeriac Salad and Sicilian Cauliflower, round out the book.
Michael's enthusiasm and warmth permeate the text, and with 75 beautiful color photographs, Michael Symon's Carnivore is a rich and informative cookbook for every meat lover.
---
BONUS – Michael Symon's Smoked Lamb Ribs on the Grill with Lemon, Oregano & Honey Recipe is included on the Amazon page for Free. CLICK HERE to try it now.
Related Recipes:
Click on any Name below for the Recipe
… MORE Great Recipes Coming Soon!
---
---
Photo of Bacon Mac & Cheese is by Young Sok Yun 윤영석 and is used by permission under the Creative Commons Attribution-NonCommercial-NoDerivs 2.0 Generic (CC BY-NC-ND 2.0) License. Thank you, 윤영석. Great Picture. Photos may be "representative" of the recipe and not the actual finished dish. All photo licenses listed were correct at the time of the posting of the page. Additional Information Courtesy of Wikipedia and is used by permission.
---
---
Please use the Facebook, Twitter, Pinterest or Email Buttons below to SHARE our Michael Symon's Bacon Mac and Cheese Recipe with your Friends!
It only takes a minute and they will love you for it!
Thank You!