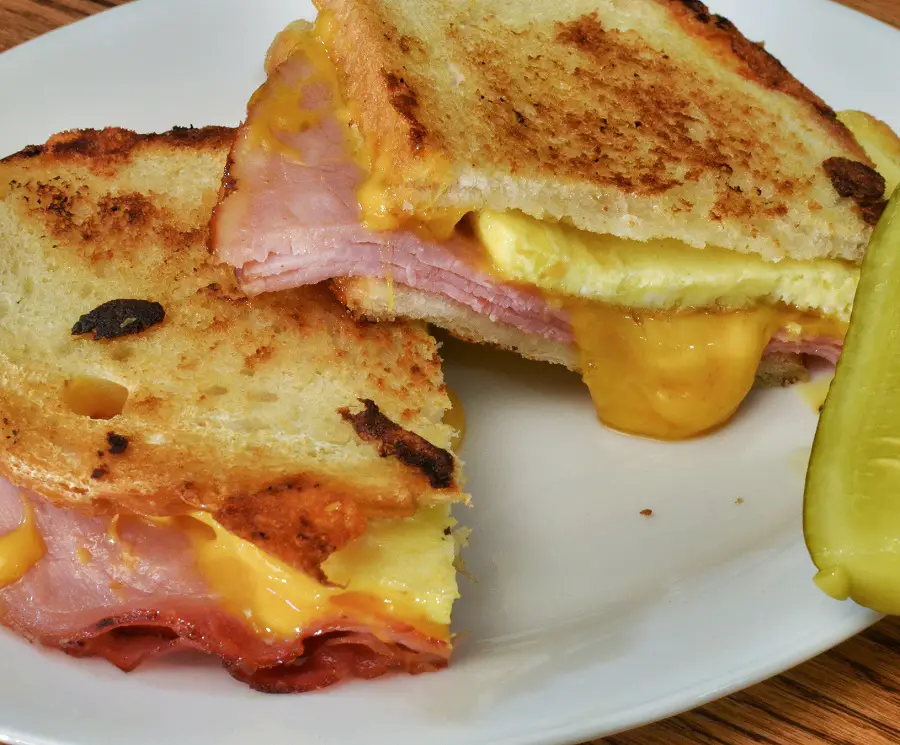 Photo by jeffreyw
Michael Symon's Grilled Cheese
In this 'How to Make a Hot Ham and Cheese' cooking video, The Chew host, Chef Michael Symon presents a grilled ham and cheese sandwich that is delicious whether served as breakfast, lunch, or light dinner fare. Pleasantly rich Wisconsin Swiss stacks up with egg, prosciutto, soppressata and pepper relish to reveal a sandwich with bite.
The complete recipe is below the video.
Video Courtesy of Favorite Foods
Michael Symon's Grilled Cheese Recipe
Ingredients
For the Shasha Sauce (Recipe from Michael Symon's Live to Cook, page 138)
12 hot Banana Peppers
4 cloves Garlic
1 cup Yellow Mustard
1 cup White Wine Vinegar
3/4 cup Sugar
1/3 cup all-purpose Flour
1/2 cup Water
For the Sandwich
4 to 6 thin slices (about 4 ounces) Soppressata (Italian dry-cured Salami)
1 Egg
Salt and cracked Black Pepper
2 thin slices Prosciutto
2 paper-thin slices Red Onion, soaked in ice water 2 minutes
4 thin slices Wisconsin Swiss Cheese
2 thick slices Sourdough Bread or other bread of your choosing
1 tablespoon Butter for grilling sandwich
4-6 large Basil Leaves
2 tablespoons Shasha Sauce
Michael Symon's Live to Cook – Recipes and Techniques to Rock Your Kitchen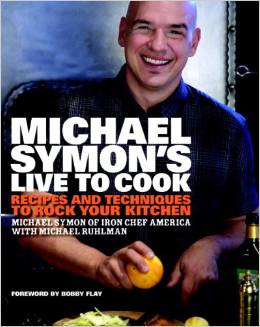 Michael is known for his easy, fresh food. He means it when he says that if a dish requires more than two pans to finish, he's not going to make it.
Cooking what he calls "heritage" food–based on the recipes beloved by his Greek—Italian—Eastern European—American parents and the community in Cleveland–Michael draws on the flavors of traditional recipes to create sophisticated dishes, such as his Beef Cheek Pierogies with Wild Mushrooms and Horseradish, which came out of the pierogies that his grandpa made. Michael translates the influences of the diverse working-class neighborhood in which he grew up into dishes with Mediterranean ingredients, such as those in Olive Oil Poached Halibut with Fennel, Rosemary, and Garlic; Italian-style handmade pastas, like Linguini with Heirloom Tomato, Capers, Anchovies, and Chilies; and re-imagined Cleveland favorites, such as Mac and Cheese with Roasted Chicken, Goat Cheese, and Rosemary.
With fantastic four-color photography throughout and tons of helpful "Symon Says" tips, Michael Symon's Live to Cook is bound to get anyone fired up about getting into the kitchen and cooking up something downright delicious.
Directions
Make the Shasha Sauce
Slice tops off peppers and discard.
Roughly chop peppers and place in food processor.
Add garlic, mustard and vinegar to processor and puree with peppers.
Pour puree into nonreactive saucepan, add sugar and bring to boil over high heat.
Lower heat and simmer, uncovered, 30 minutes.
Mix flour and water to form smooth paste.
Whisk into simmering puree and return mixture to simmer.
Cook for 20-30 minutes, stirring regularly, until sauce is very thick. Cool sauce, pour into nonreactive container and refrigerate. Can be refrigerated for up to 1 month. Makes about 3 cups. Delicious on sandwiches and grilled meats.
Make the Sandwich
Have all ingredients assembled so you can work quickly.
Heat nonstick sauté pan over low and fry the soppressata until just crisped and some fat is rendered, about 2 minutes per side. Remove to plate.
In same pan, fry egg, seasoned with salt and pepper, sunny-side-up.
While egg is frying, drain onion and dry. Reserve fried egg.
Layer prosciutto, reserved soppressata, onions and Swiss cheese on one slice of bread. Top with remaining slice of bread.
Melt butter in hot pan and add sandwich, pressing down on sandwich. When bread is toasted on bottom side, turn over to grill other side, pressing down.
Remove sandwich and place on cutting board. Remove top bread and layer basil leaves, Shasha sauce and fried egg over sandwich.
Replace top and cut sandwich in half to serve.
Get More Secret Copycat Restaurant Recipes
Sign-up for our FREE Restaurant Recipes Emails. We send out Additional Email-Only Copycat Restaurant Recipes each week. Sign up NOW to get EVERY RECIPE.

---
And Please Follow Us on Your Favorite Social Sites
You'll Stay in Touch, Get More Recipes from All of Our Sites and Help Us Spread the Word about Secret Copycat Restaurant Recipes to All Your Friends.
Thank You.
You May Also Like These Recipes:
Click on any Name below for the Recipe
---
Some information about Chef Micheal Symon included in the email to this page is courtesy of Wikipedia. Photo of Grilled Ham and Cheese is by jeffreyw and is used by permission under the Creative Commons Attribution 2.0 Generic (CC BY 2.0) License. Thank you, Jeff. Great Picture. Photos may be "representative" of the recipe and not the actual finished dish. All photo licenses listed were correct at the time of the posting of the page. Original Video can be found at Grilled Cheese Recipe by Chef Michael Symon. Additional Information Courtesy of Wikipedia and is used by permission.
---
Please use the Facebook, Twitter, Pinterest or Email Buttons below to SHARE our Recipe with your Friends!
It only takes a minute and they will love you for it!
Thank You!