Make our KFC Honey Barbecued Wings Secret Recipe at home tonight for your family. Our Secret Restaurant Recipe tastes just like the KFC BBQ Wings you love.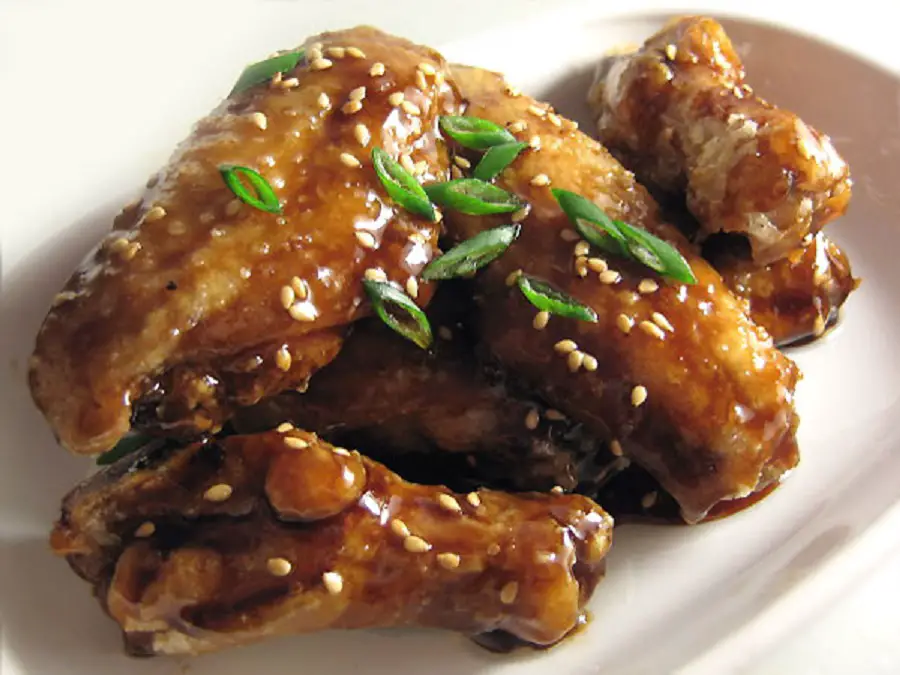 Photo by TheDeliciousLife
KFC Honey Barbecued Wings
In 1930, in the midst of the depression, Harland Sanders opened his first restaurant in the small front room of a gas station in Corbin, Kentucky (I've been there! – Mark.) Sanders served as station operator, chief cook and cashier and names the dining area "Sanders Court and Café."
In 1936 Kentucky Governor, Ruby Laffoon, makes Harland Sanders an honorary Kentucky Colonel (My Dad is a Kentucky Colonel — but he doesn't run around in a white suit all the time – Mark) in recognition of his contributions to the state's cuisine.By 1937 The Sanders Court & Café had added a motel and expanded to 142 seats. Fire destroyed it in 1939 but it is soon rebuilt and reopened.
Also in 1939, the pressure cooker is introduced. Soon thereafter Colonel Sanders begins using it to fry his chicken to give customers fresh chicken, faster and in 1940 he invents the famous "Original Recipe Chicken."
In the early 1950's The Colonel began to actively franchise his chicken business by traveling from town to town and cooking batches of chicken for restaurant owners and employees.The first franchise restaurant opens in Salt Lake City. A handshake agreement stipulates a payment of a nickel to Sanders for each chicken sold.
In 1955 something happened that would change the eating habits of the world. An interstate highway is built to bypass Corbin, Kentucky thus taking away, all at once, the majority of the Colonel restaurant and motel business. Sanders sells the service station on the same day that he receives his first social security check for $105. After paying debts owed, he is virtually broke. He decides to go on the road to sell his Secret Recipe to restaurants.
In 1957 Kentucky Fried Chicken is first sold in buckets.
By 1960 the Colonel's hard work on the road begins to pay off and there are 190 KFC franchisees and 400 franchise units in the U.S. and Canada. By 1964 that number had increased to 600 franchised outlets in the United States, Canada and the first overseas outlet, in England.
Also in 1964, Sanders sells his interest in the U.S. company for $2 million to a group of investors headed by John Y. Brown Jr., future governor of Kentucky. They keep the Colonel on as a public spokesman for the company.
By 1971 there were more than 3,500 franchised and company-owned restaurants in worldwide operation when Heublein Inc. acquired KFC Corporation.
In 1976 an independent survey ranks the Colonel as the world's second most recognizable celebrity. Not bad for a little farm boy from rural Kentucky and inspiration to us all that we can do anything at any age. Remember, at 65 year old he was flat broke and owned nothing but a recipe.
Colonel Harland Sanders, who came to symbolize quality in the food industry, passed away in December of 1980 after being stricken with leukemia. Flags on all Kentucky state buildings flew at half-staff for four days.
Kentucky Fried Chicken passed through the hands of R.J. Reynolds Industries, Inc. (now RJR Nabisco, Inc.) when Heublein, Inc. is acquired by Reynolds, then on to PepsiCo, Inc., then to Tricom when PepsiCo. spun-off of its quick service restaurants – KFC, Taco Bell and Pizza Hut. Tricom becam YUM! Brands when they added A&W and Long John Silvers (an Tricom no long made sense) and there we are today.
More than a billion of the Colonel's "finger lickin' good" chicken dinners are served annually in more than 80 countries and territories around the world and now, thanks to Secret Copycat Restaurant Recipes, in your home. 🙂
KFC Honey Barbecued Wings Recipe
Make our KFC Honey Barbecued Wings Secret Recipe at home tonight for your family. Our Secret Restaurant Recipe tastes just like the KFC BBQ Wings you love.
Ingredients
20

Chicken Wings

tips removed

2

cups

Flour

2

Eggs

2/3

cup

Milk

1

Bottle KC Masterpiece Original BBQ Sauce

1/4

cup

Honey

Oil for deep frying
Instructions
Wash the chicken wings, then remove the wing tips. Cut the other two pieces in half. Shake off the excess water.

Place the eggs and milk in a bowl and mix well. Set aside.

Mix together the BBQ sauce and honey. Set aside.

Put the flour into a bag, then shake the wings in it, to lightly coat.

Roll the wings in the egg wash, then toss them back into the bag. You want a fairly heavy coating of flour so the BBQ sauce has something to hang onto.

Repeat 2 - 3 times.

Heat a large skillet or use your deep fryer. Heat oil until it's very hot, around 350°F.

Fry the wings until they're golden brown.

Remove and drain on paper towels.

Preheat oven to 325°F.

Dip each wing in the BBQ sauce and place on a greased cookie sheet. Make sure the pieces don't touch each other. Hint - place the larger pieces on the outer edges because its hotter there. This will help all the piece cook more evenly.

Bake for 15 - 20 minutes, until they no longer look shiny.
Get Notified of All New Secret Copycat Restaurant Recipes
Sign-up for our FREE Secret Copycat Restaurant Recipes Emails and Never Miss a New Recipe.
NOW With 2 Ways to Get Emails on YOUR Schedule – Daily or One Email per Week.
---
And Please Follow Us on Your Favorite Social Sites
You'll Stay in Touch, Get More Recipes from All of Our Sites and Help Us Spread the Word about Secret Copycat Restaurant Recipes to All Your Friends.
Thank You.
Related Recipes:
Click on any Name below for the Recipe
… MORE Great Recipes Coming Soon!
---
Photo of Honey Soy Glazed Chicken Wings is by TheDeliciousLife and is used by permission under the Creative Commons Attribution-ShareAlike 2.0 Generic (CC BY-SA 2.0) License. Thank you, Delicious. Great Picture. Photos may be "representative" of the recipe and not the actual finished dish. All photo licenses listed were correct at the time of the posting of the page. Additional Information Courtesy of Wikipedia and is used by permission.
---
Please use the Facebook, Twitter, Pinterest or Email Buttons below to SHARE our KFC Honey Barbecued Wings Secret Recipe with your Friends!
It only takes a minute and they will love you for it!
Thank You!