Make our Homemade Cheez-Its Recipe at home tonight for your family. With our Secret Restaurant Recipe your Cheez-Its will taste just like the Real Thing.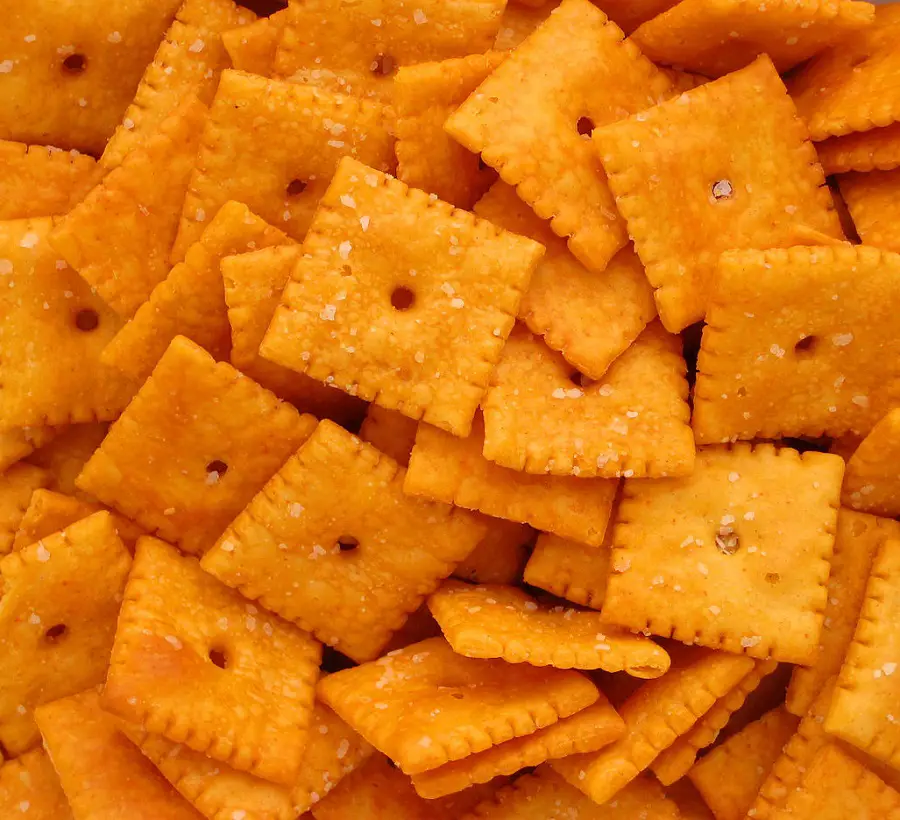 Photo by Evan-Amos
Homemade Cheez-Its
I remember when my son was little — Cheez-Its were his favorite treat.
Lately I have rediscovered them with all the wonderful new flavors they are coming out with. Have you tried Hot and Spicy or White Cheddar?
Well I don't have all the flavors for you today, but I do have a recipe for the original Cheddar version. I think it would be pretty easy to riff on it with other cheeses and flavors if you are adventurous.
Please leave a comment below if you come up with any winners.
Homemade Cheez-Its Recipe
Make our Homemade Cheez-Its Recipe at home tonight for your family. With our Secret Restaurant Recipe your Cheez-Its will taste just like the Real Thing.
Ingredients
1

cup

Flour

4

tablespoons

Butter

cold and cut into pieces

8

ounces

shredded Cheddar Cheese

1

teaspoon

Cayenne Pepper

1/2

teaspoon

Paprika

5

tablespoon

Water

Large grain Salt, to taste
Instructions
Combine the flour, butter, cheddar cheese, cayenne pepper, and paprika in your food process and process until you have small crumbs.

Add the water and continue to process until a ball of dough is formed.

Form a circle of dough with your hands and wrap it in plastic wrap.

Refrigerate dough for 45 minutes, then place in the freezer for 15 minutes. (I believe you could also just refrigerate overnight and bake the crackers the next day.) You want the dough to be very cold.

Place the dough on a lightly floured surface and roll out to 1/8-inch thick. (I placed the dough on a floured surface and then covered it with the plastic wrap. Then I rolled the dough out with a rolling pin. This prevented the dough from sticking and I didn't have to keep adding flour.)

Sprinkle with salt, to taste. Use your hand to lightly press salt into dough so that it stays.

Use a pizza cutter to cut dough into 1/2-inch squares. If desired, gently poke each square in the center with a round skewer to create the traditional Cheez-It look.

Transfer squares to an ungreased glass pan and bake at 350 for 15- 20 minutes. (My squares were thicker than 1/8-inch and took 23 minutes to bake.)

When the crackers are golden and crispy, removed them from the oven.

Allow the crackers to cool before eating them.

Store any leftovers in an airtight container.
Get More Secret Copycat Restaurant Recipes
Sign-up for our FREE Restaurant Recipes Emails. We send out Additional Email-Only Copycat Restaurant Recipes each week. Sign up NOW to get EVERY RECIPE.

---
And Please Follow Us on Your Favorite Social Sites
You'll Stay in Touch, Get More Recipes from All of Our Sites and Help Us Spread the Word about Secret Copycat Restaurant Recipes to All Your Friends.
Thank You.
Related Recipes:
Click on any Name below for the Recipe
… MORE Great Recipes Coming Soon!
---
Photo of Cheez-its is in the Public Domain. Created by Evan-Amos, courtesy of Wikipedia. Thank you, Evan-Amos. Great Picture. Photos may be "representative" of the recipe and not the actual finished dish. All photo licenses listed were correct at the time of the posting of the page. Additional Information Courtesy of Wikipedia and is used by permission.
---
Please use the Facebook, Twitter, Pinterest and Email Buttons below to SHARE our Homemade Cheez-Its Recipe with your Friends!
It only takes a minute and they will love you for it!
Thank You!