Make our Applebee's Apple Chimi Cheesecake at home tonight for your family. With our Secret Restaurant Recipe your Apple Chimi Cheesecake will taste just like Applebee's.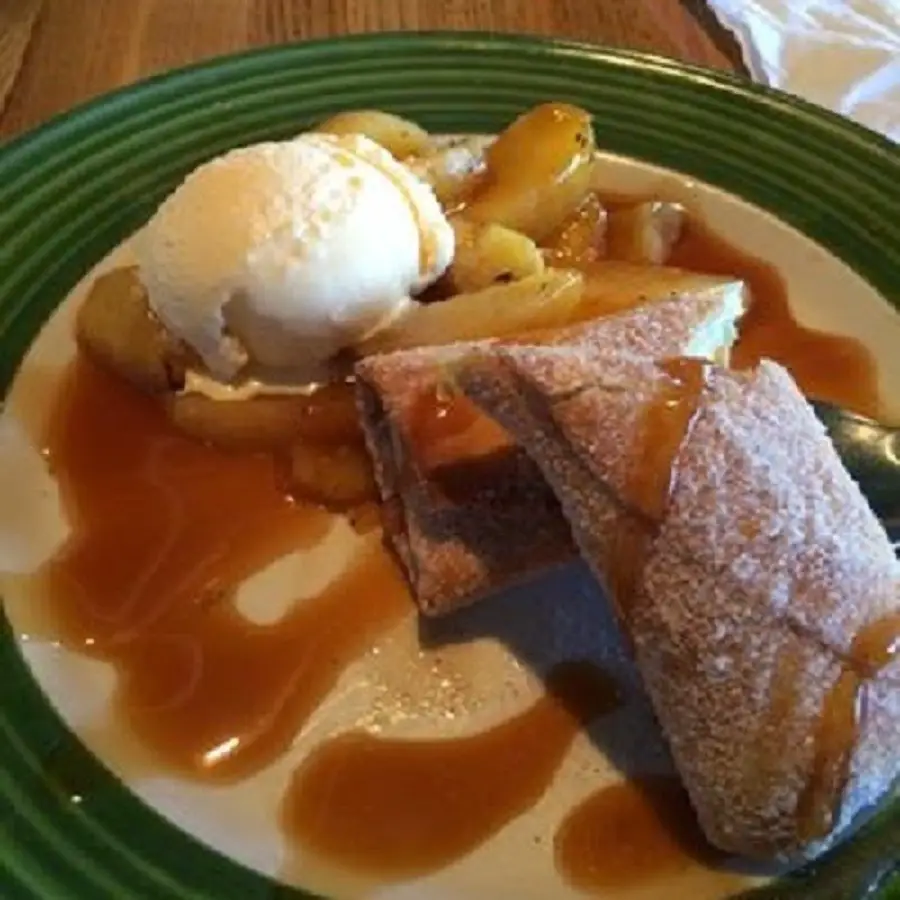 Photo by Tricia J.
Applebee's Apple Chimi Cheesecake
This is a sort of apple pie, cheesecake, tortilla combination from Applebee's past.
I'm not sure Applebee's still offers this dessert in all parts of the country.  But it is delicious and many people who have tried it in the past have fond memories.  So I thought I would include it for them.  If you haven't had the opportunity to try it — now is your chance, too.
I might make this soon for my parents.  They love apple pie.  And cheesecake.  🙂
Applebee's Apple Chimi Cheesecake Recipe
Make our Applebee's Apple Chimi Cheesecake at home tonight for your family. With our Secret Restaurant Recipe your Apple Chimi Cheesecake will taste just like Applebee's.
Ingredients
Two 9-inch Flour Tortillas

1/4

cup

Granulated Sugar

1/2

teaspoon

Cinnamon

3

ounces

Cream Cheese

softened

1/2

teaspoon

Vanilla Extract

1/3

cup

finely chopped

peeled Apple

Oil for frying

Vanilla ice cream

optional

Caramel topping

optional
Instructions
Let tortillas stand at room temperature while making filling.

Mix sugar and cinnamon. Set aside.

Using a fork, mash cream cheese with vanilla extract, stirring until smooth.

Stir in apple.

Spoon filling down centers of tortillas, leaving 1 1/2 inches at

top and bottom.

To enclose filling, fold top and bottom onto cream cheese. Roll up.

Heat oil over medium heat in skillet about 1/2 inch deep.

Fry tortillas on both sides until golden.

Turn out onto paper towel and immediately into cinnamon sugar.

Serve plain or with ice cream and topping.
Smoke and Pickles: Recipes and Stories from a New Southern Kitchen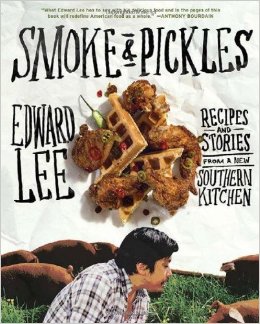 Chef Edward Lee's story and his food could only happen in America.
Raised in Brooklyn by a family of Korean immigrants, he eventually settled down in his adopted hometown of Louisville, Kentucky, where he owns the acclaimed restaurant 610 Magnolia.
A multiple James Beard Award nominee for his unique patchwork cuisine, Edward creates recipes–filled with pickling, fermenting, frying, curing, and smoking–that reflect the overlapping flavors and techniques that led this Korean-American boy to feel right at home in the South.
Dishes like Chicken-Fried Pork Steak with Ramen Crust and Buttermilk Pepper Gravy; Collards and Kimchi; Braised Beef Kalbi with Soft Grits and Scallions; and Miso-Smothered Chicken all share a place on his table.
Born with the storytelling gene of a true Southerner, Lee fills his debut cookbook with tales of the restaurant world, New York City, Kentucky, and his time competing on Top Chef, plus more than 130 exceptional recipes for food with Korean roots and Southern soul.
Get More Secret Copycat Restaurant Recipes
Sign-up for our FREE Restaurant Recipes Emails. We send out Additional Email-Only Copycat Restaurant Recipes each week. Sign up NOW to get EVERY RECIPE.

---
And Please Follow Us on Your Favorite Social Sites
You'll Stay in Touch, Get More Recipes from All of Our Sites and Help Us Spread the Word about Secret Copycat Restaurant Recipes to All Your Friends.
Thank You.
Related Recipes:
Click on any Name below for the Recipe
… MORE Great Recipes Coming Soon!
---
Photo of Applebee's Apple Chimi Cheesecake is by Tricia J. and was featured on Yelp.com. Photos may be "representative" of the recipe and not the actual finished dish. All photo licenses listed were correct at the time of the posting of the page. Recipe is our adaption of several recipes formally widely-circulated on the internet – courtesy of the Wayback Machine. Additional Information Courtesy of Wikipedia and is used by permission.
---
Please use the Facebook, Twitter, Pinterest and Email Buttons below to SHARE our Applebee's Apple Chimi Cheesecake Recipe with your Friends!
It only takes a minute and they will love you for it!
Thank You!