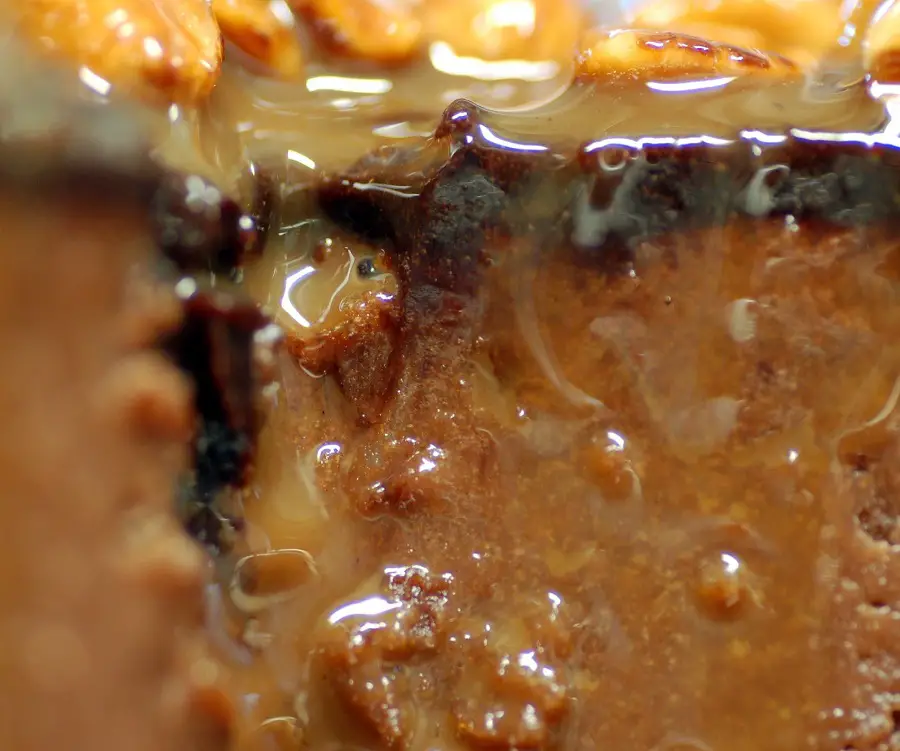 Photo by David
Snickers Cheesecake
Snickers Cheesecake
Ingredients
24 whole Oreo Cookies (or about 2 cups of crumbs) (There is enough stuff going on with this recipe that we would probably buy a bag of Oreo Cookies instead of making them. But if you want to make them yourself — maybe the day before — we would certainly never discourage you, of course. Here is our recipe – Homemade Oreo Cookie Recipe)
6 tablespoons Butter, melted
4 (8 oz) packages of Cream Cheese, room temperature
1 2/3 cups Sugar
3/4 cup Heavy Cream
4 large Eggs
2 teaspoons Vanilla
8 ounces White Chocolate
4 ounces Semi-Sweet Chocolate
16 bite-sized Snickers Bars (8 ounces) or 8 ounces or your Homemade Snickers, coarsely chopped, plus more for garnishing, if desired
Directions
Preheat oven to 325 degrees. Spray a 10″ springform pan with cooking spray and place it on a baking sheet.
Process the Oreos in a food processor until you have uniformly small crumbs.
Combine the crumbs with the melted butter in a small bowl.
Press the crumbs onto the bottom and about a half inch up the sides of the prepared springform pan.
Bake for 12 minutes. Remove pan from oven and let cool.
In double boiler, melt and stir the white and semi-sweet chocolate until smooth. Set aside to cool slightly.
In a large mixing bowl beat the cream cheese and sugar until light and fluffy.
Gradually add in the heavy cream until combined well.
Add the eggs, one at a time until each is incorporated.
Add the melted chocolate and vanilla and continue to mix on low speed until thoroughly combined.
Fold in the Snickers pieces by hand with a spatula.
Pour filling onto cooled crust (still on baking sheet.)
Bake for 65-75 minutes or until filling is set. It will still be a little jiggly in the middle.
Cool cheesecake on cooling rack for 10 minutes. Run a thin knife between the pan and the cheesecake. Let cheesecake cool completely then cover the pan with aluminum foil and refrigerate overnight.
For the Ganache
Ingredients
1/2 cup Heavy Cream
4 ounces Semi-Sweet Chocolate, chopped into small pieces
Directions
In a small heavy sauce pan heat the cream to boiling.
Remove from heat and add the chocolate pieces. Whisk until chocolate is melted and ganache is smooth.
Cool slightly before pouring over the top of the cheesecake.
Garnish with diced Snickers, if desired.
Refrigerate for an hour or two before serving so the ganache has time to set. Alternately, you could do as I did in the above photo and spoon ganache over individual slices of cheesecake and top with diced Snickers.
Get More Secret Copycat Restaurant Recipes
Sign-up for our FREE Restaurant Recipes Emails. We send out Additional Email-Only Copycat Restaurant Recipes each week. Sign up NOW to get EVERY RECIPE.

---
And Please Follow Us on Your Favorite Social Sites
You'll Stay in Touch, Get More Recipes from All of Our Sites and Help Us Spread the Word about Secret Copycat Restaurant Recipes to All Your Friends.
Thank You.
---
Photo of Snickers *Cheesecake is by David and is used by permission under the Creative Commons Attribution-NonCommercial-NoDerivs 2.0 Generic (CC BY-NC-ND 2.0) License. Thank you, David. Great Picture. Photos may be "representative" of the recipe and not the actual finished dish. All photo licenses listed were correct at the time of the posting of the page. Additional Information Courtesy of Wikipedia and is used by permission.
---
Please use the Facebook, Twitter, Pinterest and Email Buttons below to SHARE this Recipe with your Friends!
It only takes a minute and they will love you for it!
Thank You!