Make our Benihana Fried Rice Recipe at home tonight for your family. With our Secret Restaurant Recipe your Fried Rice will taste just like Benihana's.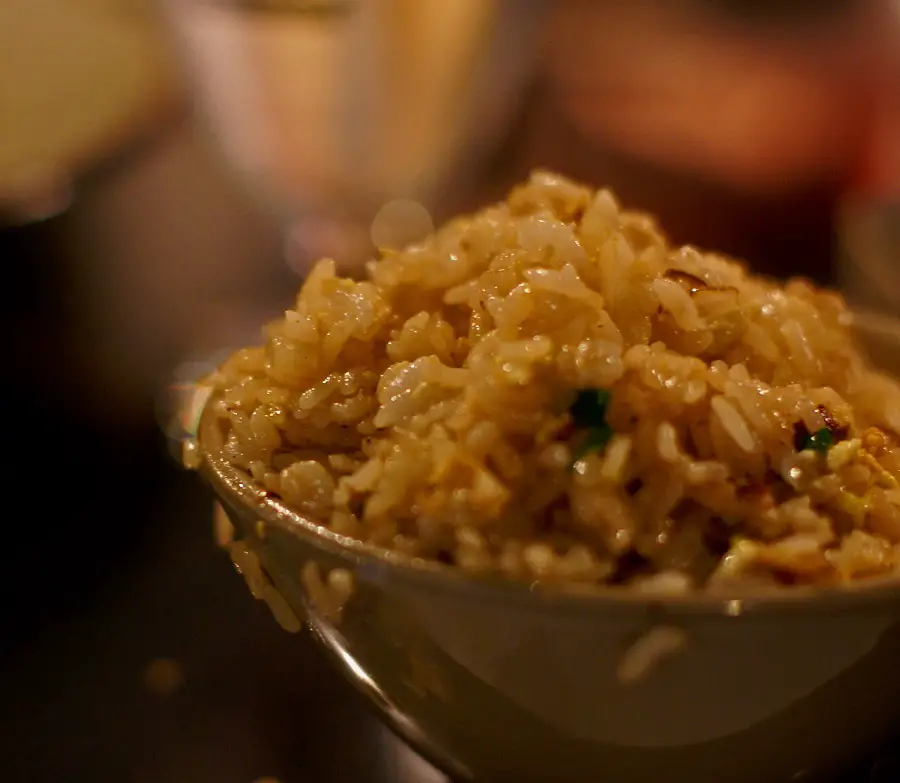 Photo by Elizabeth Burnett
Benihana Fried Rice
Benihana has this to say about their popular Fried Rice –
At Benihana, our Hibachi Chicken Rice continues to be one of the most craved items on the menu. This original fried rice classic combines chicken, rice, egg and chopped vegetables with garlic flavored butter, but most importantly, it shows plenty of heart.
The recipe below, which was featured on the original Benihana website, makes one serving. Adjust as needed.

Straight-From-the-Restaurant
Way back in the simpler days of the internet, restaurants were kind enough to share recipes on their new websites so that fans could enjoy their favorite dishes at home. Alton has spent hours tracking down these recipes – so that we can help the restaurants share them with a whole new generation of fans.
Benihana Fried Rice Recipe from 2004 is a Straight-From-the-Restaurant Recipe.
Benihana Fried Rice Recipe
Make our Benihana Fried Rice Recipe at home tonight for your family. With our Secret Restaurant Recipe your Fried Rice will taste just like Benihana's.
Ingredients
1/2

teaspoon

chopped Onion

1/3

teaspoon

chopped Carrots

1/3

teaspoon

chopped Green Onion

4

ounces

steamed Rice

3

pinches

Salt, to taste (optional)

7

teaspoons

Cream Butter

1

Egg

1/2

teaspoon

Oil

1

ounce

cooked Chicken

chopped fine

1/4

teaspoon

Sesame Seeds

3

pinches

freshly ground Black Pepper

to taste

1

teaspoon

Soy Sauce
Instructions
Scramble eggs and chop after cooking. Place in a small bowl.

Add chicken. Mix. Set aside.

Sauté chopped onion, green onion and carrots until done.

Mix with chopped scrambled egg and chicken.

Break off chunks of steamed rice and mix with vegetable, egg and chicken.

Add sesame seeds, salt and pepper. Mix well.

Add cream butter and soy sauce into the mixture, stirring well until done.

Makes one serving.
Get More Secret Copycat Restaurant Recipes
Sign-up for our FREE Restaurant Recipes Emails. We send out Additional Email-Only Copycat Restaurant Recipes each week. Sign up NOW to get EVERY RECIPE.

---
And Please Follow Us on Your Favorite Social Sites
You'll Stay in Touch, Get More Recipes from All of Our Sites and Help Us Spread the Word about Secret Copycat Restaurant Recipes to All Your Friends.
Thank You.
Related Recipes:
Click on any Name below for the Recipe
… MORE Great Recipes Coming Soon!
---
Photo of Benihana Fried Rice is by Elizabeth Burnett and is used by permission under the Creative Commons Attribution-NonCommercial-NoDerivs 2.0 Generic (CC BY-NC-ND 2.0) License. Thank you, Elizabeth. Great Picture. Photos may be "representative" of the recipe and not the actual finished dish. All photo licenses listed were correct at the time of the posting of the page. Recipe from Benihana's Website, circa 2004, "World Famous Benihana's Recipes" Page (Says the Page — "We are always pleased to hear from people who eat at Benihana and like it so much that they must have the recipe. More importantly we are proud to share our favorite recipes with you. Below you will find our must requested recipes, keep in mind some changes have been made to these recipes in order to make them easier to prepare. Remember to thoroughly cook items such as chicken and steak to ensure proper safety. Then sit down to these delicious meals with your family and enjoy the world of Benihana at home.") by way of the Wayback Machine on the Internet Archive. Additional Information Courtesy of Wikipedia and is used by permission.
Please use the Facebook, Twitter, Pinterest and Email Buttons below to SHARE this Recipe with your Friends!
It only takes a minute and they will love you for it!
Thank You!