Make this Straight-From-the-Restaurant The Loveless Cafe Chow Chow Deviled Eggs Recipe at home. They are a sweet Southern-inspired twist on the classic deviled egg.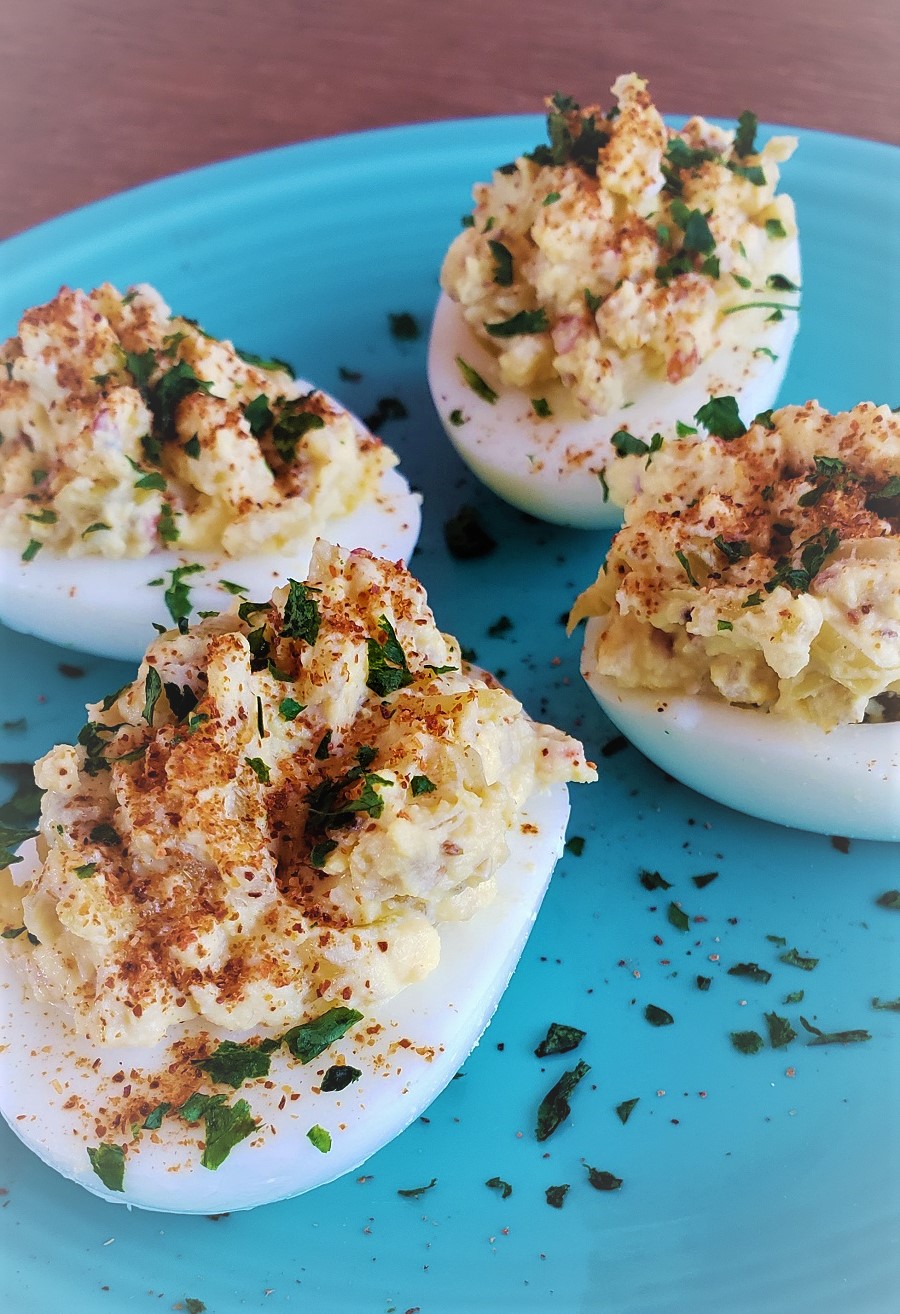 Photo by Mark
The Loveless Cafe Chow Chow Deviled Eggs
A Loveless Cafe Copycat Recipe
The Loveless Cafe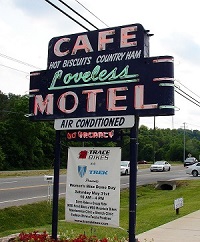 The Legendary Loveless Cafe is a restaurant on Highway 100 in Nashville, Tennessee. It is world famous for its Southern cooking, especially its biscuits, fruit preserves, country ham and red-eye gravy.
It opened in 1951 as a hotel and originally served only chicken at picnic tables on their front porch. But eventually the owners converted rooms in the hotel dining rooms to accommodate a bigger menu and a need for more dining space.
The establishment has received acclaim from a number of prominent national publications and has appeared on on several television programs such as Late Night with Conan O'Brien, Martha, NBC's Today Show, Throwdown! with Bobby Flay, CBS's The Early Show and The Ellen DeGeneres Show.
Examples of recognition for the Loveless Cafe by national publications include:
USA Today: The newspaper suggested that the "miraculously flaky and feathery biscuits" from Loveless Cafe, were "Nashville's second-most-important contribution to American culture."
People Magazine: The magazine declared the Loveless Country Ham "the best in America."
Bon Appetit: Jefferson Morgan wrote that "On a scale of 1 to 10, my breakfast came in at about a 14."
Southern Living: Told readers that the, "biscuits and gravy are good enough to sing about."
Straight-From-the-Restaurant
Restaurants love to share their recipes with their fans so they can cook and enjoy their favorite dishes at home – And we love to share them with you. Alton has spent hours tracking down these recipes. We are proud that we can help the restaurants share these recipes with our fans.
The Loveless Cafe Chow Chow Deviled Eggs is a Straight-From-the-Restaurant Recipe.
The Loveless Cafe Chow Chow Deviled Eggs Recipe
Make this Straight-From-the-Restaurant The Loveless Cafe Chow Chow Deviled Eggs Recipe at home. They are a sweet Southern-inspired twist on the classic deviled egg.
Ingredients
12

Hard-Boiled Eggs

chilled

1

cup

Loveless Cafe Mild or Spicy Chow Chow or other Mild or Spicy Southern Chow Chow, of choice

drained well and chopped

2

tablespoons

Mayonnaise (We used and recommend Duke's, as always)

1

teaspoon

prepared ground Horseradish

Salt and freshly ground Black Pepper

to taste

Smoked Chili Seasoning

for garnish

Chopped Parsley

for garnish
Instructions
Cut hardboiled eggs in 1/2 lengthwise. Remove cooked yolks from the whites.

Place yolks in a mixing bowl. Set aside.

Rinse egg whites and carefully pat dry.

To the cooked yolks add chopped chow chow, horseradish and mayonnaise. Mix well.

Taste. Add salt and pepper, to taste. Mix well.

Using a spoon, carefully fill each egg white with a dollop of the prepared filling.

Garnish top with a sprinkle of smoked chili seasoning and/or chopped parsley.

Serve immediately or store in a tightly covered container, in the refrigerator, until ready to serve.
Get Notified of All New Secret Copycat Restaurant Recipes
Sign-up for our FREE Secret Copycat Restaurant Recipes Emails and Never Miss a New Recipe.
NOW With 2 Ways to Get Emails on YOUR Schedule – Daily or One Email per Week.
---
And Please Follow Us on Your Favorite Social Sites
You'll Stay in Touch, Get More Recipes from All of Our Sites and Help Us Spread the Word about Secret Copycat Restaurant Recipes to All Your Friends.
Thank You.
---
Photo of The Loveless Cafe-Style Chow Chow Deviled Eggs is by Mark and is free to use and share under the Creative Commons Attribution-NonCommercial-NoDerivs 2.0 Generic (CC BY-NC-ND 2.0) License. Photos may be "representative" of the recipe and not the actual finished dish. The photo of The Loveless Cafe Sign was taken by team The Peep Holes as part of the Wikipedia Takes Nashville project on May 24, 2008 and is in the Public Domain. All photo licenses listed were correct at the time of the posting of the page. Recipe Adapted from the Loveless Cafe Website. Additional Information Courtesy of Wikipedia and is used by permission.
---
Please use the Facebook, Twitter, Pinterest and Email Buttons below to SHARE this Recipe with your Friends!
It only takes a minute and they will love you for it!
Thank You!