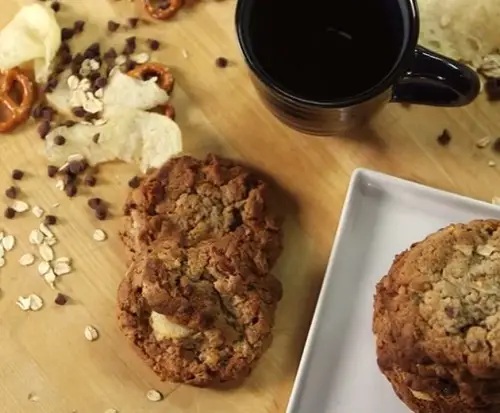 Momofuku Milk Bar Compost Cookies
Compost Cookies are a perfect combination of sweet and salty, chewy and crunchy. They were created by the genius minds of Momofuku Milk Bar, Christina Tosi and David Chang.
Momofuku Milk Bar is a chain of dessert and bakery restaurants created by dessert chef Christina Tosi and chef David Chang. Tosi is the creator of most of Milk Bar's best-known desserts including Compost Cookies, Cereal Milk and the amazing Crack Pie.
David Chang opened Momofuku Noodle Bar in 2004 and it was instantly wildly successful serving ramen, seasonal dishes and a variety of buns. He has since branched out to over a dozen restaurants in New York City, Sydney, Toronto and Washington DC, several TV shows, including the marvelous Mind of a Chef with Anthony Bourdain, many cookbooks and even his own well-regarded food magazine, Lucky Peach. He holds 2 Michelin Stars for Momofuku Ko in New York City and won the 2013 James Beard Outstanding Chef Award among numous other awards.
Chang originally employed Christina Tosi to write his food safety plan. She had previously worked at upscale New York restaurants such as Bouley and wd~50. After Tosi brought in various unconventional homemade desserts, owner David Chang demanded she re-create them for a dinner service that evening. He was so impressed with her that he hired her to be his pastry chef. There were no desserts on the menu when she came on board. She became the founder of the dessert program, Momofuku-Milk Bar, at the Momofuku restaurant group
When Momofuku Ssam Bar decided to expand into a neighboring vacant laundromat, Tosi proposed the idea to add a bakery where she could create her famous "happy mistakes." These items include the compost cookie, the crack pie, and cereal milk. Momofuku Milk Bar was opened in 2008, and has grown from the small original space in the East Village to a total of six locations, three in Manhattan, two in Brooklyn and one in Toronto
In 2015, Tosi was asked to serve on the judging panel for the Fox reality TV cooking competition shows MasterChef and MasterChef Junior. Yep. That's her.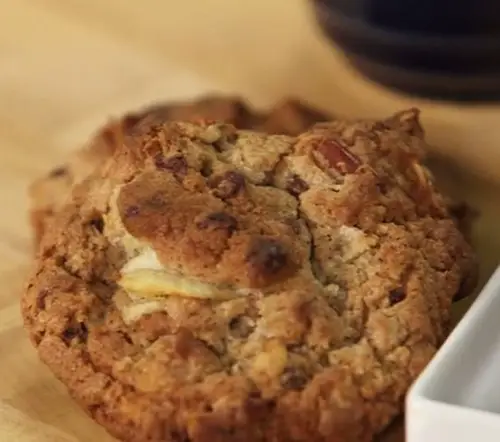 [separator top="20″ bottom="20″ style="shadow"]
Momofuku Milk Bar Compost Cookies Recipe
Full Recipe, ingredients, measurements and directions, is in the video. A link to a printable version is below the video.
Video Courtesy of POPSUGAR Food
Momofuku Milk Bar Compost Cookies Recipe
We do not have the rights to print the recipe here. But a FULL printable version of the recipe with all ingredients and quantities can be found HERE. Under the video, click "Show More" to see it.
It also appears in the cookbook Momofuku Milk Bar — Click HERE Now to get your copy.
[separator top="20″ bottom="20″ style="shadow"]


If you like this recipe, you should sign-up for our FREE Restaurant Recipes Emails. We'll send you a Cool Starbucks Recipe Book just for trying us out. You'll love it.
[separator top="20″ bottom="20″ style="shadow"]
You May Also Like These Recipes:
Click on any Name below for the Recipe
[separator top="20″ bottom="20″ style="shadow"]


Original Video can be found at Momofuku Milk Bar Compost Cookies Recipe | Get the Dish. Photo is a Screen Shot from the Video. Additional Information Courtesy of Wikipedia and is used by permission.
Please use the Buttons below to SHARE our Recipe with your Friends!
It only takes a minute and they will love you for it!
[imageframe lightbox="no" style="none" bordercolor="" bordersize="0px" stylecolor="" align="center" animation_type="bounce" animation_direction="down" animation_speed=""]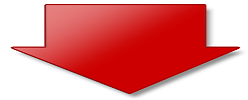 [/imageframe]