From the chefs at LongHorn Steakhouse, Sliced Outlaw Ribeye with Chimichurri Sauce will elevate your grilling and tailgating games.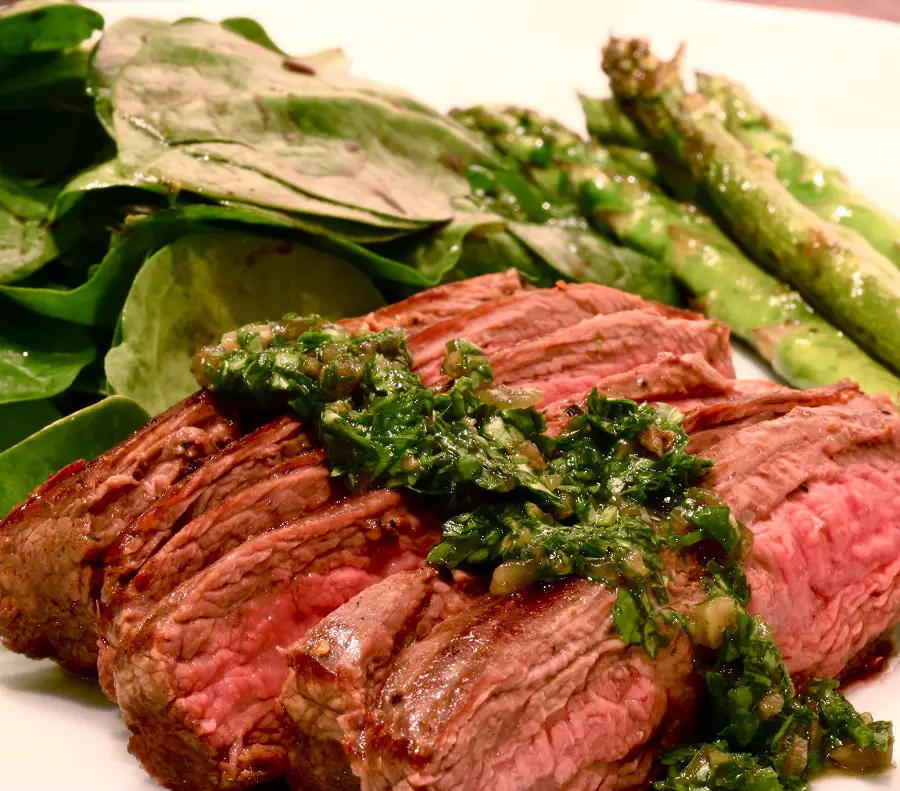 Photo by Mark
Longhorn Steakhouse Chimichurri Outlaw Ribeye
Straight-From-the-Restaurant
For a while Longhorn Steakhouse has offered up grilling tips for the home Weekend Griller on their Expert Griller by Longhorn Steakhouse website. While these exact recipes are not available in the restaurant – they are created by the Longhorn Steakhouse chefs and inspired by what is on their menu.
Longhorn Steakhouse Chimichurri Outlaw Ribeye Recipe is one of these recipes from 2016
Longhorn Steakhouse Chimichurri Outlaw Ribeye Recipe
From the chefs at LongHorn Steakhouse, Sliced Outlaw Ribeye with Chimichurri Sauce will elevate your grilling game.
Ingredients
Three 16 -18-ounces Bone-In Ribeye Steaks

Salt and freshly ground Black Pepper

to taste

Garlic Powder

to taste

Onion Powder

to taste

1

cup

Chimichurri Sauce (Recipe Below)
Instructions
Prepare the Chimichurri Sauce, according to the recipe below, at least 3 hours before starting the grill. Allow sauce to come up to room temperature before using.

Heat grill to 450 to 500°F. Clean grates with wire brush.

Season bone-in ribeyes with salt, pepper, garlic powder and onion powder. Let sit for a couple of minutes to allow seasonings to penetrate the meat.

Oil grill grates with an oil-soaked towel or use spray oil.

Place ribeyes on hot grill and cook on each side for about 3 - 4 minutes, giving it a 1/4 turn in between to create diamond marks.

Once steaks are cooked to desired temperature, remove from grill and allow them to rest for about 3 minutes before carving.

Using a sharp knife, slice ribeye into 1/4-inch thick slices and place on a platter.

Spoon the chimichurri sauce over the sliced steak and enjoy.
Chimichurri Sauce Recipe for Longhorn Steakhouse's Chimichurri Outlaw Ribeye
Ingredients
1

cup

packed fresh Parsley

washed and dried

5

medium cloves Garlic

peeled

2

tablespoons

Oregano Leaves

1/2

cup

Extra Virgin Olive Oil

1/4

cup

Red Wine Vinegar

1

teaspoon

Kosher Salt

1/4

teaspoon

Red Pepper Flakes
Instructions
Add parsley, garlic and oregano to a food processor bowl. Use the pulse button to process until finely chopped into 1/8-inch pieces. Transfer to mixing bowl.

Add oil, vinegar, salt and red pepper flakes. Mix well.

Taste. Adjust seasoning, to taste.

Store in a tightly covered container, in the refrigerator, for at least 3 hours to allow flavors to develop.
Get More Secret Copycat Restaurant Recipes
Sign-up for our FREE Restaurant Recipes Emails. We send out Additional Email-Only Copycat Restaurant Recipes each week. Sign up NOW to get EVERY RECIPE.

---
And Please Follow Us on Your Favorite Social Sites
You'll Stay in Touch, Get More Recipes from All of Our Sites and Help Us Spread the Word about Secret Copycat Restaurant Recipes to All Your Friends.
Thank You.
---
Photo of Steak and Chimichurri is by David Lifson and is used by permission under the Creative Commons Attribution-NonCommercial-NoDerivs 2.0 Generic (CC BY-NC-ND 2.0) License. Thank you, David. Great Picture. Photos may be "representative" of the recipe and not the actual finished dish. All photo licenses listed were correct at the time of the posting of the page. Recipe adapted from Longhorn Steakhouse's Website, circa 2016, "Fall Grilling Recipes" Page by way of the Wayback Machine on the Internet Archive. Additional Information Courtesy of Wikipedia and is used by permission.
---
Please use the Facebook, Twitter, Pinterest and Email Buttons below to SHARE this Recipe with your Friends!
It only takes a minute and they will love you for it!
Thank You!