Today's Master Recipe, Emeril's Delmonico Shrimp Remoulade, is a taste of the Deep South and Gulf Coast Cooking – and a real crowd pleaser from Emeril's Delmonico in New Orleans.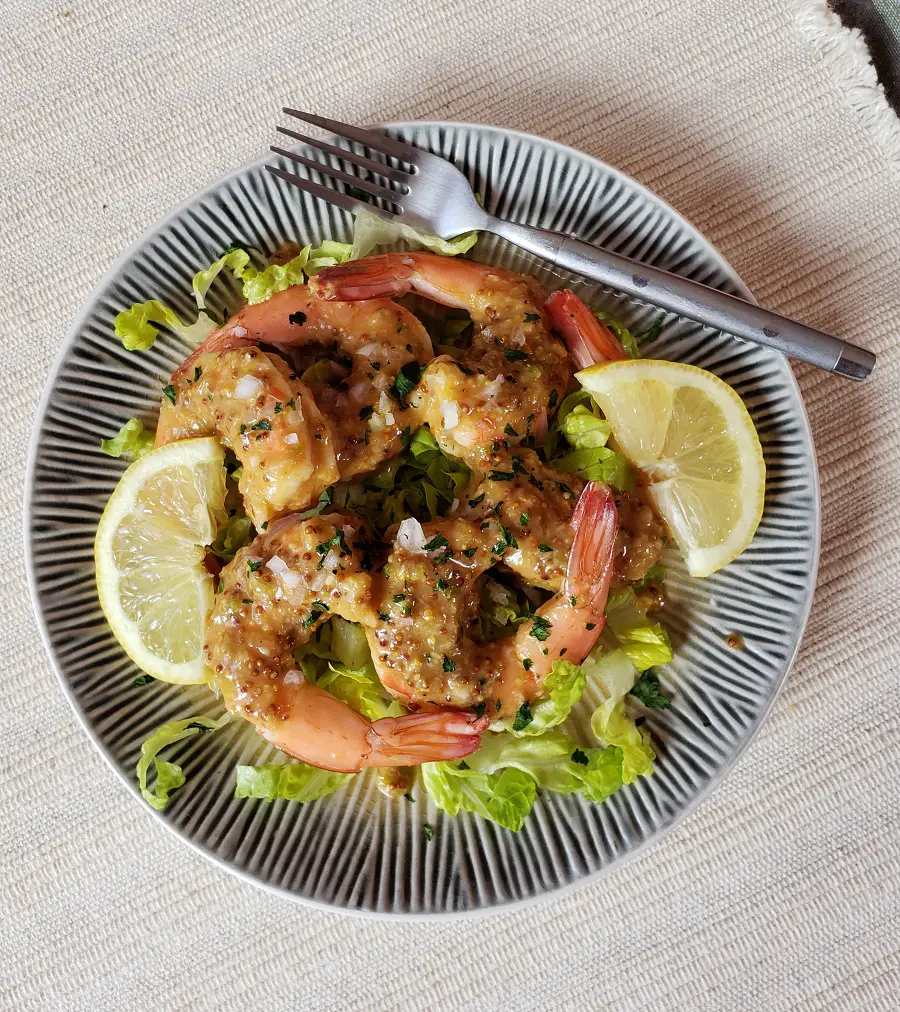 Photo by Mark
Emeril's Delmonico
First opened in 1895, Delmonico has embodied the spirit of New Orleans.
Located on the famed St. Charles Avenue streetcar line in New Orleans, Delmonico Restaurant and Bar was reopened in 1997 to tremendous acclaim with an extensive historic renovation by Chef Emeril Lagasse.
The legacy continues today where they serve a modern style of Louisiana's Creole cuisine with Emeril's warm style of service in a grand setting. The elegant bar serves both classic and signature cocktails and offers a daily happy hour and live music on the weekends.
Chef Anthony Scanio prepares favorites like Gumbo, Crabmeat Remick and Pork Cheeks with Dirty Rice. House made charcuterie and steaks, including in-house dry aged beef, pair beautifully with the extensive wine list.
Emeril's Delmonico is a Must-Eat when you visit to New Orleans.
Emeril's Delmonico Shrimp Remoulade
I first made this recipe on the day Prince Harry married Megan. Not because of the wedding, it just worked out that way. I remember watching the delayed broadcast of the proceedings on my tablet as I prepared the dish and enjoying the shrimp as they waved to the crowd from their carriage.
This shrimp dish is delicious – but the sauce, as you might imagine, is the real star. It is good enough to make by itself and keep around for other dishes. The recipe below makes enough for you to have some to experiment with. So make sure you do.
Emeril's Delmonico Shrimp Remoulade Recipe
A recipe from the Deep South and Gulf Coast, Shrimp Remoulade is easy to make and a real crowd pleaser - from Emeril's Delmonico Restaurant in New Orleans.
Ingredients
1

small head Iceberg Lettuce

trimmed and shredded

2

dozen large Shrimp

boiled, peeled and deveined

1

cup

Remoulade Sauce (Recipe Below)

4

Lemon Wedges

for garnish
Instructions
Mound the shredded lettuce on 4 chilled salad plates and arrange 6 shrimp on each.

Spoon 1/4 cup of the sauce on each serving and garnish each plate with a lemon wedge. Serve immediately.
Emeril's Delmonico Remoulade Sauce
There are actually two different Remoulade Sauces. The first is the classic French version, which is mayonnaise-based, somewhat like tartar sauce. The second is the New Orleans Creole variety. Emeril's Delmonico serves the second version, of course.
The New Orleans-Style Remoulade Sauce is made with whole-grain Creole mustard as its base and includes a variety of chopped local vegetables and spices. This gives it more and piquancy you don't get in the French version. Their are many house-versions of the sauce in New Orleans. Some contain a little mayonnaise or an egg as a thickener, while others use ketchup to deepen the color and sweeten the flavor. Some are spicy, others are mild.
Besides shrimp, Remoulade Sauce is a great complement to any type of boiled or fried seafood – from crawfish tails to catfish and soft-shell crabs. At very popular item at Delmonico's is the Fried Green Tomatoes with Lump Crabmeat, which features 2 Remoulade sauces, this red version and a white version.
Emeril's Delmonico Remoulade Sauce Recipe
Ingredients
1/2

cup

Creole Mustard or other mild Whole-Grain Mustard

1/2

cup

Prepared Horseradish

1/4

cup

finely chopped Yellow Onions

1/4

cup

finely chopped Green Onions

1/4

cup

finely chopped Celery

2

tablespoons

Sugar

1 1/2

tablespoons

Paprika

1 1/2

teaspoons

Worcestershire Sauce

1

teaspoon

Granulated Garlic

1/4

cup

Vegetable Oil

1/4

cup

Red Wine Vinegar
Instructions
In the bowl of a standing mixer, combine mustard, horseradish, yellow onions, green onions, celery, sugar, paprika, Worcestershire and garlic. Mix on medium speed until well-blended.

With the mixer still running, very slowly add the oil in a steady stream. Continue to mix until the mixture is thick and emulsified.

Slowly add the vinegar in a steady stream. Mix well to blend.

Transfer sauce to an airtight container. Place in refrigerator and chill for at least 2 hours before using.
Emeril's Delmonico: A Restaurant with a Past
In his latest cookbook, America's favorite celebrity chef presents a collection of recipes that are adapted and simplified for home cooks, featuring a combination of Creole classics and Emeril's kicked-up creations.
Emeril's Delmonico offers 130-plus recipes from the restaurant–favorite dishes like St. Paul's Seafood Gumbo, Shrimp Remoulade, and Chicken Rocambeau (prepared with marchand du vin and hollandaise sauces), and "newer" fare such as Chorizo and Manchego Cheese Omelet, and Lump Crabmeat and Brie Strudels with Herbsaint Cream Glaze.
Illustrated with both contemporary full-color and vintage black-and-white photographs, Emeril's Delmonico paints a lively, evocative portrait of Emeril's classic cuisine and the rich culinary history of New Orleans.
Get More Secret Copycat Restaurant Recipes
Sign-up for our FREE Restaurant Recipes Emails. We send out Additional Email-Only Copycat Restaurant Recipes each week. Sign up NOW to get EVERY RECIPE.

---
And Please Follow Us on Your Favorite Social Sites
You'll Stay in Touch, Get More Recipes from All of Our Sites and Help Us Spread the Word about Secret Copycat Restaurant Recipes to All Your Friends.
Thank You.
---
Photo of Emeril's Delmonico Shrimp Remoulade is by Mark and is free to use and share under the Creative Commons Attribution-NonCommercial-NoDerivs 2.0 Generic (CC BY-NC-ND 2.0) License. Recipe adapted from Emeril's Delmonico: A Restaurant with a Past and courtesy of Emeril Lagasse and Emeril's Delmonico. Additional Information Courtesy of Amazon, Emeril's Delmonico: A Restaurant with a Past, Emeril's Delmonico and Wikipedia where it is used by permission.
---
Please use the Facebook, Twitter, Pinterest and Email Buttons below to SHARE this Recipe with your Friends!
It only takes a minute and they will love you for it!
Thank You!