Make this Straight-From-the-Restaurant Maggiano's Little Italy Apple Crostada Recipe at home.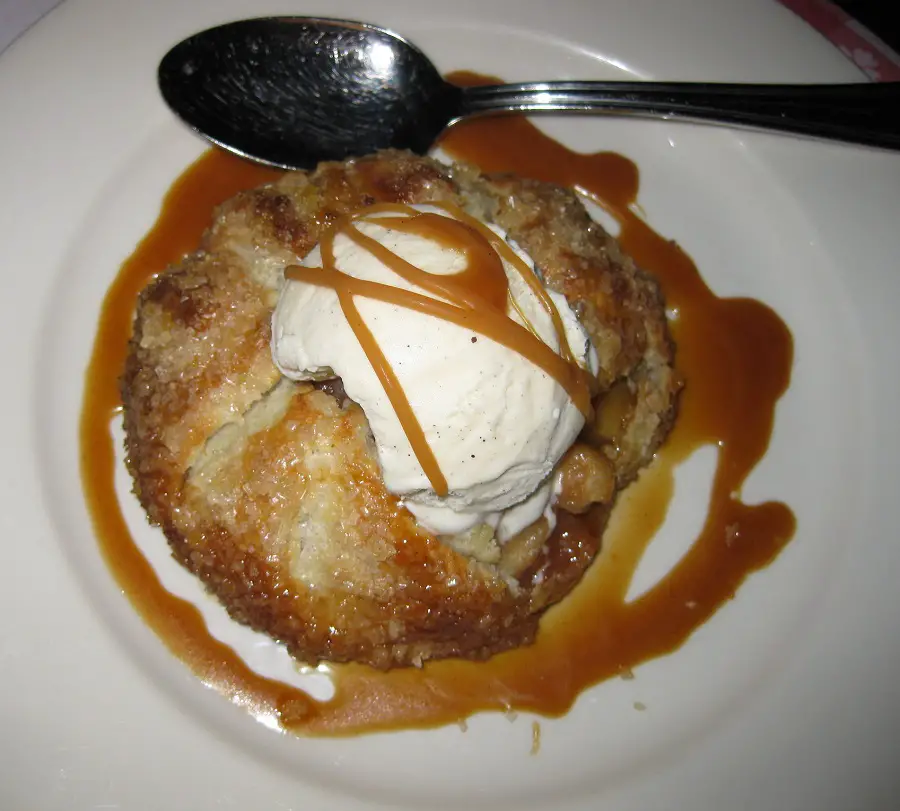 Photo by Kricket
Maggiano's Little Italy Apple Crostada
A Maggiano's Little Italy Copycat Recipe
Straight-From-the-Restaurant
Restaurants love to share their recipes with their fans so they can cook and enjoy their favorite dishes at home – And we love to share them with you. Alton has spent hours tracking down these recipes. We are proud that we can help the restaurants share these recipes with our fans.
Maggiano's Little Italy Apple Crostada from 2014 is a Straight-From-the-Restaurant Recipe.
Maggiano's Little Italy Apple Crostada Recipe
Make this Straight-From-the-Restaurant Maggiano's Little Italy Apple Crostada Recipe at home.
Ingredients
3 1/2

cups

All-Purpose Flour

1 1/2

cups

plus 1/3 cup Granulated or Superfine Sugar

divided

1

teaspoon

Salt

1

pound

plus 10 tablespoons unsalted Butter

cold, cut into 1/4-inch cubes

6

tablespoons

Ice Water

or as needed

3

Tart Apples

peeled, cored and sliced 1/4-inch thick

1 1/4

teaspoons

Cinnamon

1

teaspoon

Nutmeg

2

tablespoons

Cornstarch + enough Water to dissolve

2

tablespoons

Heavy Cream

Large Crystal Sugar

to top

Vanilla Ice Cream

to serve

Mint Sprigs

to garnish
Instructions
In the bowl of a food processor, combine flour, 1/2 cup sugar and salt. Pulse several times to combine.

Add 1 pound butter. Pulse just until butter is in small pieces.

Add ice water in small amounts, pulsing briefly with each addition. Add just enough water to make a crumbly mass, not a solid ball.

Remove dough from processor and press together. Divide into 3 portions.

Shape each portion into a round. Wrap each in plastic wrap. Place in refrigerate and cool for at least 1 hour, up to 2 days ahead.

Melt remaining 10 tablespoons butter in a large skillet.

Add remaining 1 1/3 cups sugar. Cook over medium-high heat until mixture turns light brown, about 5 minutes, stirring constantly.

Add apples. Reduce heat to medium. Cook until apples are just tender, about 5 minutes.

Stir in cinnamon, nutmeg and dissolved cornstarch. Cook 1 minute or until mixture thickens.

Remove from heat and allow to cool.

When ready to bake, preheat oven to 350°F.

Line two rimmed baking sheets with parchment paper.

Remove one portion of dough from refrigerator. Divide into three pieces.

Roll each portion into a 9-inch circle.

Do the same with the remaining 2 dough portions. (You will have nine 9-inch circles of dough.)

Divide filling into nine portions.

Place 1 portion in center of a pastry circle. Fold in sides of pastry to cover filling, leaving a 4-inch opening in the center with filling exposed.

Transfer crostada onto prepared baking sheet.

Repeat process with remaining dough and filling.

Brush crostadas with cream. Sprinkle with large crystal sugar.

Place in preheated oven. Bake 35 minutes or until crostadas have browned.

Remove from oven and allow to cool slightly before serving.

Serve with ice cream and garnish with mint.
Get More Secret Copycat Restaurant Recipes
Sign-up for our FREE Restaurant Recipes Emails. We send out Additional Email-Only Copycat Restaurant Recipes each week. Sign up NOW to get EVERY RECIPE.

---
And Please Follow Us on Your Favorite Social Sites
You'll Stay in Touch, Get More Recipes from All of Our Sites and Help Us Spread the Word about Secret Copycat Restaurant Recipes to All Your Friends.
Thank You.
---
Photo of "Apple Crostada, Caramel Sauce" is by Kricket and is used by permission under the Attribution-NoDerivs 2.0 Generic (CC BY-ND 2.0) Creative Commons License. Read the Full License Here – https://creativecommons.org/licenses/by-nd/2.0/legalcode. Thank you, Kricket. Great Picture. Photos may be "representative" of the recipe and not the actual finished dish. All photo licenses listed were correct at the time of the posting of the page. Recipe is courtesy of Maggiano's Little Italy and The Atlanta Journal Constitution. It appeared on the website on January 15, 2014. Additional Information Courtesy of Wikipedia and is used by permission.
---
Please use the Facebook, Twitter, Pinterest and Email Buttons below to SHARE this Recipe with your Friends!
It only takes a minute and they will love you for it!
Thank You!