Make our Heinz 57 Sauce Recipe at home tonight for your family. With our Secret Restaurant Recipe your Homemade Steak Sauce will taste just like Heinz 57.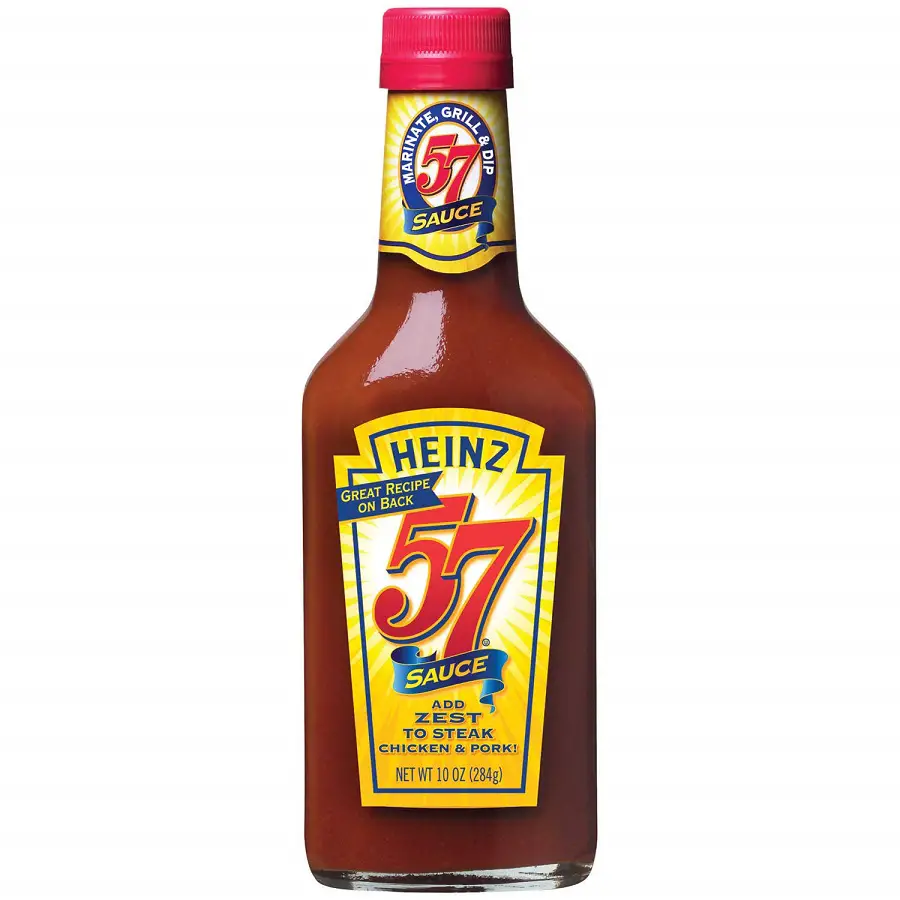 Photo from Amazon
Heinz 57 Sauce
The name Heinz 57 sauce comes from the historical advertising slogan used by Heinz for over 120 years, "Heinz 57 Varieties"
Heinz never had 57 varieties.
Or more appropriately, it zoomed right past the number 57 in a mad dash of product creation sometime in the 1880s. By 1892 Heinz was already selling over 60 products, 4 years before they trademarked the slogan "57 Varieties." Today the company sells an estimated 6000 varieties in over 200 countries – but still uses the slogan.
The slogan was coined by Henry J. Heinz himself and the reason is unclear. Years later, even he couldn't remember exactly why he chose "57", except that he liked the sound of the number.
What is clear is that it became one of the most recognizable company slogans in history. So popular in fact that in 1940 Heinz renamed it's best selling Beefsteak Sauce "Heinz 57 Sauce."
Heinz 57 Sauce Recipe
Ingredients
1/2

cup

Raisins

2/3

cup

Heinz Ketchup

1

tablespoon

Yellow Prepared Mustard

1

teaspoon

Chili Powder

1

teaspoon

Seasoning Salt

4

ounces

Applesauce

2

tablespoons

Wish Bone Italian Salad Dressing
Instructions
Put all ingredients in a blender,

Blend on/off for 2 minutes on high or until smooth.

Keep chilled.
Get More Secret Copycat Restaurant Recipes
Sign-up for our FREE Restaurant Recipes Emails. We send out Additional Email-Only Copycat Restaurant Recipes each week. Sign up NOW to get EVERY RECIPE.

---
And Please Follow Us on Your Favorite Social Sites
You'll Stay in Touch, Get More Recipes from All of Our Sites and Help Us Spread the Word about Secret Copycat Restaurant Recipes to All Your Friends.
Thank You.
---
Photo of Heinz 57 Sauce is from Amazon and is linked to an affiliate offer as per their usage requirements. Additional Information Courtesy of Wikipedia and is used by permission.
---
Please use the Facebook, Twitter, Pinterest and Email Buttons below to SHARE this Recipe with your Friends!
It only takes a minute and they will love you for it!
Thank You!