Make our Benihana Tempura Bananas Recipe at home tonight for your family. This recipe has been called "the Asian Banana Split".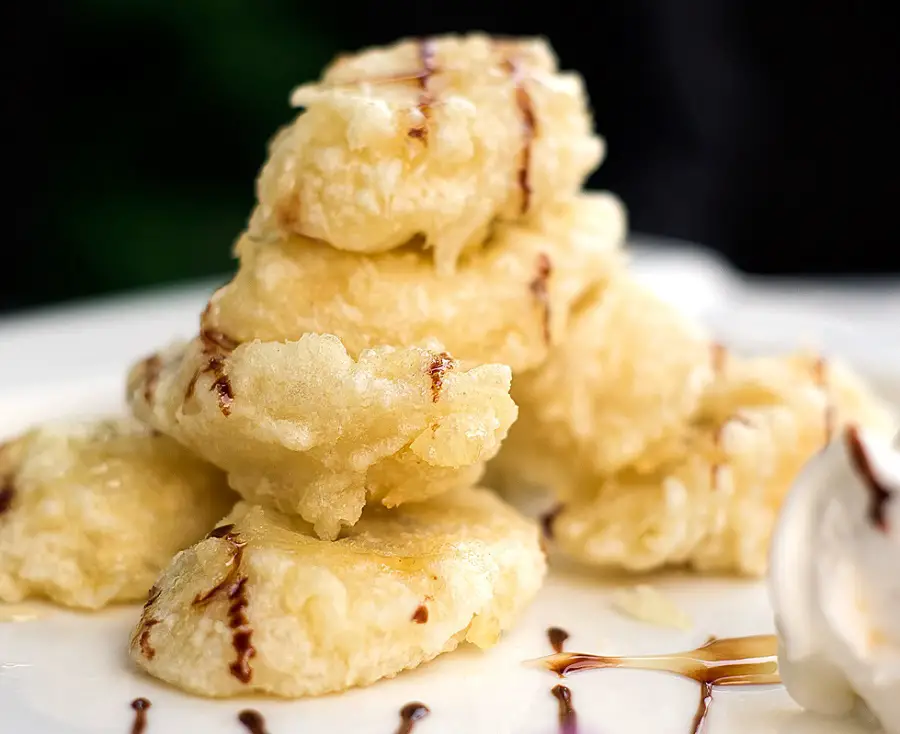 Photo by Linh Nguyen
Benihana Tempura Bananas
A Benihana Copycat Recipe
To See ALL of Our Benihana Copycat Recipes – Click HERE
---
Tempura and Tempura Bananas
Tempura is a popular Japanese dish or appetizer consisting of vegetables and seafood coated in a very light and airy batter and fried to perfection.
When 16th-Century Portuguese came to Japan, they brought a special dish with them. Today, in Japan, it's called tempura and has been a staple of the country's cuisine ever since.
Frying bananas in tempura, as far as we can tell, is a much more recent addition. But the idea has caught on and the dessert can be found in many Japanese restaurants around the world, including Benihana.
Benihana Tempura Bananas Recipe
Make our Benihana Tempura Bananas Recipe at home tonight for your family. This recipe has been called "the Asian Banana Split".
Ingredients
2

firm Bananas

2/3

cup

Flour

1/3

cup

Cornstarch

Water

as needed

Oil

as needed, to fry

Powdered Sugar

to serve

Chocolate Sauce or Syrup

to serve
Instructions
Cut bananas in quarters lengthwise (Cut in 1/2 then cut the halves in 1/2). Set aside.

In a medium bowl, add flour and cornstarch. Mix.

Stirring, add just enough water, a little at a time, to make a very thick, pancake-like batter.

Heat oil in a wok or deep fryer until very hot.

Place 3 - 4 banana slices (more if you have a large wok or fryer and are sure you can work fast) in the batter. Turn to make sure they are well-coated.

Using tongs, gently place slices in the hot oil.

Fry for about 1 minute per side or until golden brown.

Using clean tongs, a slotted spoon or a spider strainer, remove fried slices to a paper towel-covered plate to drain off excess oil.

Repeat with remain banana slices until all are cooked.

Place the hot bananas on a serving plate. Sprinkle with just a touch of powdered sugar and a light drizzle of chocolate sauce or syrup

Serve with cold ice cream or homemade whipped cream, if desired.
Get More Secret Copycat Restaurant Recipes
Sign-up for our FREE Restaurant Recipes Emails. We send out Additional Email-Only Copycat Restaurant Recipes each week. Sign up NOW to get EVERY RECIPE.

---
And Please Follow Us on Your Favorite Social Sites
You'll Stay in Touch, Get More Recipes from All of Our Sites and Help Us Spread the Word about Secret Copycat Restaurant Recipes to All Your Friends.
Thank You.
---
Photo of "Dessert: Banana Tempura" is by Linh Nguyen and is used by permission under the Creative Commons Attribution-NonCommercial-NoDerivs 2.0 Generic (CC BY-NC-ND 2.0) License. Thank you, Linh. Great Picture. Photos may be "representative" of the recipe and not the actual finished dish. All photo licenses listed were correct at the time of the posting of the page. Recipe is our adaption of several recipes widely circulated on the internet. Additional Information Courtesy of BBC Travel and Wikipedia where it is used by permission.
---
Please use the Facebook, Twitter, Pinterest and Email Buttons below to SHARE this Recipe with your Friends!
It only takes a minute and they will love you for it!
Thank You!